Love the Laura Palmer pose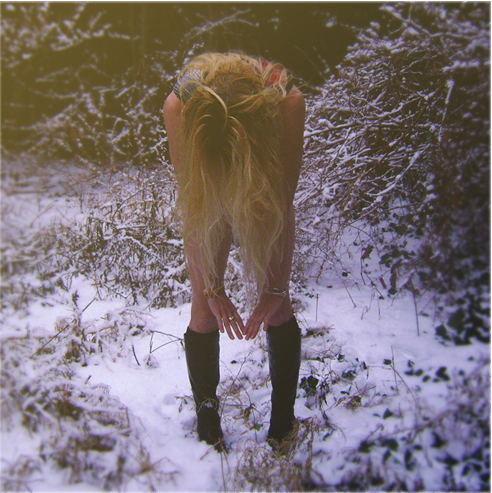 If other blogs are to be believed (and hey, when are they not?), the Golden Filter are "fucking brilliant" and "the best thing ever." Here's our attempt at bypassing a stack of overly dramatic pull quotes …
Tearing key pages from the Knife's two distinct phases–see their sun-baked beginnings and latter-day obsession with David Lynch and lake effect snow–the New York-based duo offsets their melancholic tendencies with relatively clean beats, caught in the trend-chasing area between nouvelle disco and late '90s electro. And to make matters a little more alluring, they've insisted on concealing their identities, although it's not quite clear why; as far as we can tell, the Golden Filter aren't fronted by Alison Goldfrapp and produced by James Murphy in a monkey mask.
One thing we do know, however: they're obsessed with sepia-toned photography and nonsensical lyrics, as proven by the promo video above, a viral campaign attempt that left us wondering if foxes really gallop like thoroughbred horses.
What's up with the softcore video for "Hide Me," however? Could it be the work of a 40-something party photographer with a failed electro career of his own (see No. 4)? Eh, probably not; the ending is too cheeky for that to be true. As for the track itself, we wouldn't mind it faded into a midnight madness set, right in between Kylie and our favorite paean to never-ending nights, "Heartbeats."
If you want a genuine reason to gaze through the Golden Filter's mirror ball on a Friday night, it'd have to be their breathy remix of Peter Bjorn and John's "Lay It Down." While the original's way too bouncy and caffienated (strike that–it's downright irritating), we can appreciate what essentially amounts to Glass Candy on helium rather than poorly-cut cocaine.
Anyway, hear for yourself below and if you end up geting all gilded at Le Poisson Rouge tonight, be sure to arrive early for Pink Skull, one of Philly's best kept secrets.
[audio:http://www.self-titledmag.com/wp-content/uploads/audio4/PT_-_Peter_Bjorn_and_John_-_Lay_It_Down__Golden_Filter_Remix_.mp3]
Peter Bjorn and John, "Lay It Down (Golden Filter Remix)"
[audio:http://www.self-titledmag.com/wp-content/uploads/audio4/The%20Golden%20Filter%20-%20Solid%20Gold.mp3]