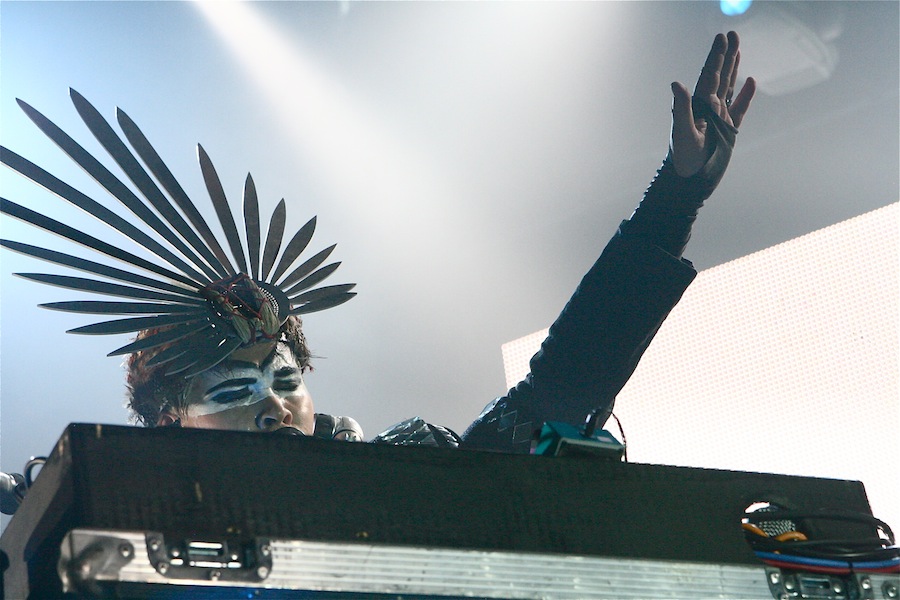 Words and Photos by Andrew Parks
The Artist and Their Latest Release: Empire of the Sun, Walking On a Dream (Astralwerks, 2008)
The Show: w/ The Juan MacLean (DJ set) @ Terminal 5, 8.9.10
The Set In a Few Sentences: We met Luke Steele once–a long time ago, back when he started playing psychedelic folk tunes as the Sleepy Jackson. And, well, let's just say he's a special kind of crazy. The kind you can't fake, the kind that makes you look over your shoulder–repeatedly, right in the middle of an interview–and say with a shudder, "Did you hear that?"
Actually, no, Luke, we didn't. But we're pretty sure you did.
So what does that say about his new life as the "emperor" of an electro-pop duo, then? A lot, actually. What else but a genuine eccentric could envision Empire of the Sun's bizarre/bold blend of Prince, Bowie, disco, house, Fischerspooner–the clunky choreography and Technicolor costume changes, at least–and The NeverEnding Story?
Watching it all sparkle and fade at Terminal 5 on Monday night, it was as if we were watching Steele realize his lifelong dream of performing a space age rock opera–dance music for space cadets who don't care how clear the hooks are, so long as they're coated in glitter and gold. But hey, at least the guy's trying to entertain us, trying to make sure that $30 ticket is worth something, even if that something boils down to a climatic rendition of the group's only bulletproof single, "Walking On a Dream." Other than that, we'll take the Sleepy Jackson on record and the Empire on stage, since it's the closest we'll come to seeing Lady Gaga this year.
And a Letter Grade: A B for an eye-gouging effort of Biblical proportions