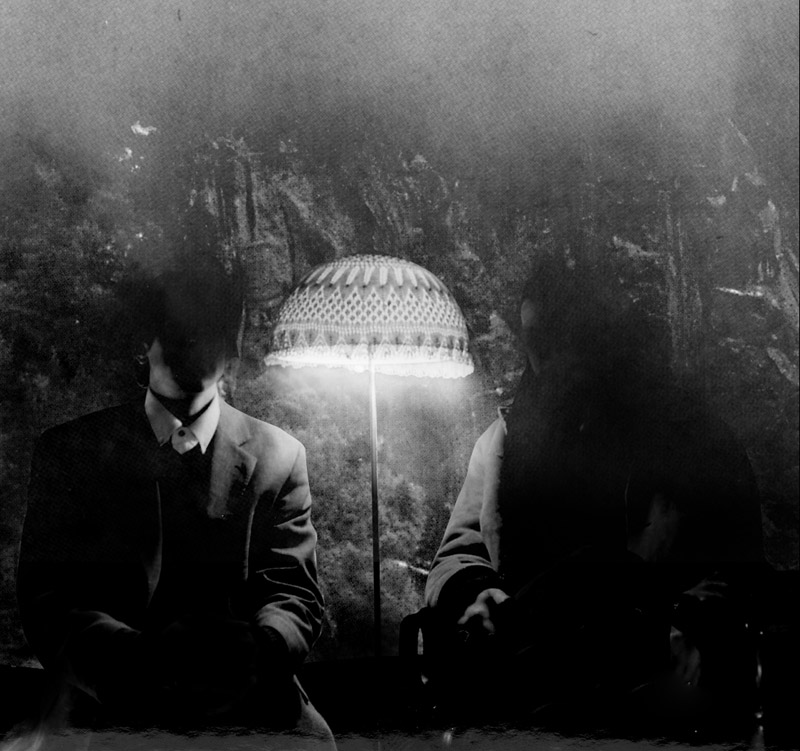 While most people treat our Primer pieces as basic guides to a genre or fellow artist, Deaf Center's Otto Totland basically said "fuck all that noise" and filed fact sheets, sample sources, and the reasoning behind the names of the Norwegian duo's key records. Frankly, it's a little strange. And that's fine–we wouldn't expect any less from the guy who's responsible for pouring rays of light into the cloudy soundscapes of Deaf Center's other half, Erik K. Skodvin (see also: the imaginary horror scores of Svarte Greiner).
If you like what you read/hear below and live in the New York area, be sure to check out the pair's rare stateside set at the Judson Memorial Church on Thursday night, as they set the stage for an Unsound presentation of "Beyond the Dark" with the Sinfonietta Cracovia Orchestra and the melancholic classical music of Henryk Górecki.
'Neon City' (2004)
FACTS:
– Neon City was the very first release on Type Records (TYEP001).
– We had no concept or plans for what Deaf Center should sound like at this stage.
– It took about two months to make.
– It's the only Deaf Center release where Erik didn't make the cover design.
– "City" was the first Deaf Center track ever made.
– It took three summer nights to make "Dial"–the longest we've spent on a single track.
FIELD RECORDINGS INCLUDE:
– Hitting lamp shades
– Putting the mic in a envelope and crushing it for noise ("Asia")
– Drumming on water glasses and everything around us
– Dissecting a rotten melon in Geir's (Erik's father) garage
– Placing a mic on the lawn, spreading bread crumbs around it, and recording birds flapping their wings
NAMING THE ALBUM:
– We decided to use four-letter words only…for no particular reason.
– We talked about doing five-letter words only for the next release…we didn't.
'Pale Ravine' (2005)
FACTS:
– Erik made the cover and did most of the sequencing.
– It was part of Erik's final school project.
– It took about four months to make.
– Andreas Tilliander did a great job mastering it.
– The piano in "White Lake" was part of a long improv session that was played at Otto's house. Erik took the session home with him and cut out that particular part and turned it into that song. We had a small quarrel and last minute changes before sending the track to Type.
– Otto always wants to go lighter and more melodic.
– Erik always want to go darker and more abstract.
– It took around a year to sell 1000 vinyls of Pale Ravine.
– Otto feared the album would get slaughtered. He was wrong.
– Our first live gig was performed at the Interferenze Festival in Italy. It wasn't good, but we had a superb time there.
FIELD RECORDINGS INCLUDE:
– Shaking the silver spoon cabinet ("Loft")
– Recording Geir's training bicycle ("Weir")
– Messing with the clothes hanger in the hallway of Erik's home ("Thread")
– Just letting the recorder on while relaxing in Erik's garden ("Path To Lucy")
– Recording Kirsten (Erik's mother) cooking
NAMING THE ALBUM:
One of us wrote down random words in a list. Then the other, without looking at the list, said random words that where written down beside these. Finally we picked the word combinations we liked. That's how we found the album title, Pale Ravine. Some track names where born this way too.
'Owl Splinters' (2011)
FACTS:
– Recorded at Nils Frahm's Durton Studio in Berlin, May 2010.
– Erik and Otto didn't have any plans before recording started.
– The whole album was recorded in three days.
– Nils Frahm was very much involved in the production, but all cello and piano recordings where done by Erik and Otto.
– Monique Recknagel (Sonic Pieces) and Gaylor Olivier where there during production. Gaylor makes the best pancakes.
FIELD RECORDINGS INCLUDE:
There aren't any field recordings in Owl Splinters. What you hear are actual background noises leaking through the piano mics. Some of the piano recordings where done by Otto while the others prepared lunch in the kitchen.
NAMING THE ALBUM:
We used the same technique for naming Owl Splinters as we did Pale Ravine–putting random words and sentences together.