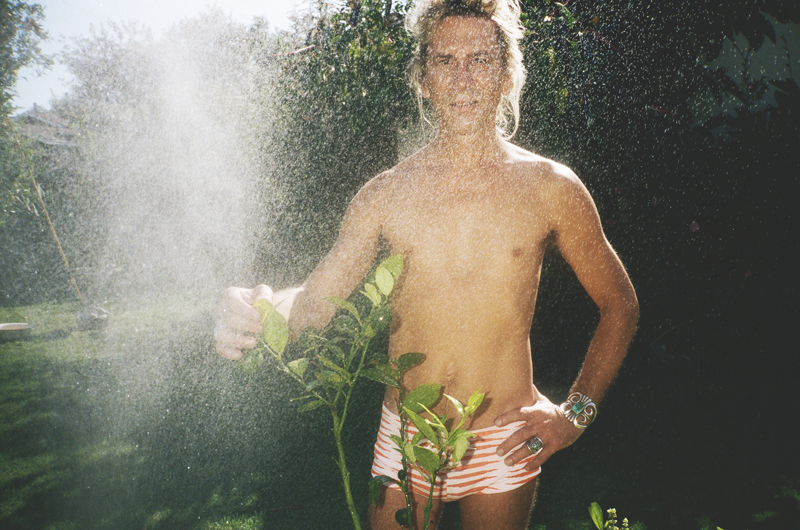 Photos by Magdalena Wosinska
Here's the thing about making Top 10 lists: the second after you share them, they stop making sense and start revealing their weak spots and glaring omissions. So as much as we back the individual editor's lists that are available here, here and here, self-titled can safely endorse at least 200 other records from the past year. That'd take us until 2013 to properly express in words, however, so here's the next best thing: 75 compilations, box sets, reissues and albums that received our stamp of approval in 2012… 
Actress, R.I.P. (Honest Jons)
A "conceptual arc taking in death, life, sleep and religion" that can be enjoyed without a master's degree in philosophy and sound design.
–
Ariel Pink's Haunted Graffiti, Mature Themes (4AD)
Another broadcast from the great beyond by one of indie rock's only real deal eccentrics.
–
Atom â"¢, Winterreisse (Raster-Noton)
Don't let Uwe Schmidt's pencil-thin mustache or fun-loving Señor Coconut alias fool you into thinking that his latest Atom â"¢ album is a warm and fuzzy affair. Well, not in the emotional sense at least; sonically speaking, Wintereisse adheres to Raster-Noton's reputation as a home for strangely human, glitchy but gorgeous electronic music. In this case, Schmidt penned 17 pieces that were inspired by his own photographs. As symphonic as micro machines get.
–
Belbury Poly, The Belbury Tales (Ghost Box)
One of Ghost Box's co-founders enriches the label's hauntological hooks with bizarre vocal breaks and British folk music.
–
Black Breath, Sentenced to Life (Southern Lord)
The cover of Black Breath's second album–an unidentified flying hammer to the face–says it all. Immaculately produced by Converge guitarist Kurt Ballou, Sentenced to Life doesn't take a breather until the chiming opening chords of its fifth track ("Endless Corpse"), and even that explodes in a grime death-metal gallop a minute later. If you're like us and miss the heyday of hardcore, this record is a must, a rush of blood to the head made all the more potent by its evenly separated extremism and keen grasp of how to not infuse every gutter-crawling groove with actual hooks.
–
Black Dice, Mr. Impossible (Ribbon Music)
Considering how confrontational their early sets were–sonically and physically speaking, they were practically hardcore shows–it's been downright comforting to see how Black Dice has gone from being a surprising DFA signing to gleeful sound collagists. Mr. Impossible is a natural progression from the trio's last couple LPs (Repo, Load Blown), dialing the nihilistic noise down in favor of frantic but feelgood rushes of sentient sound. Basically, if you've seen one of Bjorn Copeland's art pieces, you know what to expect: madness that's inspired rather than irksome.
–
Black Rain, Now I'm Just a Number: Soundtracks 1994-95 (Blackest Ever Black)
Anyone who's blown through stacks of bleak sci-fi novels or watched Blade Runner's director's cut repeatedly will feel right at home amongst the soot-sheathed samples and chilly film cues that're spread across Black Rain's Now I'm Just a Number collection. Led by Stuart Argabright of the short-lived Lower East Side band Ike Yard and his Death Comet Crew collaborator Shinichi Shimokawa, the long-forgotten group spent the mid '90s writing cold-pressed compositions for two William Gibson projects: an audiobook version of Neuromancer and the godawful film adaptation of Johnny Mnemonic. The latter never actually made it to the silver screen, so it's comforting to see Blackest Ever Black save Black Rain's work from the realm of pure obscurity–Keanu-free and as future-forward as ever, fitting right in with the Sandwell District school of rain-slicked techno and grayscale grooves. Dance music for the undead, or at the very least, Philip K. Dick fans.
–
Blondes, Blondes (RVNG Intl.)
A loose collection of limited singles that explore several polar opposites in title ("Lover"/"Hater", "Water"/"Wine", the bonus tracks "Amber"/"Gold") and execution (lots of live, improvised takes), rounded out by remixes from such proven producers as Laurel Halo, Andy Stott and John Roberts.
–
Burial, Kindred 12" (Hyperdub)
The point where we learned to stop worrying about Burial's long-awaited third album and start embracing devastatingly beautiful EPs like this.
–
Can, Lost Tapes (Mute)
A treasure trove of Kraut-rock delicacies–spread across three CDs or five LPs, depending on your preference–finally dusted off after decades in storage. If you're new to Can's daunting discography, you might want to start with their Anthology, then dig into this to see just how off the rails their records get when you least expect it.
–
The Caretaker, Patience (After Sebald) (History Always Favours the Winners)
Leyland Kirby's discomforting string of delightfully degraded ambient recordings continues with the soundtrack to a documentary on the life of the German writer W.G. Sebald. A critical favorite who was poised to win the Nobel Prize at the time of his death in 2001, Sebald's work often explored themes of memory loss and decay. The literary equivalent of Kirby's Caretaker guise, in other words, a parallel the producer explores through mangled, sample-strewn 78 versions of Franz Schubert's Winterreise song cycle. An even more extreme version of the ashen aesthetics of the Caretaker's last proper album (An Empty Bliss Beyond This World), the entire score sounds like it was submerged in barrels of muddy water and mic'd against a rain storm. While all of these variables should add up to a monotonous listen, it's a magical instance of mood manipulation instead.
–
Carter Tutti Void, Transverse (Mute)
A one-night-only collab between Chris & Cosey and Nik Void of Factory Floor. Four trance-inducing live tracks and one fluid studio recording, it sounds like an increasingly chaotic electrical storm set to a steady motorik beat.
–
Cooly G, Playin' Me (Hyperdub)
The long-delayed debut LP of the singer/producer who helped put the UK funky scene on the map reaches well beyond the outer limits of what that record shop subdivision is supposed to represent.
–
Converge, All We Love We Leave Behind (Epitaph)
How these war horses have stuck around for nearly 25 years is beyond us. Actually, it's not; as Converge keep putting out albums like this, they make it abundantly clear that they only get angrier–and somehow more accessible if you're into breakneck tempos and guillotine-like guitars–with age.
–
Crystal Castles, (III) (Casablanca)
When Ethan Kath says, "We wanted [our] new album to sound like a completely different and new experience" and then makes sure to add how "we'd limit ourselves to one take on each song because we believe the first take is the rawest expression of an idea," it's easy to dimiss the producer's claims as nothing but predictable DIY-or-die nonsense, spouted by a guy who now makes a lot of money playing shows that're best suitable for punk house basements. But here's the thing–Crystal Castles have maintained their messy but melodic sound on the duo's third album, an effort that puts its 'edginess' on the same pedestal as its mangled pop hooks.
–
Cult of Youth, Love Will Prevail (Sacred Bones)
As royally fucked as the world appears to be on Cult of Youth's new record, frontman Sean Ragon is still hanging onto roughly hewn strands of hope. Before love can truly prevail, however, the singer/multi-instrumentalist sounds like he's staging the fight of his life, channeling a love of Crass Records with scrappy folk songs and teeth-gritting choruses. And while the self-engineered mix–Ragon recently built a studio in the back of his Brooklyn record store–is thin at times, airtight songwriting holds it all together.
–
Daughn Gibson, All Hell (White Denim)
Tall truck-stop tales and barstool breakdowns, as stylized by a former punk rocker who pairs his crate digger inclinations with a thirst for country that reaches well beyond the Johnny Cash canon. Strange and surreal in all the right ways–loop-lobbing outlaw music that'd work well in the background of a postmodern biopic about Jesse James.
–
Dean Blunt, The Narcissist II (Hippos In Tanks)
Thirty minutes of nightmarish R&B and scrambled radio transmissions that're so fully realized they went from being a free download to a limited Hippos In Tanks LP.
–
Dean Blunt and Inga Copeland, Black is Beautiful (Hyperdub)
Another piece of the Hype Williams puzzle, one that carves out its own deeply disturbed–and yet wholly engaging–corner in Hyperdub's bass-heavy catalog.
–
DIIV, Oshin (Captured Tracks)
The first thing that occurred to us while watching one of DIIV's early shows was that someone really ought to coin the term "Real Estate-core." (Please don't.) Because that seems to be a thing now–a mildly pleasant jingle-jangle vibe that sparks memories of summers past faster than a flip through your high school yearbook. At least that's what we thought about the Brooklyn band's live show; their debut album is a different affair, with storm clouds gathering on the horizon and enough spare references to the Cure and the godfathers of shoegaze to keep things familiar but fitting.
–
DJ Shadow, Reconstructed: The Best of DJ Shadow (A&M)
A catalog-skimming reality check for anyone who's forgotten why you just don't do things like this to a guy–the consummate crate digger–who actually deserves to have the word "DJ" in his name. That cover art's got to go, though.
–
Drexciya, Journey of the Deep Sea Dweller I/II/III (Clone Classic Cuts)
An ongoing master class in decidedly underground Detroit techno, rescued from the rarified realm nearly a decade after the death of its only official member (James Stinson).
–
Earth, Angels of Darkness, Demons of Light II (Southern Lord)
The second part of Dylan Carlson's finest hour since rebooting the band in 2005, a forrest-dwelling exploration of traditional British folk tropes and wildly expressionistic guitar work.
–
Fenn O'Berg, In Hell (Editions Mego)
An assault on the senses like only Christian Fennesz, Peter Rehberg and the best thing that ever happened to Wilco can, In Hell is pulled from a week of Japan performances, weaving its way through waves of neo-classical, noise and ambient music like a malfunctioning radio station that's being broadcasted from some nutcase's garage. And yet, hooks emerge–someway, somehow–as if a pop programmer is struggling to reclaim the airwaves. Really, really good stuff if you prefer the more insane side of the improv spectrum.
–
Fort Romeau, Kingdoms (100% Silk)
Fort Romeau's debut album is yet another example of how limiting and downright idiotic the 'hipster house' tag is, plowing any bedroom producer preconceptions over with lonesome vocal samples and lush 4/4 landscapes that have more in common with the deep dance roots of Chicago and Detroit than anything remotely trendy. Definitely one of the more promising entries on 100% Silk's growing roster, and from La Roux's keyboardist no less.