THE HOUSE THAT JUAN BUILT: Nancy Whang, Juan Maclean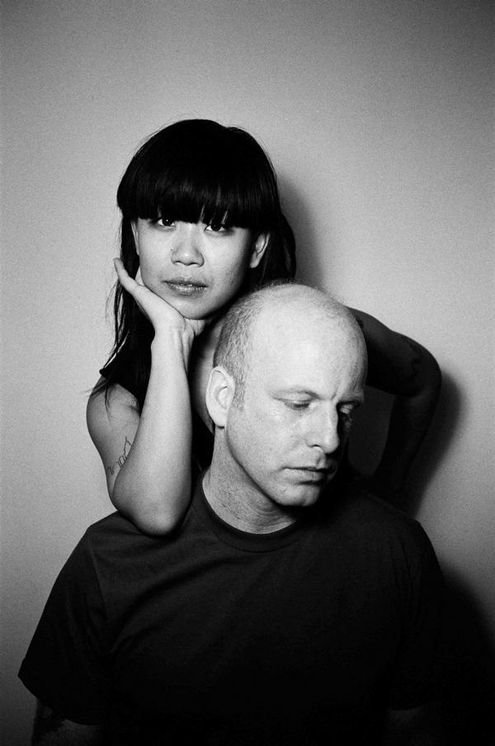 Presenting self-titled's weekly roundup of vinyl/digital singles …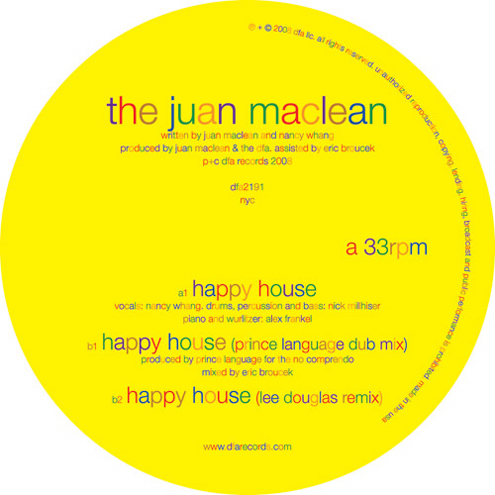 MUST SPIN OF THE WEEK:
The Juan MacLean, "Happy House" (DFA)
Everyone knows pacifiers and parachute pants should only be worn by the most hopeless of E-tards. That goes without saying. So why did this throwback dance track just make the self-titled office spontaneously combust into a goddamn rave?
Seriously–our managing editor, Arye, just cracked open a glowstick (where he got it, we have no idea) and started waving it around the room like a light saber. As silly as he looks, we can't blame the little guy. Not when a track's this flawless and epic. As in nearly 13 minutes long, brimming with more movements than a neo-classical composition, from its peak hour piano keys to some seriously on-point vocals by Nancy Whang. The secret weapon of LCD Soundsystem (she's the band's primary synth-slinger onstage) and such indie dance anthems as Soulwax's "N.Y. Excuse" and the Juan MacLean's three-year-old (!) "Give Me Every Little Thing" single, Whang has finally transcended her typical guest vocalist/keyboardist role and straight-up stolen the show. Listen and learn, as you're left repeating, "excellent/you are so, ex-cellent" and "launch meeee intooo spacccce" along with the underground's leading diva.
The fact that Whang contributed a great deal of vocals to the Juan MacLean's entire sophomore LP only serves to excite us even more. Quick– another single with sunbeams bursting at its grooves, guys! And make it quick: we need more music like this to officially erase the electro from electro-house for a healthy minute.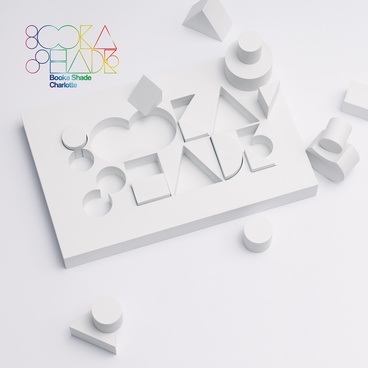 Booka Shade, "Charlotte" (Get Physical)
Much has already been made of how Booka Shade's latest record is more of a headphonic listen than their last two long players. And, well, it is; the guys made sure of it, saving their floor-pleasers for a bonus disc that'll be attached to a limited edition version of The Sun & the Neon Light. That, and whatever singles spring from the Booka Shade camp in the coming year, beginning with four alternate, speaker-singeing mixes of "Charlotte." All of which bring a new dimension to what's actually one of the album's more limb-loosening tracks. The highlights: Dubfire's spare, slow build–made all the spookier by the slight hiss of hi-hats and lots of speaker-panning effects–and the duo's own dark "No Pain No Gain Mix," which starts off in the far corner of a club–woozy bass lines bouncing away in another room–only to suddenly lock itself into a groove and never let go.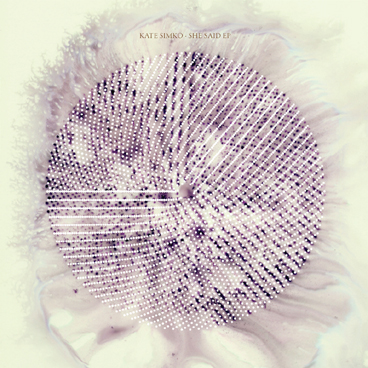 Kate Simko, She Said EP (Spectral Sound)
LOVE the sleeve of this single, the first of three collaborations with designer Mike Cina of Baltimore's WeWorkForThem collective. This being 2008–the year binary code completely replaces album art in most record collections–you're probably more concerned about the music, though. Well, we're happy to report that it's worth a needle drop or download if you're into dark alleys and minimal but meaty techno. Essentially the complete opposite of "Happy House," the title track gobbles up the single's entire A-side with 11 and a half minutes of palpitating beats, hollowed-out percussion loops and sweeping effects. Listen for too long and you might feel like you just got sucked into a K-hole for the first time since that one night in 1998. As for the flip side, it features an airtight Ryan Elliott and a jazzy number for the 1 a.m. crowd ("Soltera"). Grab it digitally and you'll even get a bonus cut: the clanging, pillowing groove of "Dulce." Hey boys club; you just got crashed.