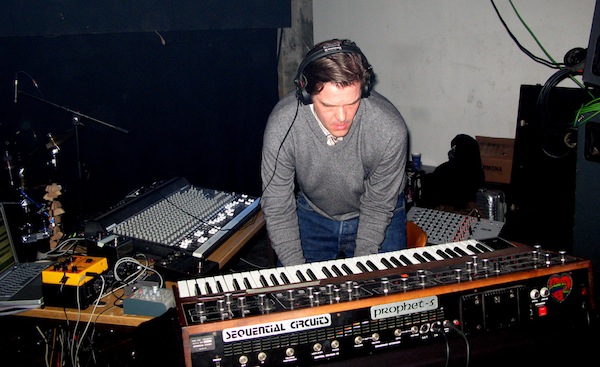 By Andrew Parks
From debilitating drone pieces to melodramatic platters of dub techno, the list of artists influenced by Moritz von Oswald is almost as long as his back catalog. Almost. After all, we're talking about the guy that helped shape the future of German electronic music with such expansive, bar-setting projects as Basic Channel, Rhythm & Sound, and the "M-Series" of Maurizio 12-inches. Not to mention his recent run of impeccable work with Carl Craig (Recomposed, a collection of synth-spliced, neo-classical takes on Maurice Ravel and Modest Mussorgsky) and the Moritz von Oswald Trio (Vertical Ascent). The latter plays a rare set at (Le) Poisson Rouge tonight, as part of the Unsound Festival that's presented by Fundacja Tone and two New York-based non-profits, the Polish Cultural Institute and the Goethe-Institut.
We managed to steal some phone time with von Oswald during a brief break back home in Germany…
You've played many different types of music over the years. What's one of your earliest memories as a listener or a performer?
I started as a drummer at a university in Hamburg.
You didn't play as a teenager then?
A little bit, but not too much until I was 19 or 20.
Were you into dub at that point?
Yes. And some reggae, soul and classical.
What made you gravitate towards dub? For many people, it's seeing that kind of music performed live…
It was quite a change for me when I realized [dub musicians] use the studio as an instrument, as a creative tool that can enhance sound. King Tubby and all of those guys are very upfront, you know?
Do you have a favorite piece of gear, one that's helped in the development of your sound over the years?
Well, what do you hear when you listen to my stuff? I'm curious.
A lot of analog equipment; a lot of pads and synthesizers that are manipulated live.
Yeah, I just tried and tried until I found the sound I wanted to have. It took a long time.
Do you remember when you were first exposed to electronic music?
What was going on in Germany was very important to me in the early days. That, and producers like Juan Atkins and Carl Craig.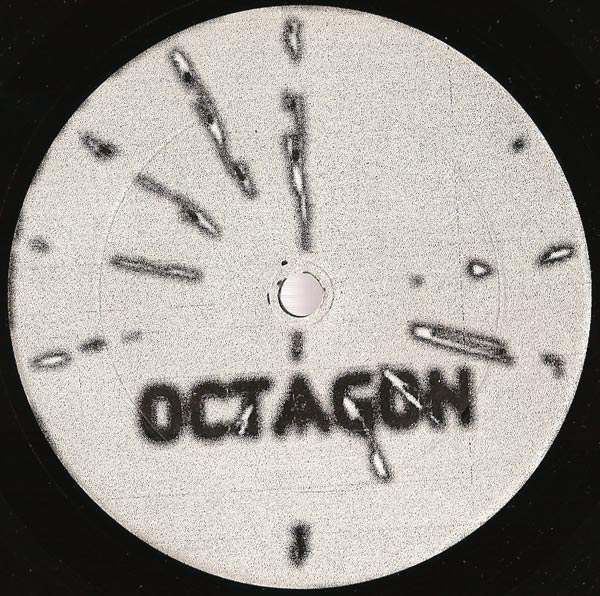 One of the things that's always stood out about your work is the strong concept behind each project and the different labels you did with Mark [Ernestus]. It's like every element is of equal importance….
Well, it isn't a concept so much as whatever comes out of the [music] we're working on at the time. The sound dictates the concept. [With Basic Channel and Rhythm & Sound] we didn't sit down and say, 'Okay, let's try this.' We worked on the music first, and then the artwork, and the label ideas–how we would present everything to the public.
Speaking of presenting music to the public, one major misconception about Basic Channel is that it was created with the idea of 'dub techno' in mind.
That's true. It had nothing to do with dub techno.
Do you ever listen to any of the modern artists that identify their tracks as dub techno?
Sometimes.
And do you like any of them?
I like a lot of stuff. [Laughs]
What about dubstep?
Yes, some of it is very good. I really like Mala.
What's special about his productions?
The deepness of it. It's emotional, you know?
Right. Which is something Basic Channel brought to techno–emotion, something that's missing in the cold sound of some minimal techno.
That's not true, actually. [Minimal techno] is not cold. It's very warm, emotional and deep. The more you listen to it, the more it affects you.
Most of your tracks took up an entire side of a record for that reason, right? Because it went for a deeper sound?
Yeah, you have to get used to [the sound of minimal techno]. You have to hear it in a club, too. That part–the environment–is very important.
And today's digital music is highly compressed overall, making richer songs lose some of their impact…
Exactly. Sorry to wrap this up so soon, but I think someone else from the states is about to call…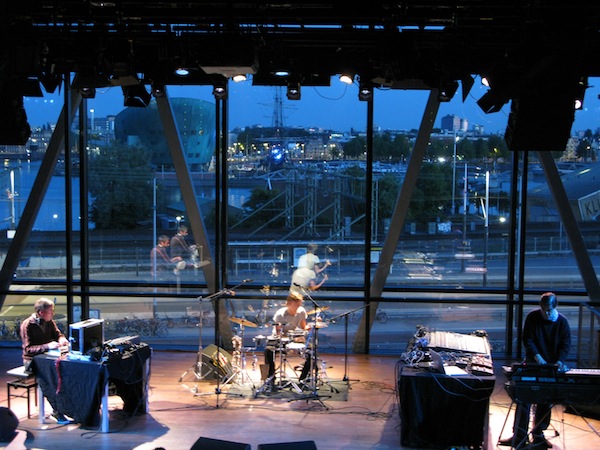 Okay, well, here's one last important question: Any decent trio, whether we're talking about experimental music or jazz, is only as strong as the sum of its parts. So can you tell me what's special about your relationship with Sasu [Ripatti] (see our story with him here) and Max [Loderbauer]?
I've known Sasu since the Chain Reaction days. I really loved his music then, but it's extra special now. His playing is simple in a way–deceptively so. It's the same way with Max. He doesn't overplay anything but the melodies he comes up with suit the sound we're going for very well.
Have you worked on any new music with them yet?
There's a new album that's almost done.
Is it four longer pieces again?
No, it's going to be quite different, a little more lightweight than the last one. There's going to be some other instruments as well, like a double bass and some guitars.
So there will be some guest musicians?
Some guest musicians, yes…I want the sound to be a lot richer, you know?
Improvisational, too?
Yes, with no rehearsals. We just sit down and play. Everything is a collaboration, like always.