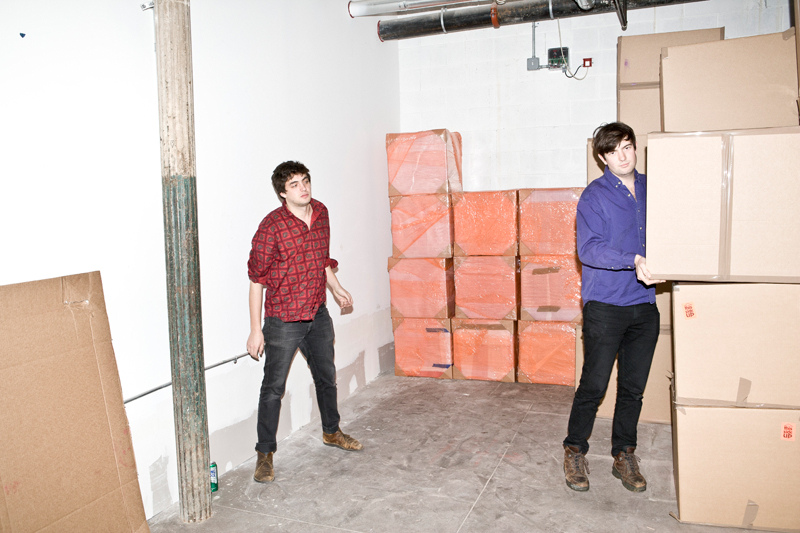 Photo by Jeremy Liebman
Unlike the protracted release of last year's Blondes LP–a series of conceptual singles, later repackaged alongside complementary bonus tracks and a compilation of remixes–Swisher snuck onto digital shops and YouTube (see below) in the middle of the night, immediately establishing Blondes as one of the year's sneakiest indie artists. Aside from deliberately avoiding the now familiar Pitchfork Advance/First Listen/Soundcloud route, the Brooklyn duo's decision to suddenly raise the curtain on their latest RVNG Intl. record forces any curious parties to consume it the way a fan would on the way home from a Midnight Madness sale in the mid '90s: voraciously.
None of this would matter if the music didn't hold up, but we spent most of yesterday listening to a discretely mailed CD-R copy and Swisher didn't just warrant repeat listens; it demanded them. That's because it's yet another step in Sam Haar and Zach Heinman's evolution as maestros of extended release music. Meaning: tracks that don't just borrow their textures from acid techno, Chicago house, cheese-free chill-out rooms, and kosmische-schooled Krautrock. They burn as brightly as the midday sun and take just about as long to set, all while incorporating elements of psych (the refractive drones of "Aeon"), amphetamine-addled dub (the Basic Channel-isms of "Wire"), hedonistic house (the manic melodies of "Elise") and countless other influences that'll reveal themselves in due time.
In the end, there's very little breathing room. A complete lack of drops. And most importantly, no gimmicks. Just one long, immersive sequence of carefully sculpted dance experiments that never feel too labored or loose.
Meanwhile, James Holden just released his first album in seven years and what do you know? It's essentially an even ballsier version of the Blondes record. By way of its all-analog-everything spirit, at least. Anyone who's heard Holden's fantastic DJ-Kicks mix probably won't be surprised by this, what with the way it seamlessly blended such disparate forces as Eric Copeland, Mogwai and Legowelt into one seething, endlessly surprising mass. The Inheritors ups the ante however, delivering 15 distinct modular synth meditations that crack your skull and speakers wide open in equal measure without relying on overdubs or studio trickery.
Some of it's rough around the edges as a result, a distorted, gleeful mess of ambientcosmickrautfreeformnoisetechno. And yet, calling shotgun at the start of Holden's wild ride leads to an invigorating and illuminating listen, a glaring example of his production prowess and wild-eyed vision that makes you wish he wasn't so busy running Border Community and inadvertently courting Thom Yorke all these years.
"Gone Feral" indeed; the rise of the machines continues…