The following cover story is taken from the latest issue of our free iPad magazine. Download it on the App Store or check out a complete archive of features here.
Photography JAKE MICHAELS
Words MATTHEW MCDERMOTT
In an unassuming office perched above a busy stretch of Melrose Avenue, spliffs have replaced caffeine as the afternoon's drug of choice. Hidden behind a hoodie on a nearby couch is 24-year-old Henry Laufer, a.k.a. Shlohmo, the reluctant de facto leader of Los Angeles' WEDIDIT label and a rising producer in his own right. A heavy pair of eyelids make him look profoundly high, but it doesn't take long to realize Laufer is listening to everyone around him on a much deeper level, holding court on gentrification and inequality in a stoner's patois.
Laufer was largely absent from proper record stores throughout the past year, but his jilted sad-boy jams still managed to rack up millions of SoundCloud listens and a growing grassroots audience, thanks to collaborations with How to Dress Well ("Don't Say No"), BANKS ("Brain") and Jeremih (the No More EP, a rocky co-release with Def Jam). Now that he's about to unveil WEDIDIT's first partnership with True Panther (the AA single, "Emerge From Smoke" b/w "Ode 2 Tha Whip") and an eagerly anticipated new album (the "devastatingly violent" Dark Red), Laufer is poised to lead a generation of young producers who cultivated their own self-contained universe on the Web.
"Henry is truly an artist's artist," explains WEDIDIT manager Nick Melons, who's been Laufer's best friend since sixth grade. "He approaches music like a gallery show, and he has so many influences, whether it's Tom Waits or Aphex Twin.
"At times, that's been troubling for people. They'd be into a beat tape and so mad that he was playing stuff that was more experimental. Then he'd do these DJ gigs where he'd play Lil B into Project Pat, and people were like, 'Fuck that; that's not what I want to hear.' And now he's about to change things up once again, which is dope, but a lot of people are going to have to learn and adapt."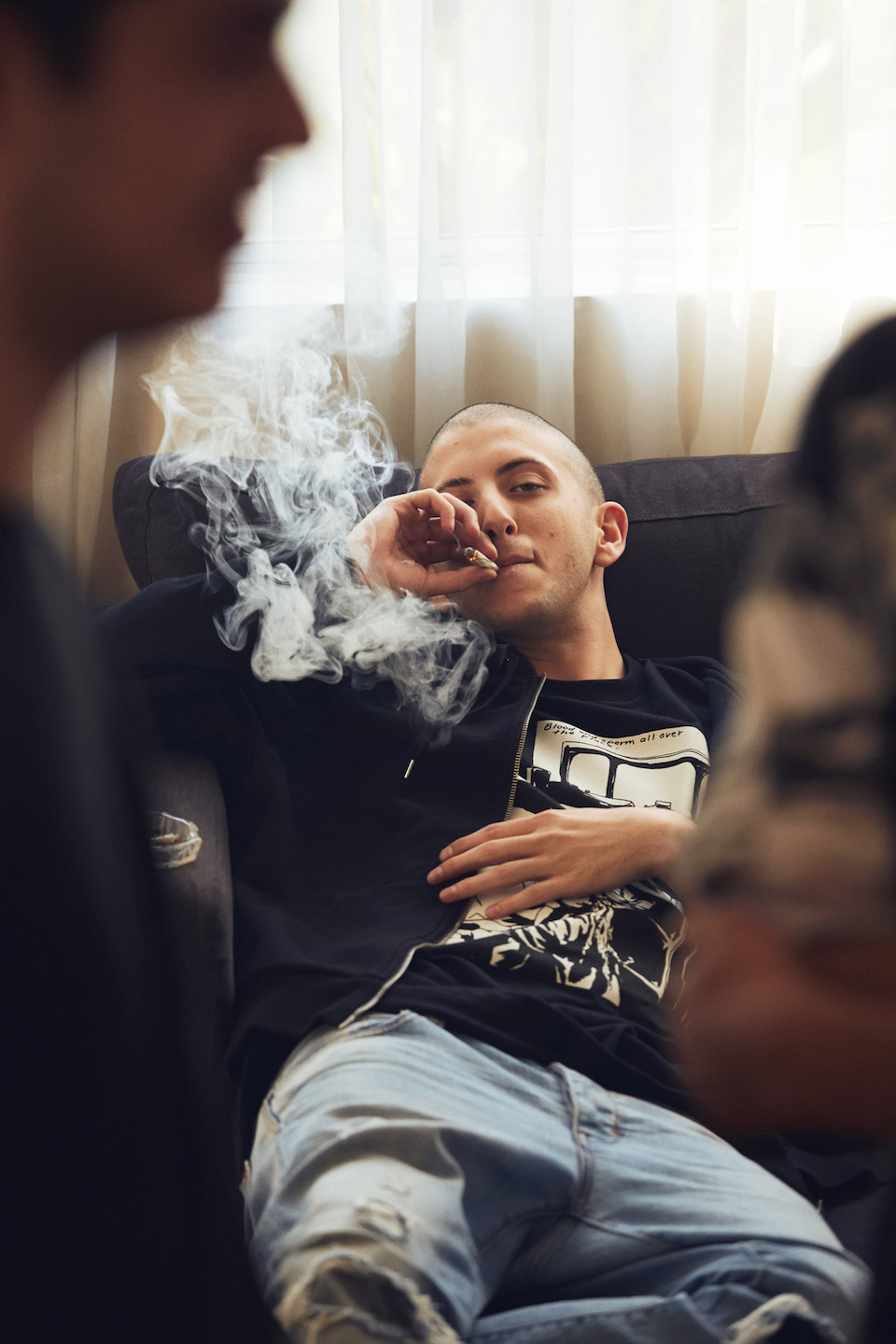 SMOKE SIGNALS
House parties aren't just a rite of passage for teenagers in Westside LA. They're a Bret Easton Ellis novel come to life—a seemingly endless cycle of teenagers behaving badly supported by parents who have their palaces turned into playgrounds when Mom and Dad are busy working. This is where the WEDIDIT crew cut their teeth as DJs, lugging a huge makeshift sound system into towering enclaves with multiple garages, infinity pools and other lavish fruits of Hollywood labor.
"House parties out here are a real thing," explains Laufer. "It's trippy, too, because we went to a private high school. I'm from [just south of Hollywood] but we went to school with all types of kids, literally billionaire kids."
"Honestly, it felt crazy," adds Melons. "When we went to college, it felt like people were just getting into parties, drinking and drugs. But in my high school, kids were getting sent home for rehab from cocaine addiction in ninth grade. It kinda was this wild bubble of weird partying."
"You'd go to a gated community one weekend," continues Laufer, "and a house guarded by Shoreline Crips the next. That's a real scenario. That's just LA, I think."
D33J'S TOP FIVE FIRSTS
1. First word: Hot 2. First CD: System of
a Down, Toxicity
3. First show: Hank May at some church in Venice
4. First order of Ricky's fish tacos: October 5, 2014
5. First place a girl touched me in a sexy way: Big Bear, California
Djvan Santos—another WEDIDIT associate, who records as D33J—remembers a similar situation from his time at Hamilton High, a magnet school where he met fellow crew member Jasper Patterson, who now performs as Groundislava, and other local musicians like Baths and members of FIDLAR.
"One time my parents threw a big Brazilian party, and Jasper came through with a bunch of people I didn't know at the time," Santos says. "These always ended up being ragers—older Brazilians mixing with my friends and random people who somehow found out about the fiesta. We didn't even meet until, like, a year later, but there's a photo of Jasper and Nick Melons super high somewhere, wearing sombreros in my backyard. I'll have to dig it up some time."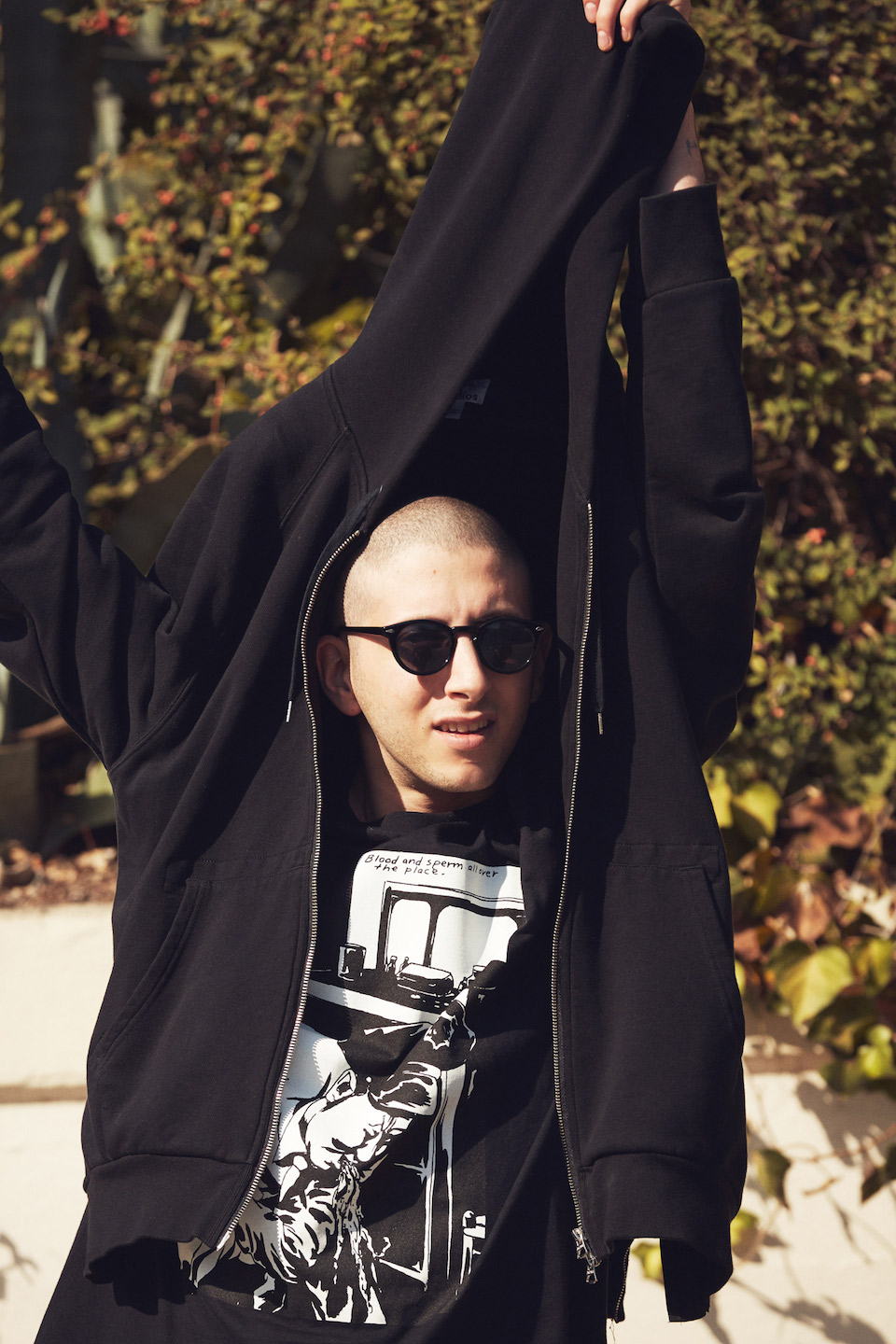 When Laufer's parents forced him to pick a summer activity, he suggested UCLA's summer course on turntablism, where he'd learn to rock parties alongside his close friend Joe Cool. Joe fills WEDIDIT's Pete Best role; he's largely abandoned music and works on an apple orchard in the Pacific Northwest. Meanwhile, Laufer never wavered from the musical family he was born into. His father, Rob, is a successful sideman who's played with Fiona Apple and Frank Black. Rob's son tells me there were always instruments around his house growing up, and that his love of LA punk staples like Fear and X naturally bled into skateboarding and further discoveries.
"That's actually a big part of Los Angeles," he says, "watching all the skate videos, pausing the VHS to find out what song it was, searching it on Kazaa or Limewire. That's how I found out about the majority of shit, actually—Amon Tobin, DJ Shadow and a lot of the first rap music I liked."
As is the case with most other millenials, the Internet factors into every step of Laufer's musical journey. His first tracks were made on a pirated version of the production software Reason. When he got a copy of GarageBand, he realized you could drag any misshapen loop in for sampling, a practice he continues today. He then started uploading his productions to MySpace as Henry From Outer Space, linking with a diaspora of futuristic producers like IVVVO and Ryan Hemsworth during that site's halcyon days. The WEDIDIT crew also launched its own MP3 blog as a way to upload new material, support outside artists like Odd Future, and promote its own parties with crudely drawn flyers the way a traditional zine might.
"Our posters have always been fucked up because we do them by hand with bootlegged versions of Photoshop," explains Melons. "It's less refined, like how me having a chipped tooth is better than me having perfect teeth. That's how I see art and music; I want to see the roughness around the edges."
Laufer's somewhat dismissive of his early efforts, starting with 2009's DJ Shadow–inspired Shlo-Fi EP. The way he sees it, 2011's Bad Vibes LP— created after a failed stint at the San Francisco Art Institute—was his watershed moment. "Bad Vibes is the first thing I really wanted to say," he explains. "My dad gave me this old Kay brand guitar. It was really awful to play but had amazing pickups." Plugged directly into a mixer, it would serve as the basis of his most direct work to date: a shoegaze-indebted instrumental R&B album. "The biggest thing I learned [from art school] was intention," he says, "not just making shit because you're bored."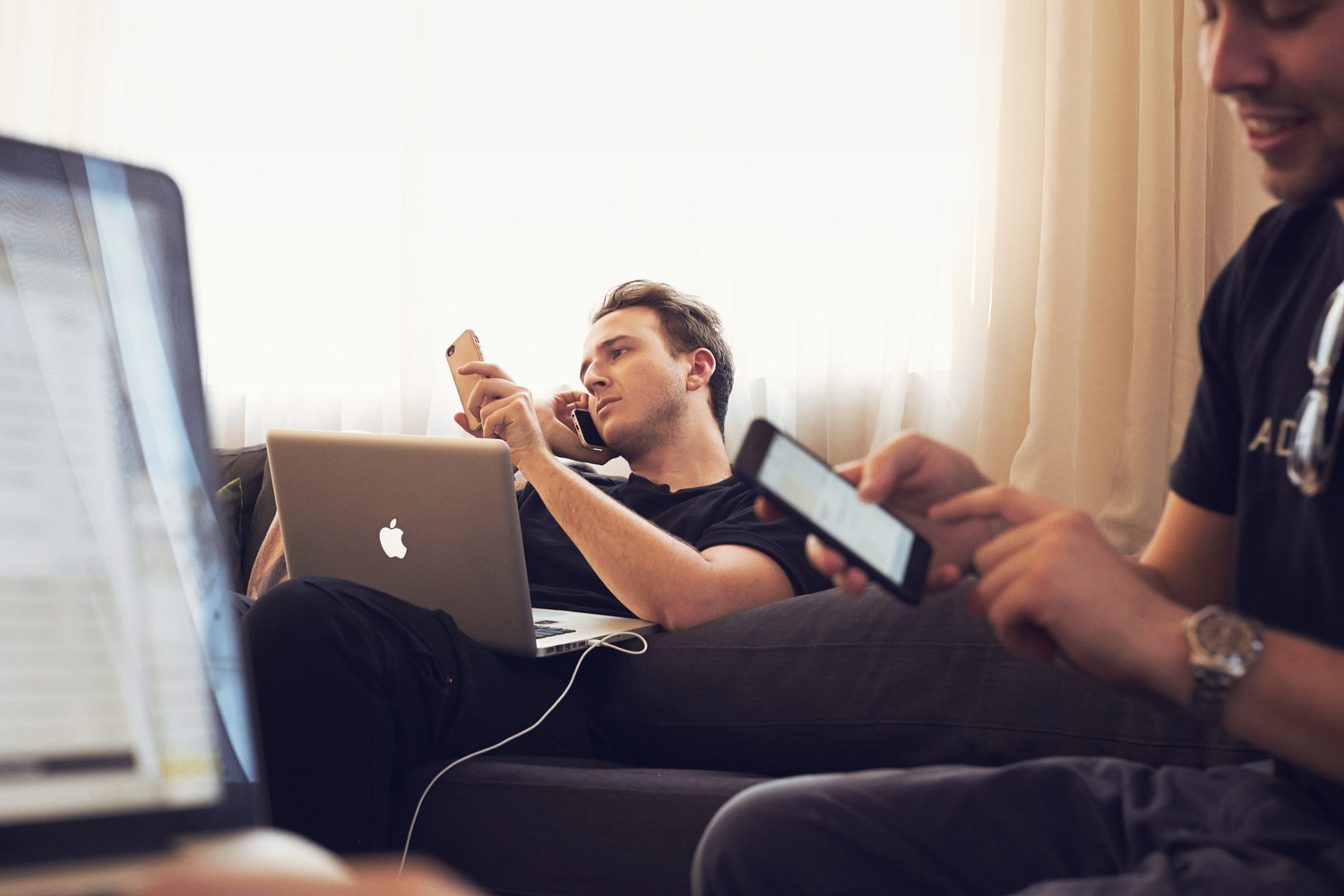 THINKING MAN'S TRAP
Laufer claims the WEDIDIT crew came up with their name while driving around LA and yelling at random strangers. As in "Hey! I like your dog!" and "Hey! We did it!" Later, during a formative period in New York where Melons, Shlohmo and producer RL Grime were all roommates or neighbors near NYU, a MySpace account appeared under the WEDIDIT name.
That tiny New York apartment represented a temporary exile from LA; it was a place to get their shit together and live out their "professionally unprofessional" motto. RL Grime, proper name Henry Steinway, went to high school near Shlohmo and Groundislava, but didn't link with the crew until he dropped out of school and moved to New York. He has an easygoing smile and the casual assurance of someone who has spent most of his professional life in front of adulating fans.
When he linked up with Laufer and Melons in New York, he was already a successful producer, signed to Dim Mak as Clockwork and known for electrohouse anthems like "Squad Up." He had dropped out of Northeastern, unable to hand in assignments on African literature while touring constantly but eventually stayed behind during a college break, a period of isolation birthing the more musically omnivorous RL Grime alias.
"During winter break in 2011, I decided to stay in New York while everyone else went home," Steinway says. "I was living in some tiny-ass apartment in the East Village, coming up with the first RL Grime EP. I got into James Blake and the Weeknd; prior to that, I was literally just making 128 BPM house and electro music. It was such a free feeling to sit down and make whatever I wanted."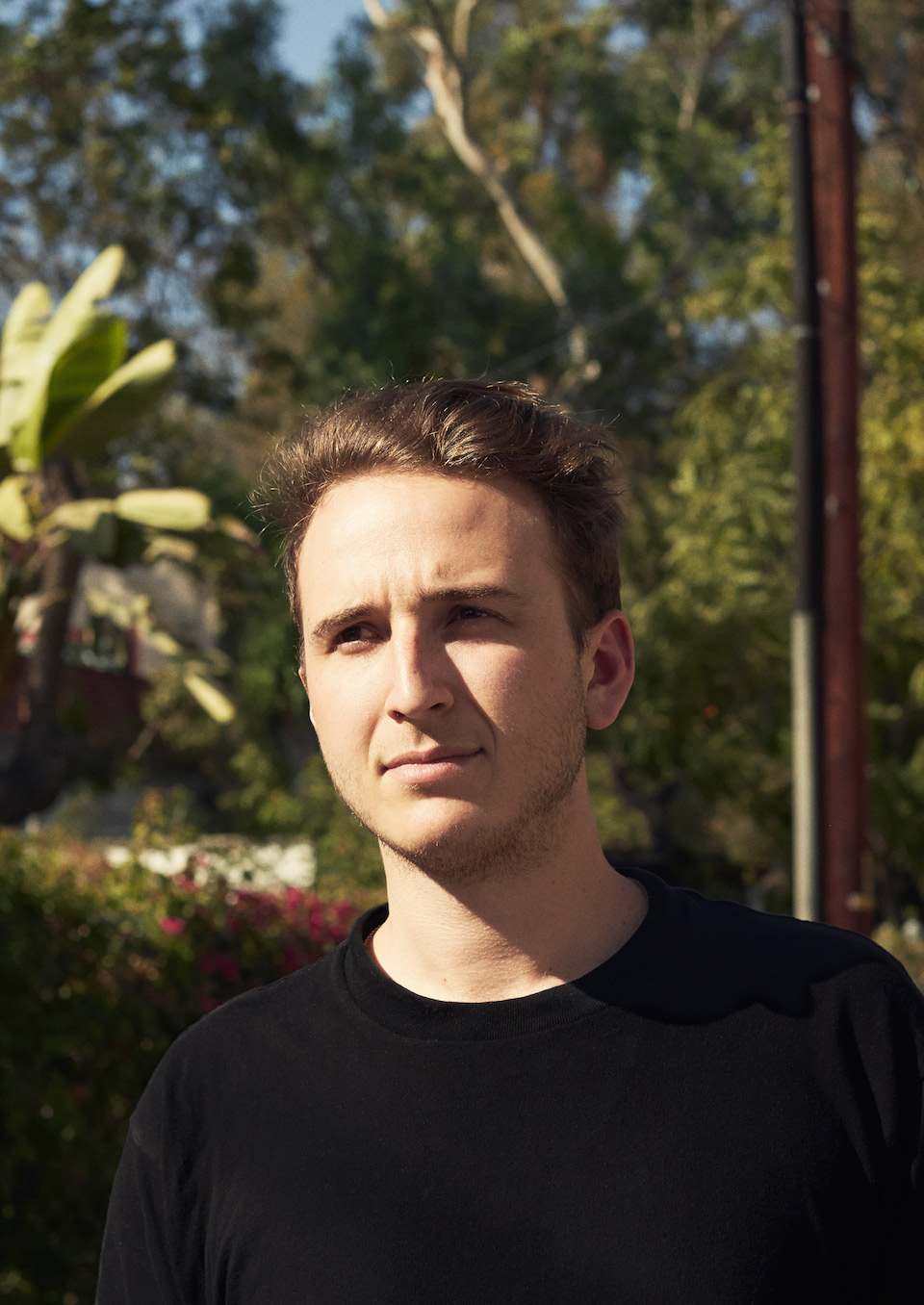 Steinway is definitely the party-rocking DJ in WEDIDIT, comfortable taking massive festival crowds through trap-heavy peaks and valleys. His digital-only Grapes EP, the first official WEDIDIT release, is a half-time dancefloor detonator that's surely served him well during gigs with Bauuer (with whom he made "Infinite Daps") and on the EDM festival circuit. His recent album, Void, however, shows an unprecedented depth beyond all the bangers, like the John Carpenter–esque loops of "Let Go (Interlude)" and the delicate piano that bookends the Burial-influenced intro "Always."
According to Steinway, Void's more subtle tracks reflect the music he listens to when he's not bringing out the bass face in college kids. "I feel like I've always had the stuff on this album in me. When I'm on the road, I don't listen to hype music at all. All of it's very downtempo and mellow—PartyNextDoor, Tim Hecker, Boards of Canada."
Though it has quiet moments, Void is still calibrated for club kids. Following Big Sean's guest spot at Coachella, the producer wrangled the rap star for the howling trap hooks of "Kingpin." Steinway insists he grew enamored with synapse-frying sounds via Lex Luger and well-produced gangster rap like 50 Cent's epochal Get Rich or Die Tryin' LP, which was released while he was in middle school.
Laufer echoes Steinway's views on modern hip- hop and pop, shouting out the ubiquitous producer who's worked on everything from "Mercy" to Miley Cyrus's Bangerz: "Mike Will's bananas," he says. "That's fool's my age." He continues, beaming about St. Louis beat maker Metro Boomin who's worked extensively with Gucci Mane and Future. "Metro's fucking nuts."
What's crazy is that the crew, consisting of white kids from LA who love Boards of Canada and used to DJ at mansion parties, is beginning to level up with these producers. Rap's steady slide into stranger territory and WEDIDIT's obvious debt to hip-hop and R&B make for a surprisingly natural fit. But that's only part of the story.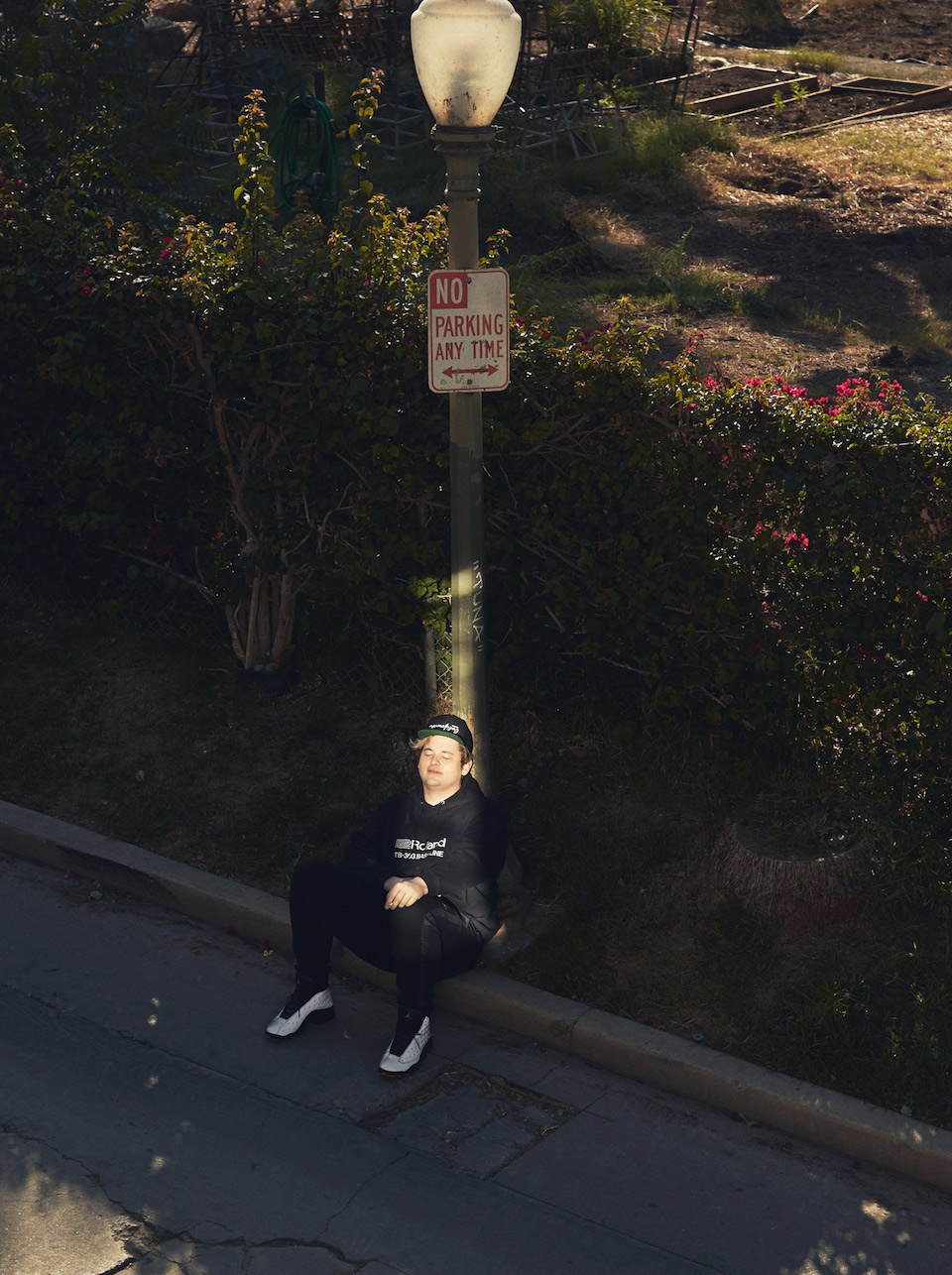 TOTAL RECALL
Spend more time with WEDIDIT and it quickly becomes clear that Groundislava is the crew's oddball, his sprig of bleached blond hair bouncing as he gesticulates with nervous energy. He's known Shlohmo since high school, but his taste leaned more toward house, trance, and LA's Low End Theory (Flying Lotus, the Gaslamp Killer, Daedelus) scene than DJ Shadow.
"I always felt a little bit weird delving into the ultra-ravey, trance shit I liked," he explains. "I knew it was corny and that everyone else thought it was really fucking corny."
Patterson delved further into IDM, and refers to a turn-of-the-century Japanese compilation (The Best of Velfarre Cyber Trance) as life-changing. He's the only WEDIDIT member to have lived in LA his entire life and, once again, refers to house parties as the glue that held the group together.
"We'd be outside the party in one of their cars blazing, showing each other tracks," he says. "We were the dudes making electronic tunes at that time."
He goes on to address his Frozen Throne LP from this past year, which leans heavily on the blue-eyed soul of one of his oldest friends (Alex Talan of Rare Times) and the boogie-funk breaks of Benedek. "It's a mix of three different sounds," he says, "R&B ballads with a kind of '90s Sade/New Age feel, Warp stuff including Aphex Twin, and Rephlex Records and house and trance from the late '90s and early 2000s."
A self-proclaimed "cyberpunk narrative" as colorful as the action-figure collection in his bedroom, his internal dialogue on Frozen Throne is detailed and hyper-informed. His brother, Sus Boy, partially responsible for WEDIDIT's visual aesthetic alongside creative director David Rudnick, helped Patterson delve through cyberpunk's sparse portrayal in film. Patterson excitedly refers to the primary influence of William Gibson's epochal sci-fi tome Neuromancer. "What's so cool about William Gibson is that the way he writes is almost too dense," explains Patterson, "but he makes it work. That book has so much visual influence without having any visual content."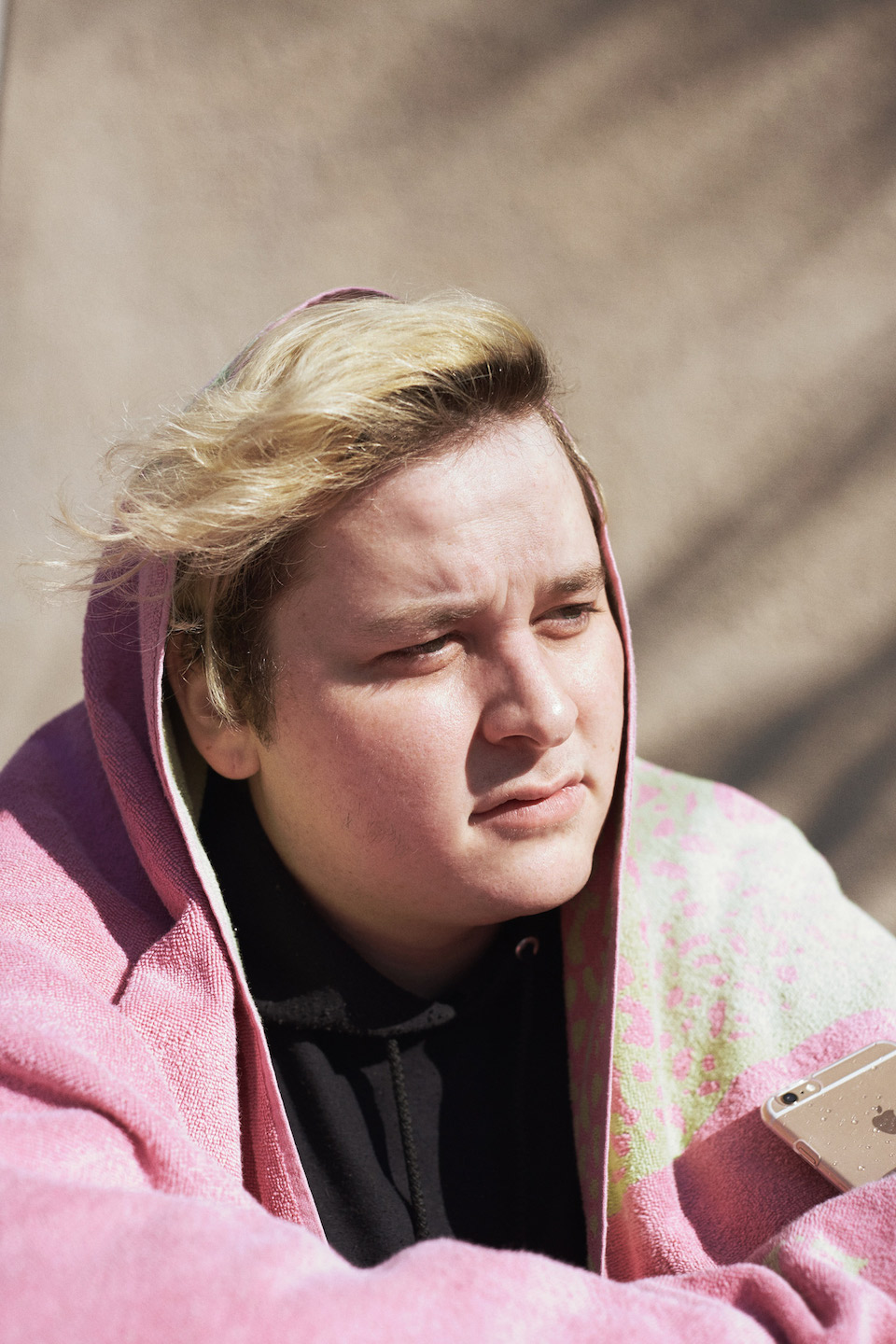 His working method also eschews WEDIDIT's "professionally unprofessional" model. For the new record, he laid down demos with Talan and Benedek, eventually stringing together a cohesive narrative that sounds like a story of love lost in a dystopic future. Only then did they record in earnest, and the pristine, '80s-ballad-style production bears this out.
When asked point blank if he's the nerd of the collective, he responds enthusiastically, "Yeah! I'm not doing stuff that's going to net me 100,000 hits on SoundCloud, but over time I've built confidence in my taste within the context of the label. When we're playing each other shit, I'll play stuff that's more poppy, bubbly and fast. But no one's ever like, 'Oh, that's weird.' Everyone's always down."
As each WEDIDIT member continues to explore whatever avenue they want in 2015, Shlohmo leads the way in left turns, mentioning his new album is devoid of collaborations. After his ill-fated work with Def Jam on the Jeremih EP— which suffered numerous delays, then was given away for free—he says, "I just want to do my own fucking thing."
"A bunch of stuff happened," explains Melons of the Def Jam split, "and it reminded me of why I don't work with major labels. It was definitely a rough experience for all of us, learning how to deal with people who don't understand what you do. And it almost didn't come out at all. Like at all, but people wanted to hear this record, so I kinda just put it out without telling anybody. And it worked. The people who were mad at me initially were stoked because it benefited them in the end."
PURPLE ON WHY HE SWITCHED TO DECAF RECENTLY
"I've been spending a lot of time at home in the studio, so separating me from the coffee machine is tough. One morning I had, like, four super- strong cappuccinos, and I realized maybe I should take a break and try the decaf world for a second. Because I'm actually the kind of guy who can have a huge coffee cup or two double espressos at 11 at night. Maybe I'm just a coffee junkie. Decaf is not my thing at all, though. It tastes fucking weird— like coffee without the thing that makes it coffee. It tastes a little bit sweet by itself. But I have to do it. Otherwise, my heart won't be able to handle it."
When asked how a room full of childhood friends deals with major business moves like record deals and high-profile releases, Laufer says, "We're all just on the phone all the time, just trying to figure it out. I'm pretty lazy when it comes down to it, to be honest. I'm a stoner, so I forget to do a lot of the things that I even want to do. It's just me and Nick Melons living together, always asking what the next move is."
"They're so deeply connected to one another," explains Purple's Luis Dourado, one of the only WEDIDIT members who's not based in LA. (He's currently working on his debut album on Berlin, while Ryan Hemsworth keeps himself busy in Canada.) "I found that fucking beautiful, honestly. I feel so lucky to be accepted as one of them. They aren't just people trying to help me develop my music. They're friends, as well. It's a dream scenario—to be involved with people who are in love with the music that you do naturally."
The afternoon begins to wind down and Laufer tells us the collective's ultimate aesthetic is "fuck everything." Or "two extended middle fingers." A member of the crew enters the room behind us, turning on the gas range to light a spliff before disappearing to quiet laughter behind a studio door. Laufer trails off, his gaze fixating on the still- lit burner. "This fool left the fucking… Jesus!" He laughs. "That should be noted."
Shlohmo's new album is due out April 7th through True Panther/WEDIDIT. Check out its lead video below, along with a handful of other clips from his crew…