[Photo by Will Bankhead]
As we all know by now, new releases hit record store shelves and digital download services each Tuesday. That's why self-titled presents the following every week: a new release you'd be stupid not to own (Buy It), one worth checking out if you're curious (Burn It) and something you should avoid at all costs (Skip It). Simple, ain't it?
BUY IT
Actress, Splazsh
(Honest Jon's)
Darren Cunningham is what we like to call a "weird dude"–the kind of producer who intentionally pushes his mixes well into the red and sees nothing wrong with dropping an extended drone edit during a peak dance party set. He did the latter in the middle of a rare New York appearance last Sunday night and, well, it kinda cleared what was left of the floor. That said, Splaszh–Cunningham's second Actress LP, and first for Damon Albarn's label–is not a difficult listen any more than his live sets are. It's just a profoundly psychedelic one, a murky, mid-fi descent into madness that includes heady bits of distorted house ("Senorita," "Lost," "Always Human"), ambient soundscaping ("Futureproofing"), post-punk instrumentals ("Maze," "Purrple Splazsh"), industrial strength electro ("The Kettle Men") and full-on sound installations ("Casanova," "Supreme Cunnilingus").
Needless to say, it's nearly impossible to digest in one sitting, but that's the point–the very reason this is easily one of most engrossing albums of the year.
–
BURN IT
Melvins, The Bride Screamed Murder
(Ipecac)
If you're not sure whether you like the Melvins by now, then their twentieth album–at least we think it's their twentieth; we kinda lost count–isn't going to make up your mind for you. While Spin claims it's their "poppiest release yet," The Bride Screamed Murder is really just a slight refinement of what's been working in the band's favor since bassist/vocalist Jared Warren and drummer Coady Willis (the core members of Big Business) joined King Buzzo's ranks a couple records ago. Meaning: lots of La Brea Tar Pit licks, careening canon ball beats and hydra-headed howls, with enough unexplained phenomena (a twilight zone take on "My Generation"; the marching orders of "The Water Glass"; the church choir leads and utter creepiness of "P.G. x 3") to remind you that this isn't just another slab of wanton sludge metal.
–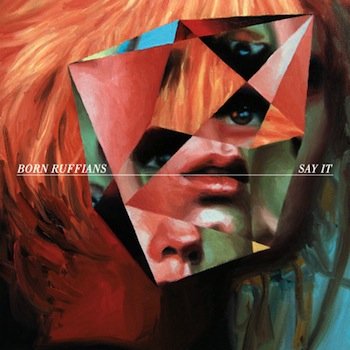 SKIP IT
Born Ruffians, Say It (Warp)
Maybe it's a British thing–a love of lean indie rock we can't even begin to understand. Or maybe Born Ruffians really is as irritating as our immediate reaction ("turn that boring, whiny crap off!") suggests it is. Either way, it's hard to believe that Say It comes from the same label that released Flying Lotus, Gonjasufi and Autechre–all essential listens–earlier this year. Come to think of it, let's pretend this never happened. The following video is rad, though…