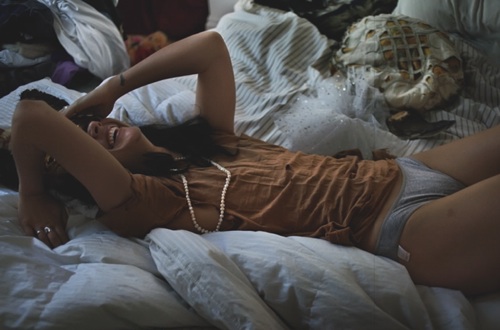 [Photo by Leonie Purchas for The Fader]
By Andrew Parks and Aaron Richter
As we all know by now, new releases hit record-store shelves and digital-download services each Tuesday. That's why self-titled presents the following every week: a new release you'd be stupid not to own (Buy It), one worth checking out if you're the curious type (Burn It) and something you might have heard about but probably should avoid (Skip It). Simple, ain't it?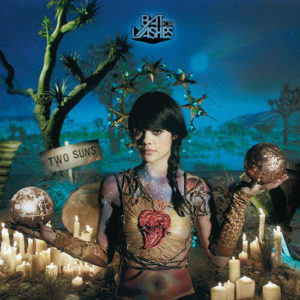 Buy It
Bat for Lashes: Two Suns (Astralwerks)
Back when self-titled interviewed Johan Renck about his splendid Bat For Lashes video, "Daniel," we asked the director what he thought of the lofty Björk comparisons that have been tossed Natasha Khan's way in the years since her Thom Yorke-approved debut, Fur and Gold.
His response: "She isn't the new Björk–she is her very own creature."
Touché, friend–touché. And if there was any lingering doubt about this, it's about to be shattered by the star-making moments on Two Suns. While we're not quite sure what Khan's going for on Suns' voodoo child record sleeve–two literal celestial beings and enough candles to stock several Crate & Barrel shelves, apparently–the music inside is set to stun from its shimmering, tumbling start ("Glass") to the all-too-brief, but undeniably beautiful, Scott Walker duet at the end ("The Big Sleep").  Somewhere in between, the aforementioned "Daniel" becomes an early candidate for Single of the Year, thanks to its cold-pressed synths, skeletal strings, and the inherent replay value of Khan's hopeful, heart-tugging melodies. As for other standouts, the heavyweight beats and the :56 mark of "Sleep Alone" ensure its staying power in what'll likely be a long, prosperous career.
Like Björk, only without a self-indulgent 'a cappella album' 10 years from now. –Andrew Parks
—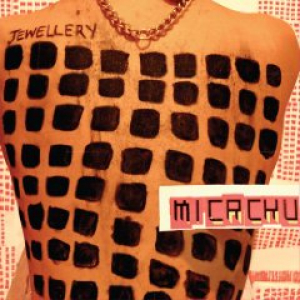 Burn It
Micachu: Jewellery (Rough Trade)
Leave it up to Matthew Herbert to help steer a record this odd. Though even with the "if it makes a dink, clink or plink…" producer at the helm–the tone palette and sound-extraction methods are recognizable as his–Jewellery glimmers thanks to the juvenile quirkiness of Micachu, aka Mica Levi, a child-like 21-year-old–androgynous in both appearance and voice–with a penchant for remarkable pop melodies and eccentric rhythm patterns thumped and strummed on home-baked instruments. Most impressive is the ease at which such densely processed nuttiness comes naturally to Levi, her voice effortlessly peeping above clattering beats and skipping from delicate beauty to speak-sung tomboyishness without a hiccup. Its self-indulgence rarely overbearing, obnoxious or distracting, Jewellery has a curious accessibility, despite its manic structures and unusual constructions. (Cue vacuum.) –Aaron Richter
[audio:http://www.self-titledmag.com/wp-content/uploads/2009/04/05-curly-teeth.mp3]
"Curly Teeth"
—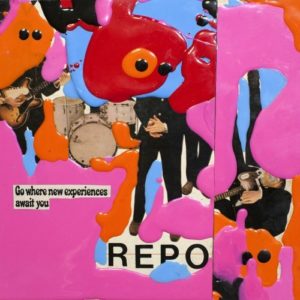 Skip It
Black Dice: Repo (Paw Tracks)
Wielding its arsenal of gut-squeezing bass and cochlea-straining samples, Black Dice has never before let our attention drift. Most often, getting run raw by their records leaves us groveling for seconds (and checking our pants for any evidence of brown-sound tomfoolery). But Repo, the group's second Paw Tracks album, is a lethargic drag, spreading its head-nodding grinders thin among scattered moods. Repo coughs up break-beat breakdowns ("Earnings Plus Interest"), lead-footed dub ("Urban Supermist") and acid-trip funk ("Ultra Vomit Craze"), but the record–scorching opener "Nite Creme" aside–lacks the engaging wallop and intrigue we've come to expect. Too often, the music feels distant and removed, relegated to the background, to sit and squirm rather than stand and shout. The group's been a self-titled favorite since we first destroyed brain cells to Beaches & Canyons, so we're dying inside after giving this one a pass. Though that's nothing a wall-trembling hour of "Smiling Off" can't fix. –A.R.