BODIES OF WATER: We're worried about the woman in the back too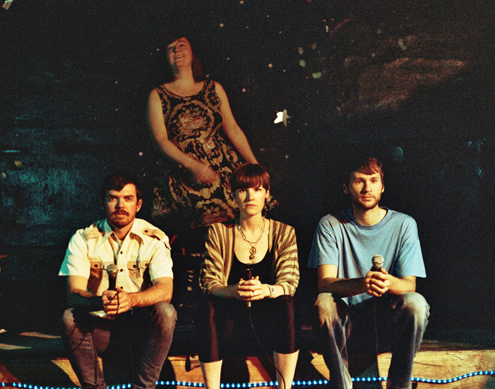 [Photo by Laura Heffington]
By Aaron Richter
As we all know by now, new releases hit record-store shelves and digital-download services each Tuesday. That's why self-titled presents the following every week: a new release you'd be stupid not to own (Buy It), one worth checking out if you're the curious type (Burn It) and something you might have heard about but probably should avoid (Skip It). Simple, ain't it?

Buy It
Bodies of Water, A Certain Feeling (Secretly Canadian)
Anyone who's seen the film Forgetting Sarah Marshall is familiar with the rock opera that Jason Segal's forlorn character composes. It's about Dracula. It's performed by puppets. It feels totally sincere (despite constant laughter from the audience). And it reminds us of fantastic Los Angeles quartet Bodies of Water. Maybe it's because vocalist David Metcalf sings like he's auditioning for a role in a Béla Legosi biopic. Or maybe because we can actually imagine several of these playful songs performed on Fraggle Rock. But this comparison seems particularly apt, even if it doesn't make you run to the record store to pick up a copy of the group's remarkable second full-length. A Certain Feeling is whimsical and cuddly, with dark, bubbling undercurrents. Although they're steeped in gospel and folk traditions, the group's full-band vocals feel spooky and cultish–an engaging facet to a collection of songs that echoes Danielson Famile and the Talking Heads, if David Byrne were chomping on doom pills, lost in a cathedral and welcoming an anticipated apocalypse. At times the record is so dramatic and solemn, you might find yourself giggling, yet it's vast in scope–an expansive trek if you're taking it in all at once–with brass accents, happy tropicalia rhythms and haunting organ rolls.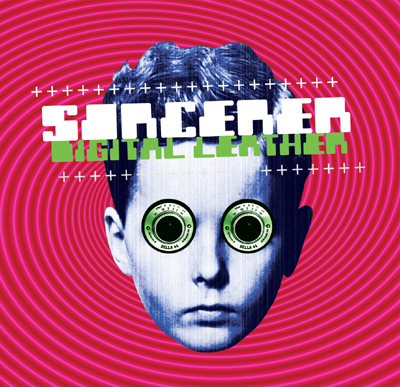 Burn It
Digital Leather, Sorcerer (Goner)
Chock full o' retro future buzz words such as hologram, modulate, simulator and (gasp!) Styrofoam, this full-band full-length by Memphis' Digital Leather acid-trips back to a dirty cyberpunk fantasy–mechanized, automated, bathed in synths, with rage and paranoia to spare. The first half ("side A") is a handful of hard-churning home recordings. If Jay Reatard employed a team of robots as his backing band, it might sound something like these songs. (Follow the Memphis connection: Jay mastered this album, and Digital Leather band member Ryan Wong was in the Reatards.) The second half ("side B"–a live recording) flips a switch and turns up the intensity. Much of the post-punk synth mashing fades in favor of a burly garage explosion. The synths still ring like crazy, but live, they sound more like guitars. It's all naughty and rude and relentless and sweats like a band rocking The Smell, if it actually existed in Blade Runner's Los Angeles.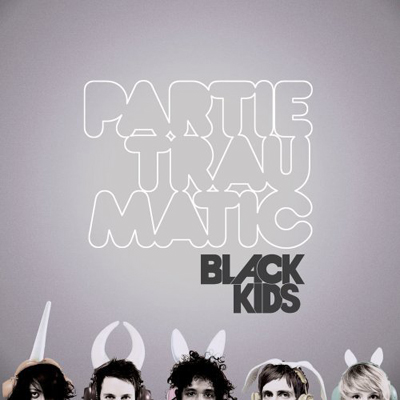 Skip It
Black Kids, Partie Traumatic (Columbia)
In a gesture of fairness, self-titled offered Black Kids a clean slate this past weekend. We ignored our disgust for their Wizard of (Bl)Ahhhs EP and embarrassing live shows, and dug into the group's full-length debut Partie Traumatic. Maybe Suede guitarist Bernard Butler had produced the fuck out of these Jacksonville, Florida "kids." Crazier things have happened. And on second thought, "I'm Not Gonna Teach Your Boyfriend How To Dance With You" and "Hurricane Jane" are sooorta catchy. But Black Kids' major glitch arises when you listen closely. All the glimmer that Butler has shellacked across these tracks starts to crack and crumble, and you start to notice things: Like how the production tinkles like a glued-together Canal Street knockoff of The Killers' Hot Fuss. Like how frontman Reggie Youngblood bleats pseudo-posh lyrics, tossing off out-of-place, disgustingly childish phrases like "hot as balls." Like how the group has the infuriating habit of repeating lines as if they're looped like a broken record. Or like how each song doodles like a "Weird Al" Yankovic parody (but where are the jokes?). "Hit the Heartbrakes" begins the album with:
Knock, knock.
Who's there?
Call the ghost in your underwear.
Call the ghost in your underwear who?
Call the ghost in your underwear boo.
It's fine, all right, you can stay the night,
But please be gone by next morning's light.
And by the end of the song, you'll actually feel dumber having listened to it.