SHE & HIM: Wayyyy better than Dogstar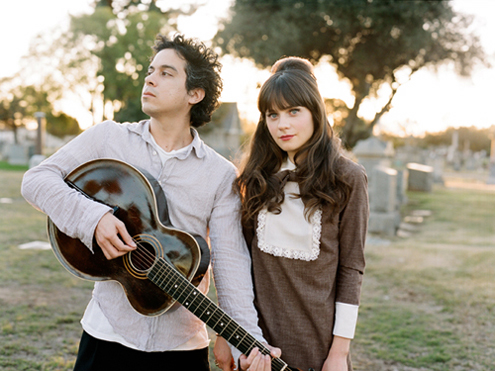 By Aaron Richter
As you all certainly know by now, new releases hit record-store shelves and digital-download services each Tuesday. So every week self-titled presents a new release you'd be stupid not to own (Buy It), one worth checking out if you're the curious type (Burn It) and something you might have heard about but probably should avoid (Skip It). Simple, ain't it?
She & Him @ SxSW
[youtube=http://www.youtube.com/watch?v=IVQdmyomldM]
Buy It
She & Him, Volume One (Merge)
This week's new-release platter is stacked. Destroyer. (Love.) The Kills (Badass.) Clark. (Nuts!) Good Shoes. (Valiant effort.) Big Dipper anthology. (Essential.) But one album stands above the rest based on sheer enjoyability. She & Him, as you likely know already, is actress Zooey Deschanel and singer-songwriter M. Ward. Deschanel, who first showed us her pipes in Elf, sings with a welcoming, comfortable tenderness. It's nothing outstanding–her limitations are sometimes Neko Case-iously disguised by a friendly dose of reverb. But Volume One reminds us of that scene in High Fidelity when Rob mumbles about how dating a musician would great because she'd perform songs she wrote about you? She & Him is like that. Even though it isn't, obviously. Through all the record's light country-folk and Phil Spector big-string imitations, Deschanel coos with a seductively relatable voice, naturally fitting for a crush-worthy indie chanteuse, disguising the unattainable object of our affection as just within reach. She sounds kind. She sounds polite. She sounds like someone who we could talk to (and who would actually talk back). She sounds like she'd make a great girlfriend. And for a toss-off, see-if-it-works record like this, you really can't ask for much more. Oh, and M. Ward is on the record, too.
MP3: "Why Do You Let Me Stay Here?"
Burn It
Fuck Buttons, Street Horrrsing (ATP)
It must be said from the start that Fuck Buttons' debut is our favorite record out this week. Though, bear in mind, what's keeping it from getting top Buy It billing is that Street Horrrsing is an absolute pill, one of those seismic horse-tranq fuckers you can get from GNC. Tasked to review the disc a few months back, we found ourselves captivated by the swelling cacophony of drone elements, tribal percussion, hardcore vocal howling. Yet listening to these six songs repeatedly is exhausting, draining and, in some instances, aggravating. Which, strangely enough, is exactly why we're totally ga-ga for Fuck Buttons. (Masochist, much?) The British duo has approached this record with a decidedly limited palette–key themes repeat; patterns weave in and out; structures resemble one another; climactic builds become familiar–but the limited scope allows these simple elements to rumble and churn an obliterating, brutal magnitude. self-titled recommends a test run before diving in entirely. Shit like this should come with a Surgeon General's Warning. We can already feel those birth defects.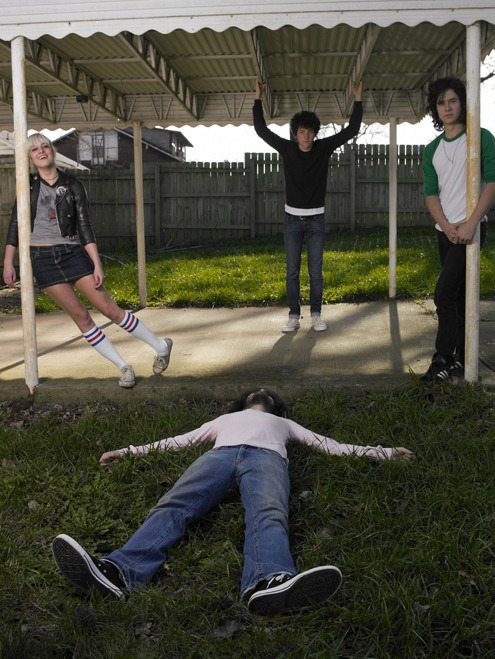 Skip It
Be Your Own Pet, Get Awkward (Ecstatic Peace/Universal)
Is it possible that Be Your Own Pet got too good … for its own good? With the release of Get Awkward, it certainly seems so ("good" meaning that BYOP sounds like a real band, rather than a nose-picked gaggle of high school retards). Their self-titled debut ruled so hard because it was the simple sound of kids making the most noise they could, for no other reason than just to make noise. They didn't bother with writing songs too many songs longer than two minutes. Amazingly, they really didn't even seem to recognize themselves as young and immature–if their songs were stupid, it was just because, you know … None of that mattered so long as they could scream at the top of their lungs and play guitar really fast. Get Awkward, on the other hand, sounds like a teen band trying to be a teen band. It's a shame to say it, but Be Your Own Pet seems to have realized its niche and felt a responsibility to force the path. Our advice: Take more drugs. And unlearn your instruments. Kidding. Except we're totally serious. Stay in school.