THE BLACK ANGELS: Drifters in the dark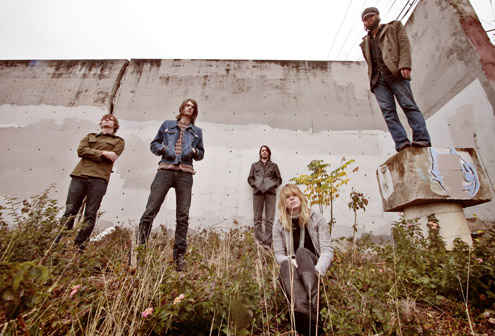 [Photo by Briana Purser]
By Aaron Richter
As we all know by now, new releases hit record-store shelves and digital-download services each Tuesday. So every week self-titled presents a new release you'd be stupid not to own (Buy It), one worth checking out if you're the curious type (Burn It) and something you might have heard about but probably should avoid (Skip It). Simple, ain't it?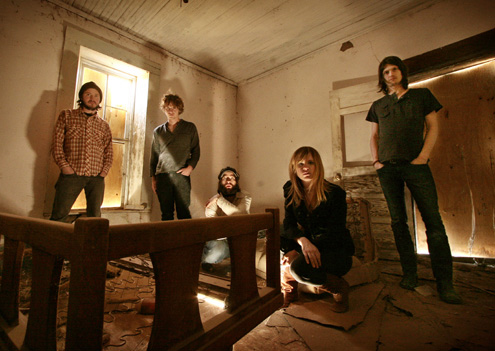 Buy It
The Black Angels, Directions to See a Ghost (Light in the Attic)
Bong up! Tracing over obvious touchstones (Velvet Underground drones; Jim Morrison vocal drawls), this Texas group smears its second album with such invigorating psychedelic volume you're likely to suffer a severe case of the dizzies by record's end. Drawn to the hypnotic power of Directions to See a Ghost (a gem when played excessively loud), we found ourselves stripping down to our undies, tilting our speakers into the floor and letting the music's massiveness massage our bodies until we got queasy from all the low-end and had to run for the bathroom. Opener "You on the Run" delivers a slice of "Love Me Two Times," while, a bit cheerier, "Doves" anchors tremolo guitar amid a direct, tight groove, reverb-rich vocals and a big happy chorus. The bass-driven beginning "Science Killer," with its ambling, distant guitar, sounds like it could be the evil grumbling of a cave-dwelling fantasy villain. "Never/Ever" shifts gears in a delirious jumble of noise. And we've damn near broken our office tambourine (which we've nicknamed "Joel Gion") playing along with "Deer-Ree Shee." It would be a crime to play this music any lower than 11.
The CD release of Directions to See a Ghost, which dropped digitally a month ago, is worth snagging for the beautiful album art. Created by guitarist Christian Bland, the cover is a fascinating two-tone swirl of embossed lettering–simplicity at its best. Also, kudos to Light in the Attic for snagging this release because, apparently, all Black Angels albums to come will be coming out via Interscope imprint Suretone.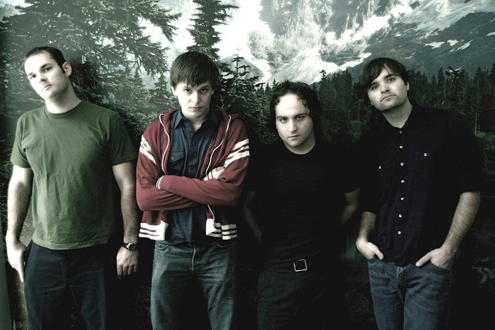 Burn It
Death Cab for Cutie, Narrow Stairs (Atlantic)
Hate on Death Cab all you want. Narrow Stairs will probably only satisfy diehard fans. Taking a few steps back from the ethereal glossiness of Plans, this, the group's seventh studio album, treads through rough, dark territory. The record's live vibe establishes itself in the loosely fluid percussion of the jammy "I Will Possess Your Heart," an eight-minute, largely instrumental track featuring Ben Gibbard in attack mode. The Gibbard we know as a songwriter has always had a lyrical asshole streak, but "Possess" might be one of his creepiest, most obsessive songs to date. That said, we've always had a soft spot for Gibbard's chauvinistic side, simply because we're always down for a dickhead in our cup of emo. Elsewhere, some songs explore new ways to examine love while other tracks rely on tired clichés. (Really, Ben? "Thin ice" and a "twin bed" as metaphors for the struggles of love? You're kidding.) Most interesting, however, about Narrow Stairs are the album's curious, confusing moments. "Talking Bird" is mostly built upon directionless, floating guitar shredding, and "No Sunlight," feeling a bit Postal Service-y, is odd, as Gibbard constricts his voice down from its typically effortless beauty for an effect that feels much more defeated and injured than the broken-hearted resilience we've come to expect from Death Cab. Throughout Narrow Stairs, Gibbard sounds as if his voice has aged, which strips the music of its adolescent angst. Without a doubt, this is the group's most "adult"-sounding album. And Gibbard's vocal cues probably explain why.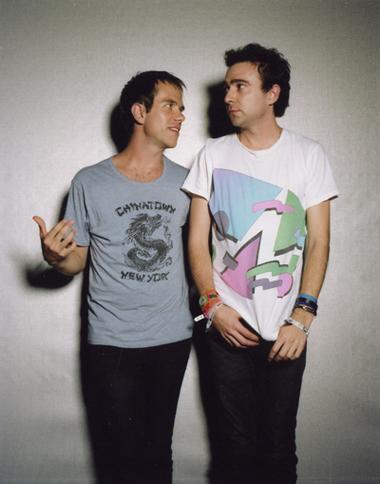 Skip It
The Presets, Apocalypso (Modular)
The Presets were once our saving grace. As self-titled found ourselves trapped at an awful clusterfuck of a Ed Banger showcase at one of NYC's worst faux-chic venues, the Australian duo tore through a lively set, revitalizing bits off their debut, Beams, a record that, in 2005, premeditated the very early cusp of the aggro nü-rave exhaustathon that would eventually sweep the music scene thanks to neon hoodies and Pedro Winter's merry band of pranksters. Now, if ever there was a testament to the weak shelf-life of this soooooo over dance-floor trend, it's the Presets second album, Apocalypso, more and more and more and more of the crummy, draining industrial synth and bass concoction, cribbing quite a bit from The Faint and New Order. Perhaps its biggest weakness is that this clunky record looks to capture the energy of the group's live show, which is exactly the meat-headed LA-scene-kid setting so many of us are looking to avoid. Cloaked in a dark, dismal, nightmarish mood, Apocalypso fails to be as original or fun as we know the Presets have the chops to be.