SILVER MT. ZION: & the Tra-La-La Band, bitches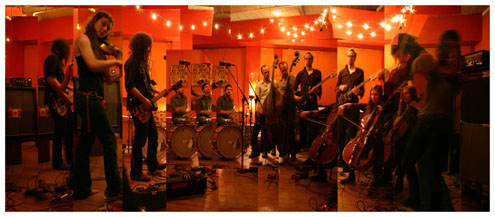 [Photo by Mark Slutsky]
By Aaron Richter
As you all certainly know by now, new releases hit record-store shelves and digital-download services each Tuesday. So every week self-titled presents a new release you'd be stupid not to own (Buy It), one worth checking out if you're the curious type (Burn It) and something you might have heard about but probably should avoid (Skip It). Simple, ain't it?
Classic Clip: "Stumble Then Rise On Some Awkward Morning"
[youtube=http://www.youtube.com/watch?v=W_W7ydnPtB4]
Buy It
Thee Silver Mt. Zion Memorial Orchestra & Tra-La-La Band, 13 Blues for Thirteen Moons (Constellation)
Likely one of the most overwhelming records you'll hear this year, 13 Blues for Thirteen Moons begins with 12 seconds-long tracks of a high-pitched whistling–a quirky gimmick on first appearance, which is actually a not-so-subtle jab at iPlaylist listening practices. Still thriving in the indefinite wake of post-rock giant Godspeed You! Black Emperor, Thee Silver Mt. Zion (founded in 1999 by Godspeed members Efrim Menuck, Thierry Amar and Sophie Trudeau) delivers a vitriolic endeavor that dwarfs the group's comparatively gentle past productions. 13 Blues channels immense, slashing guitars, piercing strings, tumbling, sloppy drums and Menuck's demon caterwaul into a devastating brew of musical politics that screams its vitality without question–the kind of record that forces you to decide within the first five minutes of "1,000,000 Dies to Make This Sound" whether you even have the energy to follow along for the rest of the disc. Deriving much of its strength from chanted declarations, Thee Silver Mt. Zion burrows deep into its mantra of choice: "No heroes on my radio." It's a statement that could sound contrived, if only it wasn't conveyed with such desperate passion, hinting possibly that the stakes, this time around, are not only social or political, but personal as well.
MP3: "13 Blues (Edit)"
Burn It
Excepter, Debt Dept. (Paw Tracks)
Excepter's first release on Animal Collective's Paw Tracks label, Debt Dept. turns no easy corners, lets no one through its gates without a prolonged aural flogging. This experiment in bare-bones minimalism sees one of Brooklyn's finest noise acts perfecting its core elements. We're served with a skeleton of brooding, grooving bass lines, waywardly clattered percussion (both live and programmed) and deliriously wandering vocals. Along with the occasional smattering of synths and splattering of guitars, Debt Dept. keeps the first six of its nine songs structurally simple, letting loose into more expansive territory on the closing threesome "Walking Through The Night," "Sunrise" and "Burgers." Dark, industrial and hauntingly gothic, the album is fascinating for anyone willing to give it an focused ear, difficult for anyone not predisposed to enjoy Excepter's wily din. And anyone looking for the group to release its Sung Tongs will have to wait a bit longer.
Check out lots of strange Excepter clips at http://excepter.podomatic.com/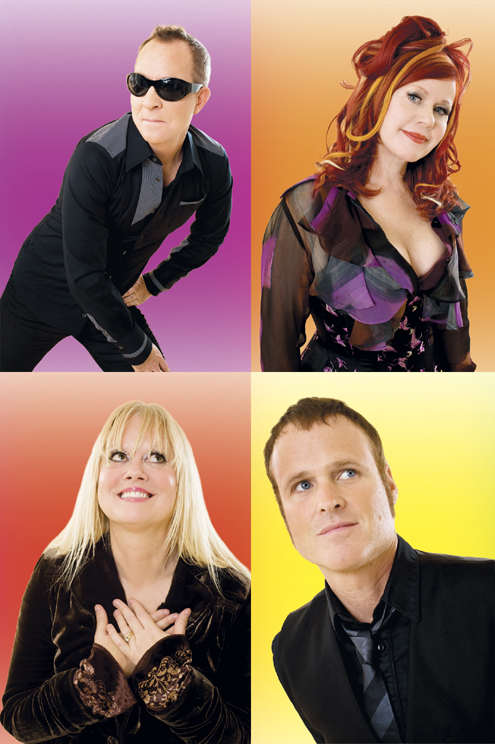 Skip It
The B-52's, Funplex (Astralwerks)
Unnecessary. Such a word should have never been uttered in reference to Athens, Georgia's legendary B-52's. But oh, dammit, this is u-n-n-e-c-e-s-s-a-r-y. Funplex, their eighth full-length and the group's first album since 1992's Good Stuff, is sooo unnecessary. We just can't say that enough. Unnecessary. (And awful.) Don't blame their painful reliance on über-glossed Jock Jams electro-cheese programming; nothing is worse than the triple attack of Fred Schneider, Kate Pierson and Cindy Wilson sounding like karaoke night at a spring-break Tiki lounge. Guitarist Keith Strickland apparently got the bright idea to revamp the B-52's sound for today's ears after listening to New Order's Get Ready, an album that came out seven years ago. Hi, Keith. We hear there's an album called Admiral Salt or Sgt. Cumin or something, which just might revolutionize rock 'n' roll. Look for that one.