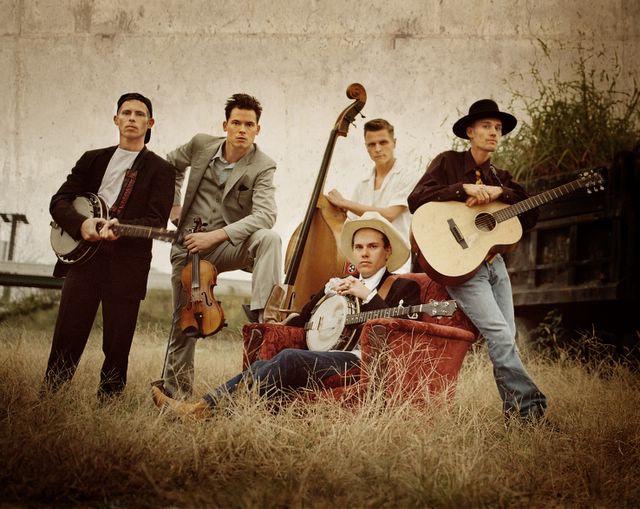 Words by Andrew Parks
Remember when 'alt-country' was kinda cool? Must have been the month in between Wilco's Yankee Hotel Foxtrot–not quite alt-country by definition, but we'll take it–and Ryan Adams' first public meltdown involving "Summer of '69" and a heckler who thought it'd be brilliant to mistake "Ryan" for "Bryan." In the years since, Wilco records have suffered from Jeff Tweedy's sobriety (sorry, but we'll take the creeping noise-pop paranoia of "I Am Trying To Break Your Heart" and "Handshake Drugs" over a defanged/dull Wilco any day) and Adams' blog-based rants have become more interesting than his music, as if he left Whiskeytown for crazy town. 
Meanwhile, some names you might not know have been churning out consistent platters for anyone who genuinely enjoys boot-scooting across dusty barroom floors while listening to weeping pedal steels and deftly-plucked banjos. Roots-rock revivalists like Justin Townes Earle–a former addict who looks like a Hee Haw extra and sounds like a sub-Mason time capsule–and Old Crow Medicine Show, which is essentially an R-rated version of Emmet Otter's Jug Band. (Sans the jugs, but you'll see what we mean in the videos above.)
Both acts brought their best honky-tonk attire to the Beacon Theatre last night in a "Big Surprise" bill that also included The Felice Brothers, Dave Rawlings and Gillian Welch. To be honest, we were not thrilled about seeing a show clearly aimed at Paste readers and people who really think Budweiser is the King of Beers. We went with an open-mind, though, and ended up bowled over by the bizarreness of the crowd (older folks who came to PARTY, Beacon renovations be damned) and the music itself. Here's why…
The Top Five Reasons Why "The Big Surprise" Was the Strangest Show We've Seen in a While
1. Someone in the balcony slung a full cup of cold beer at the crowd below not once, but twice. Apparently, he didn't spray enough people the first time…and no one told him this wasn't a Mötley Crüe concert during the band's "Dr. Feelgood" days. He wasn't alone, either. Thursday night was easily the rowdiest evening we've witnessed in a while. And in an Upper West Side institution, no less. Williamsburg neighbors, we need to step our game up.
2. Rawlings sucked the life out of Bright Eyes' "Method Acting" single (Cassadaga features him and Welch),  emphasizing how dull he is and how exhilarating Conor's original was when we first heard it. Speaking of, note to Conor: please ditch your current direction and get back to bitching about the world and everything around you in yelps and vinegary free-verse.
3. Wow–Greg Farley of the Felice Brothers. Dude, did you spend years studying Carlton's uncoordinated moves on The Fresh Prince of Bel-Air? Whatever the case, it was quite entertaining watching you gallop across the stage while attacking your fiddle and whacking a washboard so hard it must have left a mark. Interestingly enough, the biggest fan in tonight's crowd looked just like Farley, too–like an over-sized homie doll who dances like no one's watching.
4. Old Crow Medicine Show spent most of their set singing about dope-pushers and coke-sniffers–like the Velvet Underground without  distortion or a sense of imminent danger. That said, they were also eminently enjoyable and way better than sitting through a Tim McGraw concert."Tell It To Me" = a certified jam.
5. Justin Townes Earle came off like a lovable beanpole of a country singer, but that doesn't change his back story: the guy was once such a ticking time bomb he got kick out of his dad's band. That's an accomplishment. And so is making us want to check out bad boy country that isn't Johnny Cash.
And finally, here's a video from the night, via Ephman: