TIM KASHER of CURSIVE @ The Siren Festival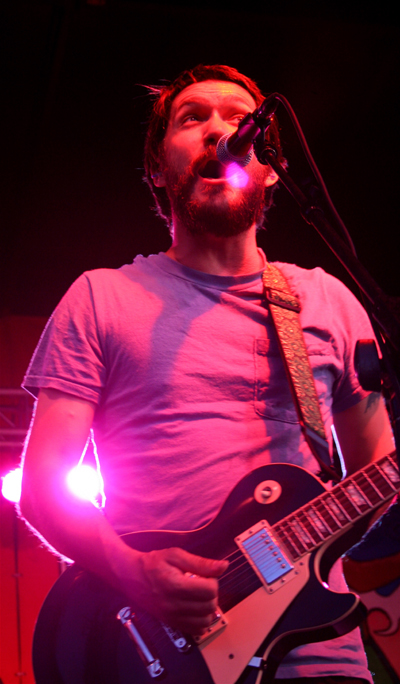 By Andrew Parks
Sorry about having to use a Siren Festival shot to illustrate Tuesday night's special Cursive show, but the front and center spots of Mercury Lounge were overrun with five-foot people and, well, this beanpole didn't feel like being 'that guy.'
Not that it mattered sonically; for the first time this year–hell, maybe ever–the Merc didn't sound like a muddy mess throughout an entire show. Maybe some serious soundchecking went on earlier in the evening, or the band somehow found the venue's sweet spot when it comes to mixing. Either way, frontman Tim Kasher held the attention of a sold-out crowd for nearly an hour despite the band's insistence on playing an in-progress version of their new LP from beginning to end.
"We're into deep cuts territory here," said Kasher, as he eased into a surprisingly calm passage–the opening section of the album's tentative fourth track. "Sorry about that. I'll let you know when we get to the hits."
Kasher's Top 40 takeover never quite materialized, but Cursive's next disc is shaping up to be a monster. They're two weeks into tracking, so expect it sometime later this year.
Some highlights and general observations after the jump …
Remember kids, "we're wearing out our heels on the road to hell."
While Happy Hollow made loose references to Dorothy and other "no place like home" nonsense, the new jams seem as haunted by the sorry state of the Union as recent songs by Saddle Creek's other leading man.
In other words, the word EMO is no longer allowed when referring to Cursive's post-Domestica career.
"Pissed and poetic" works, though.
Now that Greta Cohn is long gone, her sweeping cello lines have officially been replaced by the squealing sax and track-tickling keys of a certain Nate Lepine. Too bad he was drowned out by the rest of the band this time around.
Speaking of Nate Dogg, he performed quite a call-and-response task with Kasher during an extended version of "Art Is Hard," essentially mimicking the singer's vocal tics. (While the group played the new record in its entirety, they followed it with such fan favorites as "Dorothy at Forty," "Some Red Handed Slight of Hand," and an utterly transcendent "Mothership, Mothership, Do You Read Me?"
Is it just me or does Kasher get angrier with time? The trick being that he's left the visceral outburst approach of The Ugly Organ behind for more dynamic and spacious compositions? Yeah, that's the stuff.
Let's just say the new one's got legs, and it knows how to use them.
Kasher is also a master of one-liners these days. Some standouts from this evening included "When it's our hips/We don't give a shit", "We may be donkeys/But we have a tale to tell" and "I've spent the best years of my life/Waiting for the best years of my life".
That last line is from the new full-length's closing track, a seething soul-searcher that may eclipse "Staying Alive" as the finest curtain closer in the Cursive canon.
You know what? Fuck it. If this is emo, paint my nails black and call me a Cursive fan.