FREE BLOOD: VHS or beta style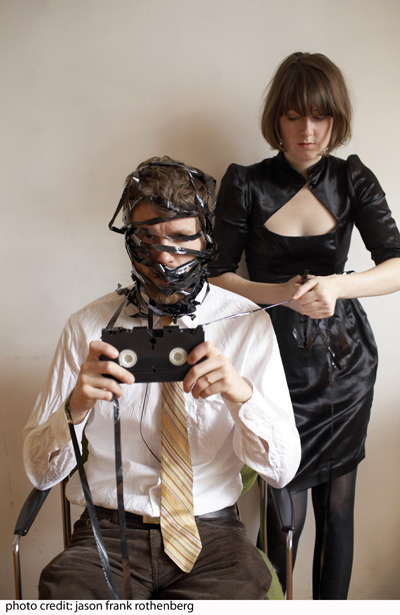 With so many parties vying for your precious time (and dwindling budget) this summer, self-titled is determined to find out who's ruling the night these days. That way you can make a more educated decision the next time an evening calls for dancing with someone other than yourself.
And this past weekend's contenders were …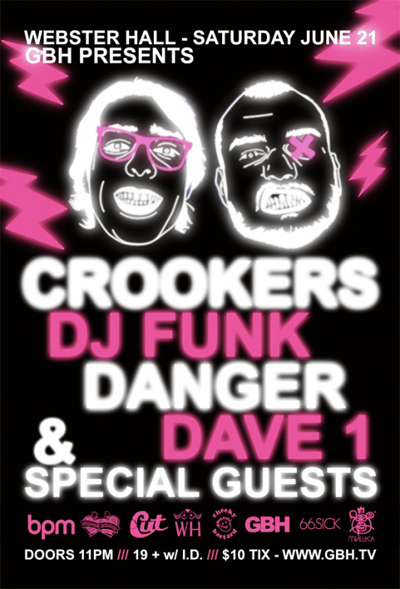 THE OCCASION: A one-off Webster Hall party co-opted by an endless list of promoters and sponsors, including GBH, Cut, and Mishka, a Brooklyn-based clothing line that seriously upped the ante on American Apparel with their summer mens collection.
THE MAIN EVENT: The entertaining but oh-so-over (we hope) electro and hard house (not that anyone realized it) of Crookers on the main floor; A-Trak's brother (a.k.a. one-half of Chromeo) and Vincent Vendetta of Midnight Juggernauts in the much more intimate upstairs lounge area. Both rooms kicked out the jams with completely different approaches. While Dave 1 lived up to his brother's party-rocking rep and stunned anyone expecting a clumsy, predictable set, Crookers hit the floor running with nothing but serrated synths and speaker-imploding bass lines.
Unfortunately, V is for Vendetta was left with a smaller-by-the-minute crowd after Dave 1 split; all despite spinning some rather glitzy, glammy sides that had us smiling at least.
CAUGHT IN THE CROWD: The hipper-than-thou–at least in their minds–party train of Danny Masterson (That '70s Show) and Steve Aoki, which managed to rush Webster's stage alongside a good 50 people. You'd think MSTRKFRT was spinning or something.
THE BAR SCENE: Inexcusable. The word on the street is that Webster Hall is trying to regain some footing with the cool kid market by booking parties like this. Saturday's rather stacked bill showed promise, but it also served as a blatant reminder of why self-titled stopped going to Webster in the first place: bartenders that are slow on the draw and quick to run up your tab. Considering this venue charges upwards of $10 for a cocktail, we'd rather go straight-edge and sing nothing but Earth Crisis songs than fill the pockets of whoever thinks Webster Hall's history–a storied one, admittedly–is worth its weight in inflated drink prices.
VS.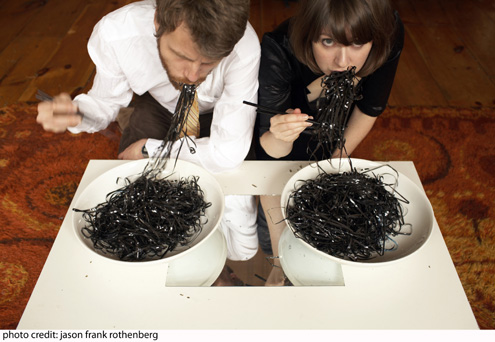 THE OCCASION: The second Rong Music presentation of the weekend; the other being a more intimate soirée at APT. Twisted disco heads, take note: this one might become a weekly if a return engagement on Saturday, June 28, is to be believed.
THE MAIN EVENT: A showcase for loose & lively DJ sets (Rong's resident beat conductor, DJ Spun; Eric Duncan of Rub-N-Tug) and the buzz-worthy duo Free Blood (a Rong/DFA artist with severed connections to !!!). While Spun was quite the crowd pleaser, Duncan dipped into quite a few dark, arhythmic records that were intriguing but not immediately danceable. In other words, he's isn't up for clobbering a crowd with obvious tunes like Crookers. That said, both DJs kept the place moving with the help of Santos' AWE-INSPIRING (believe us, the all-caps is justifiable) sound system and dedicated club-goers that'd never cross their arms at this sort of thing.
As for Free Blood, they got off to a slow start with some stunted, falsetto-flexing soul (think a lifeless Jamie Lidell), but quickly shifted into high gear, suggesting that John Pugh didn't make a mistake by leaving !!! after all. Consider us intrigued about where the ensuing LP might go.
CAUGHT IN THE CROWD: At least one current member of !!! (traitor!) and a lot of happy faces that'd clearly wandered into Santos' newly-minted environs, not knowing what to expect.
THE BAR SCENE: Unlike Webster, Santos is cultivating an air of 'coolness' without charging you a poor sucker tax for the privilege of being there. Top-notch $6 drafts and stiff $8 cocktails are a welcome surprise and yet another reason why we're leaning towards spending at least a day a week at this venue all summer
THE VERDICT?
With the right guidance, Webster Hall has the potential to become a possible weekend destination in the coming months, but they have to stop treating it like a velvet-lined Chelsea club. As for Santos, they already took the time to perfect a "Party Hard" aesthetic that's hard to beat. And for that, we thank them.