Considering how complicated the Op art effects and French New Wave feel of Lucius' new "Turn It Around" video look, it's a testament to both the talent of director Mimi Cave and the digital technology at our disposal these days that the shoot was actually wrapped in just one day, right in the middle of the group's tour behind last year's Wildewoman LP. Of course it certainly didn't hurt that the Lucius' core duo (singer-songwriters Jess Wolfe and Holly Laessig) already have their own strong aesthetic: a mascara-smeared, color-blocked look and sound that's straight out of a roughly cut Godard film.
"Normally, those things would have created some anxiety for me," explains Cave, "but because Lucius is who they are, I already had so much to work with. Things fell into place organically."
Cave is also a longtime choreographer and dancer, which has helped her master the art of movement itself. The Bay Area-based artist actually got her start in music videos after meeting tUnE-yArDs frontwoman Merrill Garbus and forging a creative partnership that's extended to two viral videos and stretches as her backup dancer. In the following interview, Cave discusses where all these paths intersect, how her beloved city has evolved as successful internet startups continue to colonize it, and why she doesn't want to grow up because what does being an "adult" really mean anyway?
Let's start by talking about the Lucius video. What's the intro from? Is it a sample from an old radio or film recording?
The intro is a script I wrote for the girls. Jess and Holly recorded the voice-over on the road during their tour, right before we shot. The effect on the voices and their intonations still gives me the chills when I hear it. I'm instantly transported to another time.
How did you come up with the overall concept? Did it start with simply listening to the song and seeing what images it brings up?
Lucius was interested in making a non-linear, non-narrative video. They have done such a fantastic job creating and maintaining their 'look' that I didn't have to search very far for inspiration. The concept was already there in front of me. I worked with the girls and their influences to create the concepts for each setup we shot. A lot of the visuals that ended up making the cut were concepts I'd been wanting to explore for some time.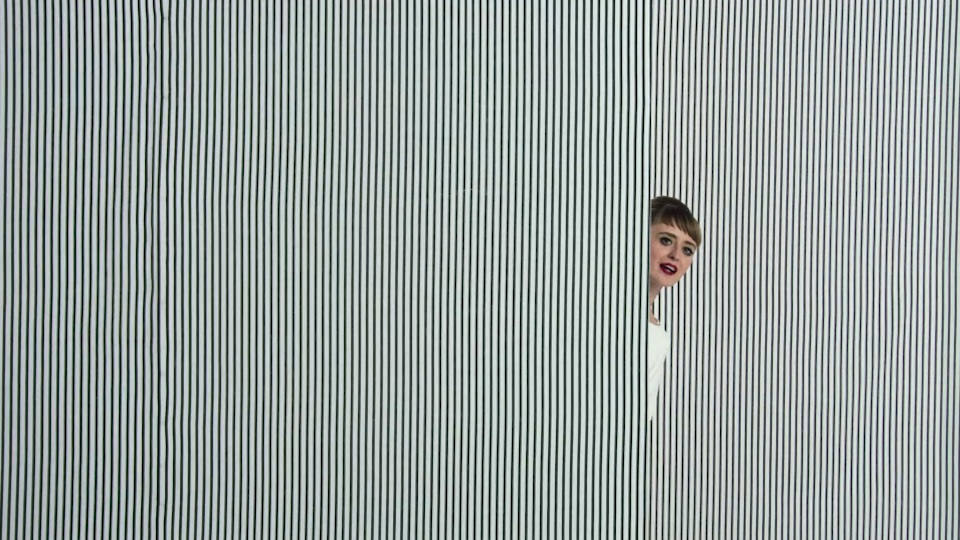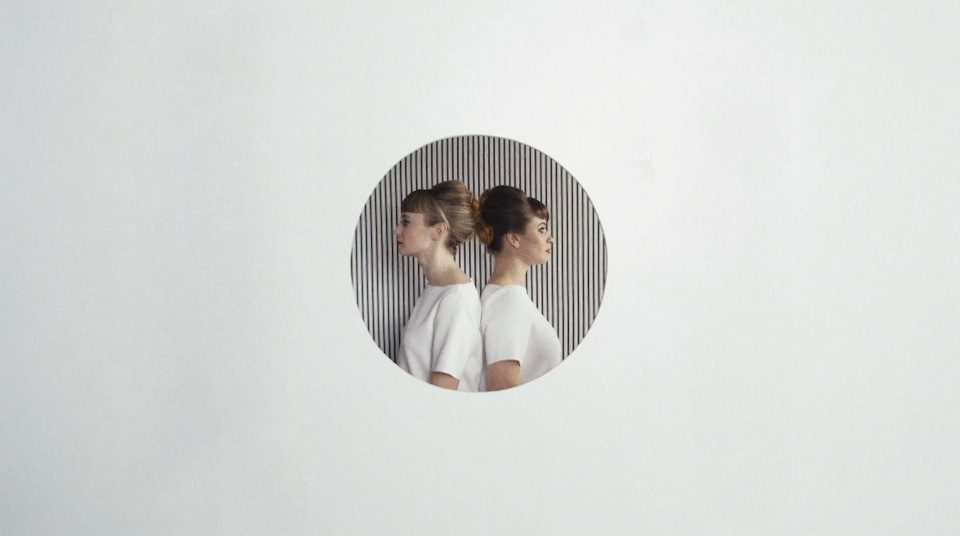 How did you create the visual effects in it? Was a lot of it through the use of mirrors? Do you try and create special effects without the use of computers as much as possible?
One of my favorite things about this video is that it relies heavily on practical effects made through the use of handmade props. For instance, my stellar Scenic Artists built a four-foot-long kaleidoscope with a diameter to fit perfectly over the lens. Lucius simply played with the effect on set. In my opinion that's when it's the most fun to shoot—when you're actually experimenting on set, feeding a curiosity around what you're making.
There's a lot of allusions to Op art in the video. Is that a time period/style you particularly like? I feel like that, the makeup, and the intro give the video a very '60s feel. Was that intentional?
Including illusions, doubling and mirroring throughout the video is really just an inspiration from Jess and Holly. When you first see a photo of Lucius you have to do a double-take. Just as when you hear their voices you question whether or not they're the same person singing. Their vocals mix together in a really unique way so that it's even harder to tel whose voice is whose. I wanted to play-up this confusion through visuals. It was a lot of fun. A lot of the playfulness in visual illusions was inspired by French New Wave Cinema. That said, I knew before anything else that I wanted to emphasize the "moiré effect" in this video, rather than shy away from it.
What did you tell them to pretend they're arguing about at the typewriter table?
That's between me and Lucius. No, not really. Although I think they had a good laugh about it after. They were both looking at me like what is this director having us do? She's nuts!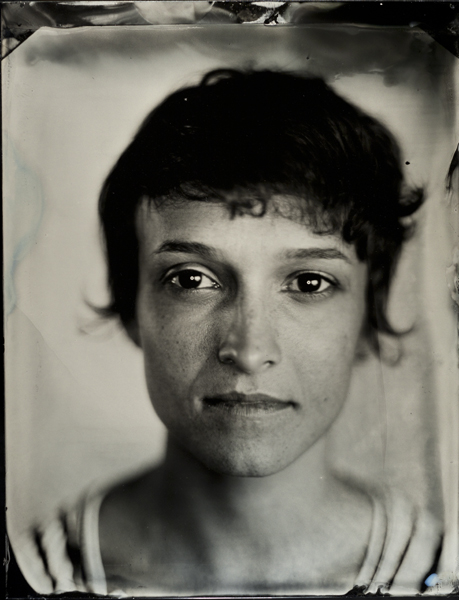 You have a background in choreography and film. You started dancing first though, right?
Yes, I started dancing when I was 3 and haven't stopped yet (knock on wood).
When did these two mediums of expression begin to blur for you?
College. Being introduced to filmmaking opened up a lot of creative doors for me. I was always experimenting and making mistakes, but knew there was something meaningful for me there. College gave me a chance to explore that intersection.
What did you get out of dancing beyond what's right there on the surface—the act of performing?
For me dancing has always been a way of life. It is second-nature, a discipline that is constantly changing with time and with your body. Without sounding too sentimental, it's the greatest gift… something I cherish deeply and will never take for granted. It pushes me physically, creatively, and spiritually. What more do you need?
You explore the concept of what it means to be a child or an adult a lot in your work. Where does your own life land in terms of these issues? Does being able to pursue various forms of art full-time make you feel like you're living out a perpetual adolescence in a way? Or do you simply find the various stages we're supposed to follow—childhood, college, finding a career, getting married, having our own children etc.—not what younger generations are subscribing to anymore?
At what point are we considered adults? A lot of people are forced to become adults and take-on adult responsibilities at a very young age, without really having a childhood. I guess I'm always questioning what it means to be a child vs. an adult. I'm not trying to make any general statements about my generation or younger generations, but rather investigating themes of imagination, play, attachments, body language and each person's imprint of experience. I'm boggled by it all, for better or worse.
How did you meet Merrill Garbus and end up doing backup dancing for her? What was it about her song "Bizness" that inspired you to pitch your first music video production?
I met Merrill through a friend after already having fallen in love with her voice. Originally I wanted to make a dance film to the song "Fiya" on her first album, but as she began recording for who-kill, there was an obvious opportunity to me to make a music video. She wanted to work with a new piece of music and "Bizness" was shaping up to be the track of choice. Things just unfolded from there based on a concept I had already presented and collaboration with her about the direction to take things in. We both really wanted to put something out there that stood apart from the pretty, mainstream pop imagery we had seen. We wanted to reach beyond the expected. That experience and collaboration was so alive.
Did working on "Bizness" help you realize you love doing music videos? Or did you kinda fall into that path to some degree as more jobs came in?
Yes, absolutely. "Bizness" developed over several months and was the first production I had ever worked on with a full cast and crew by my side. I fell in love with the collaborative process, the frenzy and buzz on set, and the immense energy that everyone gave to that project. That was all I needed to convince me.
What have you learned from the advertising world that you hope to apply to more artistic endeavors?
How to communicate ideas. This is something I'm still learning. Such a simple concept, but at times, with artistic endeavors, being able to successfully communicate what you want to contrasting sets of people can be the difference between getting an opportunity and not.
How long have you lived in San Francisco? Have you noticed the changes that have supposedly come to the city, as tech companies like Google bring a lot more wealth to certain neighborhoods? If so, do you think it's impacting creative folks like yourself as much as some people have claimed?
I have lived in San Francisco for eight years now and do have a lot of opinions about what's happening in the city. I have witnessed an immense shift here starting a while back, but more noticeably since 2011. It's all been a bit hard to swallow.
That said, I'm not about to Google something on my Apple computer and then become a complete hypocrite by trashing any one company. Growth is a strange thing. Not enough growth can be scary, but too much is equally as frightening. There is an intense hunger here for the next thing, the next technology, the newest app, the latest device. It's a strange movement happening. I was recently forced to leave San Francisco and move outside the city due to sky-high rents, and it does irk me to hear stories about certain companies that have taken advantage of the city's generous spirit for their own financial gain. This is not a generalization about the tech boom, and I do think that there are several benefits to the community it and the people within the movement bring. I can only hope that the new folks coming in have compassion for their surroundings and a sense of understanding about the weight of their actions. That they do their homework and learn about the place they live, appreciating San Francisco and its many colors, something I have been fortunate enough to do.
What is about the city that has inspired you the most? Its energy, its landscape, its people?
People and landscape. The people here are pioneers, tinkerers, innovators, and wild spirits. There is something so magical about the light here. It's addictive. The fog is comforting and riveting at the same time; it takes my mind to another planet. I will never get sick of the views here, the perspective shift from every vantage point in the bay, and the way the body soaks in the air like a sponge.
Further Viewing
Magic Man, "Paris"
This video for Paris was a heavier visual effects project for me. The concepts were something I had wanted to try out for some time and the theme of 'misplaced space' kept coming back to me. It was a lot of fun to see the visuals be pulled-apart in post production. It felt picking up a jigsaw puzzle and watching the pieces fall, sort of the best part of the puzzle in my opinion.
Jim James, "A New Life"
We shot this video over the course of two days on a horse ranch outside San Francisco. Jim was an incredibly generous artist to work with and allowed me the freedom to make a lot of strange choices. I can only hope I'm lucky enough to work with him again someday.
tUnE-yArDs, "My Country"
The energy that kids bring to a shoot is contagious, especially these kids. Before our shoot, we had a rehearsal with Merrill and the kids playing the instrumental parts. It was an awesome scene to witness and I was floored at their abilities to learn a new piece of music so quickly.
Thao & the Get Down Stay Down, "Holy Roller"
Thao is the best! This was a pretty bizarre idea that my partner Devin and I conjured up. Our cast was very willing to get weird and their expressions ell the story of how our shoot days went. The outtakes reel is legit.