The back story and official tracklisting, via Johnny Jewel…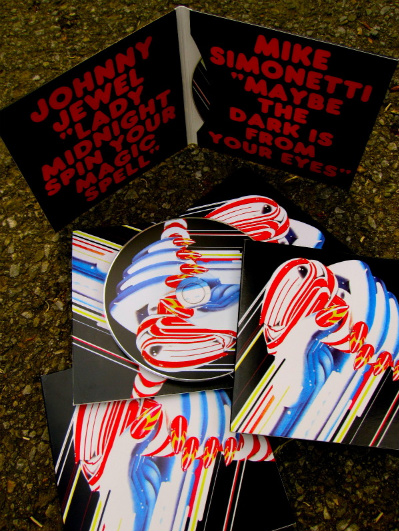 Albuterol:
1. The Dead Of Night
2. Pitched Down Pugh (Gothenburg Boat Mix)
3. The Downside Of Gentrification
4. Found You In The Dollar Bin
5. Syntheseized Throbbing Baleric Italo Track With Guitar Solo
6. School's Out Forever
7. Her Magic Spell
8. Pulasky Skyway To Zanzibars
9. Super Sensitive
10. Disconet Dilemma
In December 2007, we threw a huge gala on a cold & rainy Friday night in Portland with Chromatics & Glass Candy. Mike came out to spin the party…the after party…and the party after the after party… We spent the next three days recovering, working on a mix, & trying to find a place for Mike to lay his weary head. The damp & gray climate is great if you're writing Wipers lyrics…but if you left your prescription asthma medicine (Albuterol) in Jersey, you're pretty much screwed.
Day 1 : Mike stays with Me at chez Ruth / Daphne & Ruby (the sister cats) fur all over the apartment causes Mike's asthma to flair up even worse. Day 2 : We decided to relocate Monsiuer Simonetti to Ida's Candy Castle / Marlon's (the stray cat) tiger stripes almost close Mike's eyes forever. Day 3 : Adam & Natty offer him a warm bed…but Pimp C's (the cat freed from a shelter on the same day the UGK poet was released from prison) dander just about closes Mike's windpipe.
Then it occurs to us…there's no cats at the studio, so we spend two days & nights listening to crates of killer cuts from Mike's library in New Jersey. Starting with around 80 songs and slowly narrowing it down to 10 traxxx that really complimented each other.
Step 1 : Burn all the records to disc through analog preamps … Step 2 : Edit the traxxx live using 3 cdjs. Step 3: Take the best edits and blend them all together in one long take live to tape. No computers were harmed on the set of this recording. At Italians Do It Better, we love our computers… But for a mix this dirty, with almost all live drummers, it just felt better doing it by hand. The end result runs the gamut of rock, disco, proto house, boogie, swedish glam, bizarre italo, soul, & some odd things in between. Not to mention the entire mix is slightly pitched down. Most likely due to exhaustion & Mike's almost comatose state. It just sounded heavier this way. The weekend came & went, & it was time for Mike to fly home… On our way to the airport, Ida chased a Fed Ex truck down Hawthorne. Just in time for the flight, the Albuterol finally came. Mike took it & all was well. There was so much confusion that weekend, I forgot to label the tape. It got lost in the shuffle. Tours came & went. New records were being made, & we forgot about it. Five months later Mike found a rough mix of it on his ipod & ripped a really lo fi version for the blog. The mix exploded (20,000 downloads & counting), but no one could guess the full tracklist.
A couple of months ago we started Perseo & around that time I found the original mix in Portland. Here it is …the way it was meant to be heard. Fully remastered back through tubes.