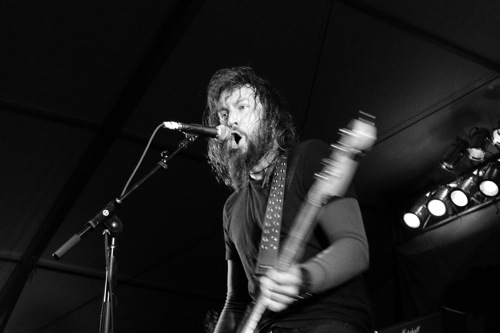 Words and Color Photos by Aaron Richter / B&W Photos by Austin L. Ray
There was a moment this past Saturday in Atlanta, as I emerged from the crowd at the Scion Rock Fest, when I exhaustingly checked the time and realized there was still seven hours of metal to be had, seven more hours of deepening quick-mud, seven more hours of beard-watching, seven more hours of stage-hopping, seven more hours of my face, ears and brain being destroyed. And I got excited.
I'd entered the festival with reservations. Could they really pull it off? Would everyone really behave? Who would be left standing outside the gates once The Masquerade reached its capacity? Despite threats of rain, a steady flux of 4,000 fans filled the festival grounds (capacity 4,700), spread across four stages, one tent-covered outdoor behemoth and three of varying size inside the dilapidated Masquerade. Highlights included co-headliners Mastodon and Neurosis as well as Baroness, Wolves in the Throne Room, Boris and an unreal set by a fully corpsepainted 1349. Jumping from stage to stage, I caught 13 bands in less than 10 hours–eat that, Coachella!
Music aside, kudos to everyone involved for putting together one of the most chill, contained and well-organized music festivals I've ever attended. You proved that a massive rock event can occur (largely free of incident) without resorting to police-state tactics. The general pleasantness and courtesy of the fans was remarkable, not to mention an event staff that proved it could think for itself, assess situations, problem solve and alter protocol on the fly. But enough pussy gushing. Without further ado, here are the Scion Rock Fest Superlatives.
Best Set
Baroness. One minute singer/guitarist John Balzley was chatting cheerfully with fans in the audience, and the next the bearded frontman was a fuming beast, cartoonishly bugging out his eyes and blasting steam from his nostrils like a crazed Disney villain. Much of the Red Album's post-rock wankery was abandon for adrenalized rocking, and the group's songs never sounded better, barreling forth with venomous no-nonsense intensity.
Best Cameo
Neurosis's Scott Kelly performing "Aqua Dementia" with Mastodon. Following Neurosis's mind-bending set, performed in almost total darkness, Kelly joined his Atlanta buddies for some wicked howling. In a T-shirt and cap, he patiently lumbered across the stage before emptying his lungs into a stream of ungodly terror. He also lent his vocals to versions of Blood Mountain's "Crystal Skull" and Mastodon's new single, "Divinations," off their upcoming fourth record, Crack the Skye.
Best Corpsepaint
1349. See for yourself.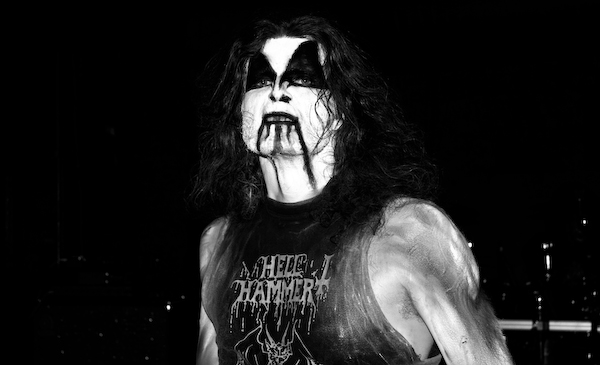 Most Absent Band
Nachtmystium. Accused of Nazism, Blake Judd's sax-tooting psych metal group was booted from the bill by Scion's parent company, Toyota, once controversy over the band's past associations came to light. Judd responded to ensure disappointed fans that Nachtmystium is for the children.
Biggest Hams
Brent Hinds and Troy Sanders of Mastodon. They're just really good at being in a metal band, and sometimes that means you gotta ham it up for the fans, which includes all of (but is not limited to) the following: facial contortions, ridiculous solos, having tattoos, leaning backward, acting like a demon, singing like a demon, being awesome.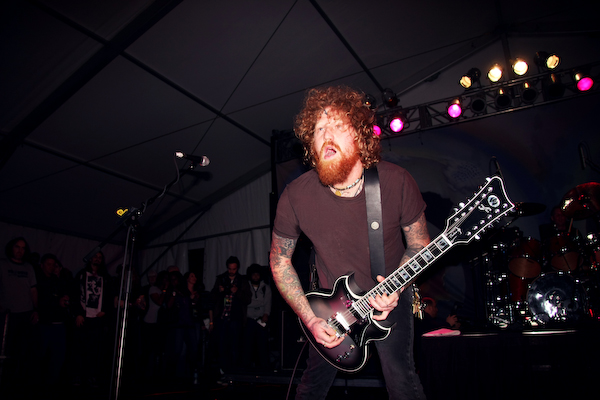 Most Metal, Sans Corpsepaint
Withered. These guys were the real deal.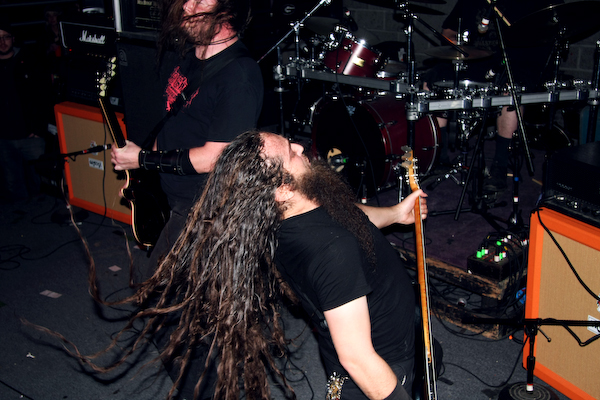 Biggest Smile
Steve Brooks of Torche. Whenever this guy solos, it's like he's a kid on Christmas morning. Even extreme technical difficulties and gear switch-outs couldn't tarnish Brooks's beaming pearly whites.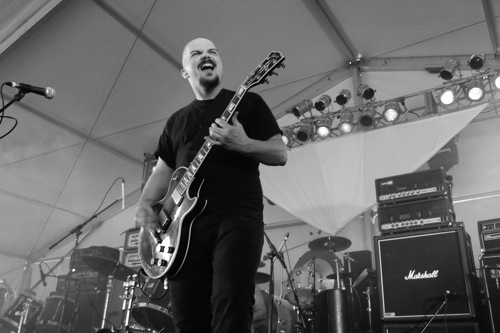 Worst Consciousness
Unnamed cell-phone-tossing fan. Sure, the day's events seemed to go off without a hitch, but the rock proved too much for one guy, who, as Neurosis performed, couldn't walk more than five paces before collapsing and inadvertently chucking his cell phone into a patch of mud. Drunk? On Drugs? Or just overwhelmed?
Most Likely to Fall Apart
The Masquerade. I was warned beforehand that the venue was damn rickety, but I didn't expect such a dilapidated funhouse. In some areas, it seemed like the only thing holding up the venue was a grip of 2×4's bought the day before and nailed in place in preparation for Saturday's festivities. Navigating between the indoor stages, though a bit confusing and discouraging to some who were turned away once rooms reached capacity, was sort of like exploring a haunted mansion. Filled with ghouls, of course.
Best Penis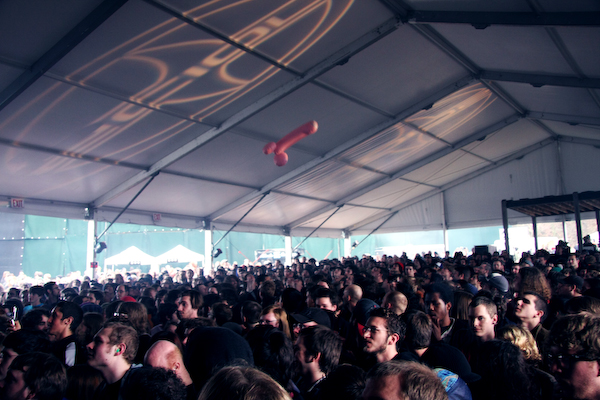 Tightest Squeeze
Converge. Unfortunately I missed this set due to High on Fire and the need for sustenance, but reports were that the Masquerade's top level, Heaven, got so packed that the venue had to close off entry in order to control whatever chaos Jacob Bannon was likely inciting.
Most Likely to Confuse the Uninitiated
Pig Destroyer. Despite my love for Phantom Limb, I found this set puzzling and erratic, as if none of the four guys onstage were actually playing together but rather just doing their own thing that sometimes united for a thrashing good time. The set sent non-fans scurrying to check out an indoor stage, and even the die-hards never seemed to catch much momentum.
Best Spot to Take a Wizz/Smoke Weed
The hill behind the porta-potties. Because stepping foot inside the johns meant risking that the bass from the main stage would rattle the poo receptacle onto its side, with you in it.
Most Likely to Say Fuck Onstage
Matt Pike of High on Fire, who, between songs, transformed into a constant stream of barking profanity. Fuck yeah!
Best Chair
An empty pizza box. Essential when the ground is soaked and muddy and your legs refuse to work anymore.
Most Likely to Have Grown Their Own Dinner
The members of Wolves in the Throne Room. Known for their eco-spiritualism and agricultural self-sufficiency, the Olympia, Washington, group served up one of the day's fiercest sets with swarming tracks from their upcoming record, Black Cascade. And likely dined afterward on a bushel of homegrown veggies. (Or the blood of sacrificed virgins…whatever.)
Best Fan