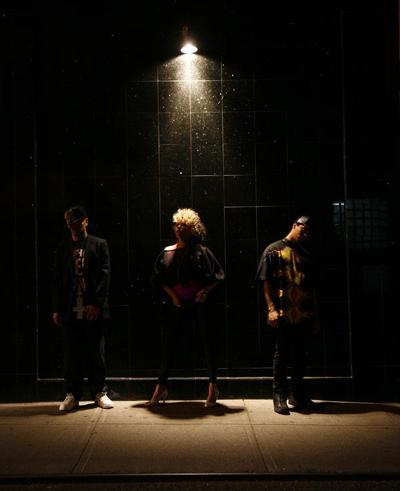 Commentary by Sylvia Gordon
Ever wonder what an artist really thinks of a remix once it's turned in? We certainly have. That's why self-titled sometimes asks our favorite acts a simple question: did another producer's 'vision' ruin or rediscover your original track?
Up this week: KUDU, who recently released Back For More: A Remix Collection on the record label branch of our favorite Alphabet City club, Nublu.
Live @ Eyebeam Gallery, 6.14.08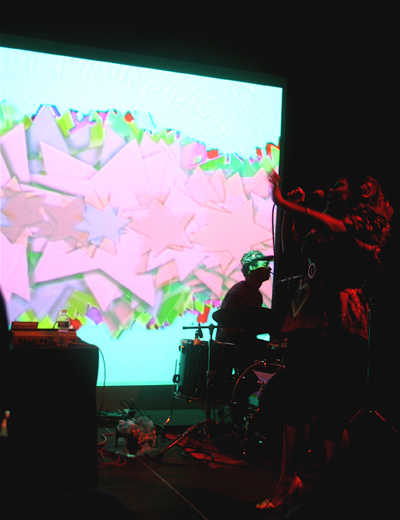 [audio:http://www.self-titledmag.com/wp-content/uploads/audio/05%20Neon%20Graveyard%20(Drop%20The%20Lime%20Remix).mp3]
"Neon Graveyard (Drop the Lime Remix)"
THE STORY BEHIND THE SONG
I was writing these lyrics in New York using Las Vegas' infamous "Neon Graveyard" as inspiration while [drummer Deantoni] D [Parks] was out on tour. Unbeknownst to either of us, he was making a track while in Vegas–the one that ended up being used with these lyrics. Coincidence? It's just a kooky romp through a neon graveyard … an unusual kind of track with some quirky sounds that I like.
HOW ABOUT THAT REMIX?
[Drop the Lime] is not only one of NYC most vibrant DJs but he's a pal…like half of the remixers on the album. Luca said, and I quote, "here's your remix, it's a total refix in my opinion":ha! ha! Luca, well it's different and it absolutely awesome. I love the bridge where he makes my voice all warbled and creepy…yesss, love that. It's a pretty dense mix and I've yet to hear how it sounds in a big club.
[audio:http://www.self-titledmag.com/wp-content/uploads/audio/06%20Let's%20Finish%20(Sinden%20Remix).mp3]
"Let's Finish (Sinden Remix)"
THE STORY BEHIND THE SONG
Not the most pumped-up dance track; it needed some beefing. I hate talking about the before of the songs because we didn't have an experienced producer on board [at the time] and I think some of the songs lacked a little because of that. I guess we made our point a bit and there are elements in the song that are super awesome to me that could be re-used and reiterated. Like the bass line at the end, which kinda mimics and expands on that Talking Heads bass line from "Once in A Lifetime."
HOW ABOUT THAT REMIX?
God Bless Sinden! People love him, people listen to what he does … Sinden helps KUDU. KUDU is grateful. KUDU very very pleased. It's dancey [now]–my friends honestly listen to it over and over … so I'm happy. I'd love to actually see how people dance to it … heh, heh, heh.
[audio:http://www.self-titledmag.com/wp-content/uploads/audio/09%20Your%20Words%20(Featuring%20Armand%20Van%20Helden).mp3]
"Your Words (Armand Van Helden Remix)"
THE STORY BEHIND THE SONG
No one has heard the original track because it was never released. It's really cute though … sparkly and bubbly bell sounds–like pink champagne.
HOW ABOUT THAT REMIX?
AVH is a pro in the DJ and remix game. I'm all for dancifying anything and I have yet to hear this in a big club on loud speakers, but I can't wait! The bridge section is still mine from the original as far as the bass notes, but AVH had Nick (KUDU's keyboardist) replay it on the keys so he could claim it. [Laughs] I love this mix though … makes me feel very Robo-Dale Bozzio (from Missing Persons), and how could that ever be a bad thing!? Def take this one to the gym and work it out!
[audio:http://www.self-titledmag.com/wp-content/uploads/audio/13%20Hot%20Lava%20(Curtis%20Vodka%202057%20Remix).mp3]
"Hot Lava (Curtis Vodka 2057 Remix)"
THE STORY BEHIND THE SONG
This was some fun, kooky, sexy stomp of a song that reminded me of something Siouxsie Sioux might do with a big band if she were so inclined. Lot's of imagery, heavy lyrics–very verse/chorus/bridge/breakdown … even if a bit too long, but that's not necessarily a bad thing.
HOW ABOUT THAT REMIX?
I love this remix. It's absolutely nothing like the original. You can't hardly tell what song it is at all. That's neither here nor there; I just love Curtis Vodka. This remix makes me feel like that scene in Fantastic Planet where those giant weird beings mentally teleport themselves to this couples-only vacation planet. We had a real struggle getting this mix done, and there is another one with a little more of the lyrics floating around somewhere … it definitely took some doing to get them completed but it was definitely worth it.
[audio:http://www.self-titledmag.com/wp-content/uploads/audio/03%20Back%20For%20More%20(Hess%20Is%20More%20vs.%20Jenno%20Remix).mp3]
"Back For More (Hess Is More vs. Jenno Remix)"
THE STORY BEHIND THE SONG
The synth-heavy electronic element made these lyrics sound extra sleazy … the drumming at the end is fantastic. This song sounds very dark and dank, like grimy basement sex with a red light on.
HOW ABOUT THAT REMIX?
OMG! Talk about a total transformation. Now it's a light and fun '60s playboy pad soundtrack. I don't mind if kids pass by while the song is playing … kinda. I don't find any of these remixes better or worse; just different, but this mix takes the cake as far as total effort put in. It's all live horns and strings! Who does that!? OMG, please let me sing this in some club scene in the next James Bond movie! My manager pushed me to get a remix from them and I was lazy and hesitant about it. I didn't expect this at all–but neither did my manager, so Craig, don't get too smug. Thank you Mikkel and Jenno!!