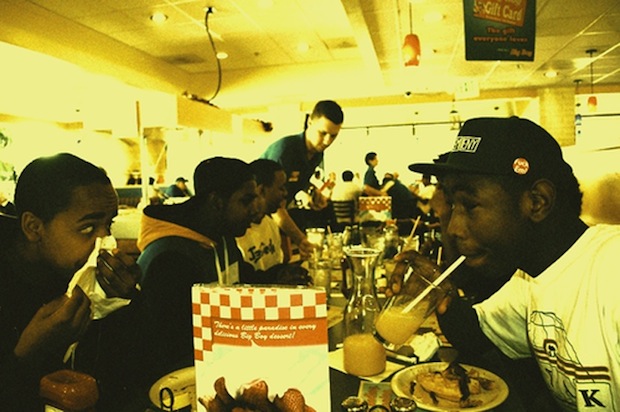 Words by Andrew Parks
The Artist and Their Latest Release: L.A.'s Odd Future collective, which released its latest free Internet LP (MellowHype's BLACKENEDWHITE) on Halloween
The Show: Odd Future's NYC debut @ Webster Hall Studio, 11.8.10
What's Been Said (By Industry Folks On Twitter Tonight): "Odd Future charisma triplet: Tyler, Tyler's eyeballs." – @amritsingh
"Wonder if I'll be like 'I was there' to my future children about the Odd Future show tonight" – @barbaravegas
"Tyler: 'Fuck every label and magazine in here, suck my dick.' 500 magazine people just pulled their phones out to tweet that." – @PAPPADEMAS
"Odd Future show was the best $5 I've spent since I caught Fugazi in MA back in '02. #gassed" – @CraigSJenkins
"This is one of those days I wish I still lived in NY. #wolfgang" – @tombreihan
"tyler say faggot a lot" – @dasracist
"New York Times are here, Warner Bros, Interscope etc. Fuck it every1 is here to see Odd Future. #RunIt" – @NickyDiamonds
"A&R, press, bloggers, label dogs, fashion chicks all here #whitepeople<3oddfuture – @chocolatebobka
"@oddfuture Make bank. #musicindustryLOLfest" – @ilirjana
"These niggas Odd Future don't give a F-UCK!!!" – @iHipHop
"Tyler is a star." – @fennrock
"@fennrock yup. Odd Future is legit and Tyler is the new RZA. Proud they're from LA." – @WaltNew
"whats up internet lets get meta on odd future!" – @youngelz
"Tyler the Creator kinda owning this." – @keyescore
"Every generation gets the "Fuck you" it deserves." – @fennrock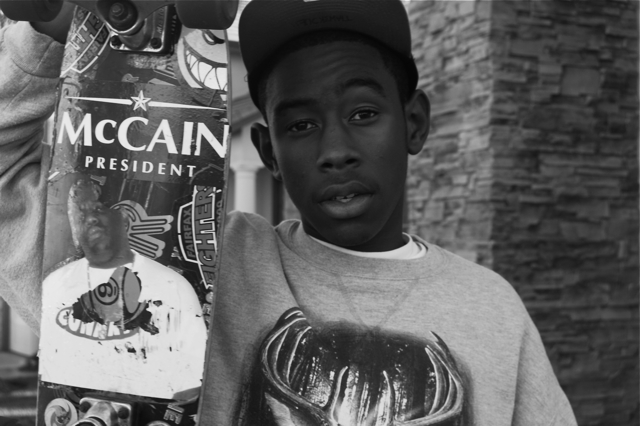 Our Take: A seemingly random series of events–including a cred-building story from the Wire; not exactly a buzz-stoking magazine–has led to the  meteoric success of Odd Future, so rather than spark a backlash or feed into the hype, here are my honest, immediate thoughts on tonight's show:
While the five main members of Odd Future plan on doing press together now, Tyler the Creator is Odd Future. For now, at least. Or until Earl gets freed from his mom's basement.
As much as they kept trying to plug the MellowHype record that just dropped, people started losing their interest the second Tyler stepped off the stage. If Odd Future is Tyler's D12, then he's definitely Eminem.
Unlike the comparatively hyped Salem show last January–a set that lacked any star power–this one proved Tyler's a natural born performer who knows EXACTLY what he's doing.
Unfortunately, knowing exactly what he's doing involves spitting rhymes about rape, murder, and "faggots." And while Tyler can roll his eyes on command like a Walking Dead cast member, he doesn't seem to be as twisted as some early tales have suggested. Certainly not as plagued by drastic inner demons as someone like Cage.
One listen to the brutally honest title track on Tyler's Bastard album (closing line: "Fuck a deal/I just want my father's E-mail, so I can tell him how much I hate him in detail") is enough to prove that he doesn't have to resort to shock tactics. He chooses to. Maybe it's because he sees himself as a storyteller that's no different than a torture porn director. Or maybe he knows full well that follow-the-leader critics will call him "the next Kid Cudi"–a "hipster rapper"–if he keeps things socially conscious.
At one point, Tyler said, "Fuck all the magazine and labels that are here" to a round of applause…from magazines and labels. Let's see if he'll be saying that when Downtown or Vice offers them a record contract and the FADER tries to put Odd Future on their cover.
Judging by the nerdy dispositions and wild-eyed determination behind all their fronting, we have a feeling that Tyler and some of the other Odd Future guys have been called the F-word themselves. It doesn't excuse hateful language, but it may explain some of the angrier moments on Odd Future's albums.
Like many rap shows, Odd Future's set wasn't about slinging hooks. It was about passing the mic over pre-recorded beats, with a sluggish-to-rock solid range of success.
A serious mosh pit is gonna break out at Odd Future's next NYC show.
Leading off that last sentence, Odd Future seems destined to have a LOT of dudes in their audience. Not as bad as a dubstep party in 2007–a 95-to-5 ratio, at best–but definitely not anywhere near the crossover quotient of Tyler's hero Pharrell.
At the end of the day, Odd Future's trying to ruffle some feathers and entertain the rest of us. Or as a couple ignorant kids said with a heavy coat of sarcasm on the way out, "Those songs are really gonna 'cause some rapes."
Now where's my copy of Dr. Octagon?
Hypeworthy? Something'a clearly in the bong water over in L.A. right now, so yeah–we're curious as to how this'll all pan out…