David "Brun" Brown of SWAYZAK @ Canal Room, 12/05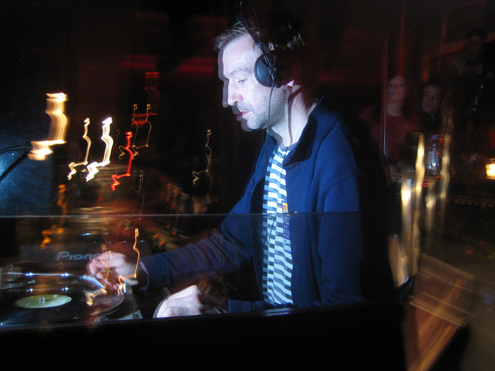 [Photo by Andrew Parks]
In case you couldn't already tell, what with the recent release of a Swayzak retrospective (You'll Never Dance Alone Again) and a double-shot remix/rarities collection (Route de la Slack) , the London-based duo celebrated 10 years together last year. (Their first 12", "Bueno"/"Fukumachi", was released in February of 1997.) To help mark the occasion–and inadvertently reveal clues into Swayzak's ever-shifting creative process–we asked James Taylor to share 10 of his favorite people, places and things from the past decade.

[L to R: David Brown, James Taylor]
1. Gig
Jamie Lidell in some industrial wasteland in the middle of Germany. It made me want to quit music and become a taxi driver. Unhinged, falling over and utterly amazing.
2. Library
Hardly the sharp edge of technology, but here in Montpellier, France, there is an amazing resource of 100,000 CDs. Where else can I take home Pierre Shaeffer, MF Doom, Peter Brotzman, Godspeed You! Black Emperor and Steve Reich for two weeks without paying a penny?
3. Shop
Hard Wax (Berlin and Saarbrücken, Germany). I first went to Hard Wax in 1997 with 10 copies of the first Swayzak 12-inch under my arm. They bought them off me, and I then spent 300 marks. The shop is still in the same place and still empties my wallet.
4. Gig
Mogwai at Reading Festival 1998. They fuckin' killed it. My noise sensors forever exposed. Beauty and pain go so well together.
5. Gear
Modular studio. I have four large plastic boxes beneath my table. They are all full of wire, machines, etc. I have no permanent studio. Instead, every few weeks, I empty my table and install a new configuration. Born of necessity (lack of space), this way of working is now vital to me. No longer do I tire of equipment. It just goes in a box ready to come out again and be rediscovered.
6. Magazine
The Wire. From many years of reading, I have learned to unlearn a lot of what I thought I knew. An invaluable resource.
7. Distance
Both physical and mental. In this over-connected world, we spend too much time looking/listening to what other are up to. Isolation helps give rise to more creativity and free thinking, or at least you can just be lost in your bubble without social networking.
8. Low-cost airlines
Yes, the evil carbon-emitters also have a plus side: enabling cheap international travel so underground musicians can now play all over the place and keep the ticket prices low. Those planes will be in the sky anyway, so at least lets have some quality musical exchanges coming from them.
9. Mobile phones
Oh, yes, how I love to spew out my latest dubstep purchases from a one-centimeter speaker. What the fuck is that all about? I remember having a portable radio in 1978 that had more bass. The only thing that sounds good on them is North African pop music–horns and squeaks always get the kids going. Or Alva Noto, of course.
10. Mini-jack to mini-jack cable
This seemingly uninteresting bit of gray wire has long been my favorite and most used piece of equipment. Recording MDs into computers, plugging into monitors, playback from a iPod or just for feedback loops. Its simplicity is its beauty. Never leave the country without one.
MP3: Classic Tokyo Set (part one)
"State of Grace"
[youtube=http://www.youtube.com/watch?v=XcIMYC7zGHY]