Words by Keith Buckley
Buffalo, NY, has been my hometown for a combined 24 years of my life, and just when it seems there is nothing left to see, suddenly you are confronted with a sexually ambiguous figure lurking in the dark who just wants to lick the bottom of your shoe. There are always new secrets being made. Buffaloians revel in the fact that most of them have been elsewhere and cannot find a place amidst the endless bustle of the big cities or the constant leisure of coastal suburbs. The people here are college grads, family men, artists, hustlers, and, yes, most are alcoholics, and a lot of them are homeless, and a few more might be overweight, and then there are those that are violent, and, yes, we have our fair share of sexual deviants but every one of them is real. No one is looking to get noticed. Nobody is on an agenda to network because here it isn't who you know, it's what you know, and with the rich history this city has and the complex it has overcome after losing four straight Super Bowls, Buffalo knows how to fight and CREATE ways to survive and that's why I love it.
And also, the bars are open until 4 a.m, and my friend owns the best restaurant here so I eat for free.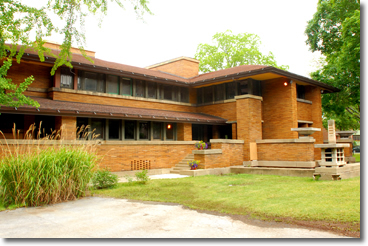 1. Frank Lloyd Wright Darwin Martin House Complex
One of Buffalo's only real claims to fame is this complex. It's some of the finest architecture in the world–easily the greatest of his "Prairie School" era, and the story behind it is fascinating. Well, not really fascinating. Wright was a total asshole who milked Martin out of all his money to fund his projects until Martin died penniless and up until a few years ago was buried in an unmarked grave.
–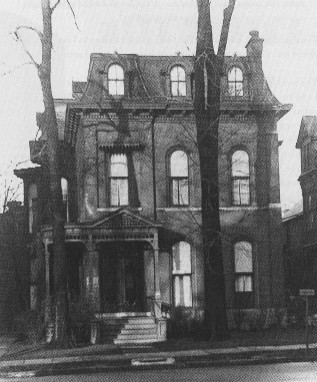 2. Mark Twain parking lot
When one of the greatest writers in American history moves out of a mansion downtown to Elmira, NY, what should be done with the house he inhabited for 2 years? The city's answer? Tear it down!
"The house was built in 1864, and Twain moved in in 1870. He sold the house in 1871 and moved the family to Elmira, NY. Several people owned the house until 1963 when it was badly burned by a fire. It was subsequently demolished July 2 of that year. Today the site still remains vacant and is used as a parking lot."
–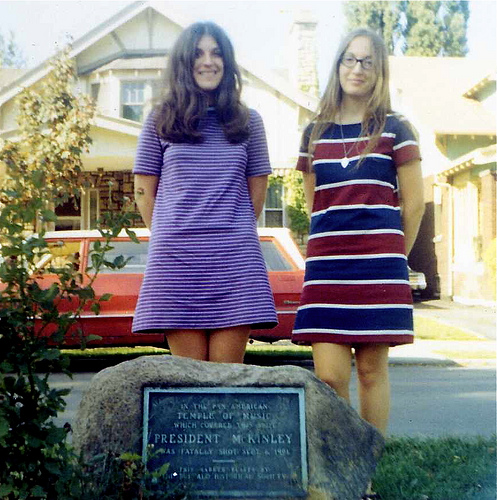 3. Site of the assassination of President McKinley
He was in Buffalo for the Pan-American Exposition when he was shot by a man in a crowd of people as he was shaking hands with the public. In order to commemorate the site, there's a shitty little rock in the middle of a grassy median. because its not THAT important. But hey, at least Buffalo now has a Cheesecake Factory.
–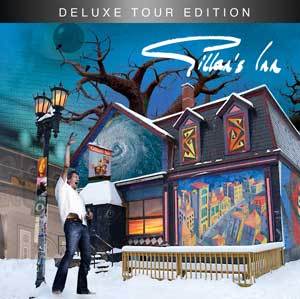 4. The Pink Flamingo
The greatest dive bar in all of America, and I have seen them all. It's dark and smells like old hobo vomit, but the jukebox is great, the drinks are strong and their steak sandwich is the best in town. I;m not telling you where it is, because then more people will go and it won't be a dive bar anymore. But it doesn't have a sign or a real address. It's like a black hole.
–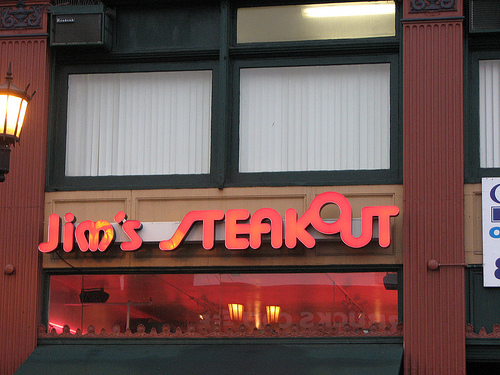 5. Jim's Steakout
I tried to maintain that Buffalo has a certain amount of culture–which it undeniably does–but its present is dominated by food and alcohol. Jim's is open until 5 a.m. and makes any kind of food your drunk, scatterbrained head can come up with. I recommend the BBQ chicken finger sub with bleu cheese. There's three locations downtown. Find them.
–
6. Mighty Taco
Located only in Buffalo, this small chain of "Mexican" fast food joints blows Taco Bell out of the water. Can you get a burrito made of crushed, stale nacho chips at Taco Bell? Didn't think so.
–
Every Time I Die's latest platter of poppy, groove-locked metal, New Junk Aesthetic, is out now. Check out a video and some songs from it below, and more In the City stories here and here.