[Photos by Federico Cabrera]
"It's always fun when I'm onstage, reading these bitches, teaching them who Zebra Katz is," says Ojay Morgan, the multi-medium provocateur best known for his breakthrough Mad Decent single "Ima Read." "A lot of people are creeped out by [Zebra Katz], which is interesting because I think the character is a sweetheart. There's always that weird divide."
Things have been this way–highly conceptual and oft-confusing–ever since Morgan attended the BAK Middle School of the Arts in South Florida, a competitive magnet school program that teaches students "high standards through a strong arts program that enriches their lives and enhances academic achievement, develops creative thinking and analytical skills and embraces reading." Sound familiar? Several other puzzle pieces in the Zebra Katz story fell into place this month, as the performer spread 14 shadowy songs from the past few years over two EPs, DRKLNG and MMXII. Both of which retain the bleak, noir-ish feel of Katz's nightmarish "Ima Read" video.
Don't expect things to stay that way, however. One of Morgan's next steps is a "remake of an older track a lot of people are familiar with" that'll "put Zebra Katz in another new arena." And by that, he most likely means Top 40 radio, as the main collaborators on that cover are the Pitchfork-approved Swedes in Icona Pop.
"I have the ability do what I please right now because I'm not signed," explains Morgan. "I can take risks and go in any direction I want, and I'm going to"…
What's your earliest memory of doing music or any kind of performance art? Was it at a very young age?
Yeah, it was. In fifth grade, I got into the school play and I was Santa Claus [laughs]. I think it started there–as far back as I can remember. Then, after fifth grade, my sister was going to performance art school and studying dance, so that sparked my interest in the arts and I applied to a public school in South Florida called the Middle School of the Arts. I took classes in music, visual arts and communication arts. I really focused my major on theater, then I proceeded into the high school, where I did theater and art. That led me to New York City, where I thought I was going to pursue fashion. But now it's performance. I felt like I was nurtured growing up; they gave us the opportunities to take risks and make mistakes while trying to be creative.
So is your whole family involved in different aspects of the arts?
Not at all. Just my sister and I.
And you originally wanted to do fashion?
Well yeah; I did some costume design [in high school], so I was going to go to Parsons for fashion and also continue studying performance art at Eugene Lang. But I didn't get into Parsons for fashion; they wanted me to do interior design, so I decided to go to Eugene Lang and get a bachelor's degree in liberal arts. So that's how all that started–I wanted to do fashion for a while, so I'd design things for my friends. All of my work came from when everything was bedazzled, when I'd make tank tops out of bandanas.
So would you sometimes act in plays in high school, and also do the costuming for them?
Yeah, definitely. It was a public school you had to audition for, so we'd have to do a final exam every semester where we'd present something that proves we deserved to be there. I'd do costumes for one [semester], then I'd do a monologue or a set design. That way you'd be prepared for whatever industry you were going into. I was really lucky to have that experience–the opportunity to present work at that age and be criticized creatively.
How competitive was this school? And how many kids were in it?
There were about 1,000 kids in the school, and about 230 in my class. Studying acting helped me learn how to get a head shot done, or land an audition. The school was all about building a resume of what you can do.
It sounds like you were involved with a lot of stuff. What were you most proud of?
The fact that I was doing so much and had the opportunity to involve myself in so many mediums is why I couldn't focus on what I wanted to do. I'd train in dancing for four years, then I'd do modern, then I'd start the first step team at my school, which was like me and 13 girls stepping. I'd go to school at 7 and not go home until 4 because we had extra classes and ours always ended up going a little later. I was living there, very much immersed in a creative lifestyle, so it definitely reflects how I can be involved with fashion and music and my videos now. It's all about pushing the boundaries of what people think you can or cannot do within a certain medium.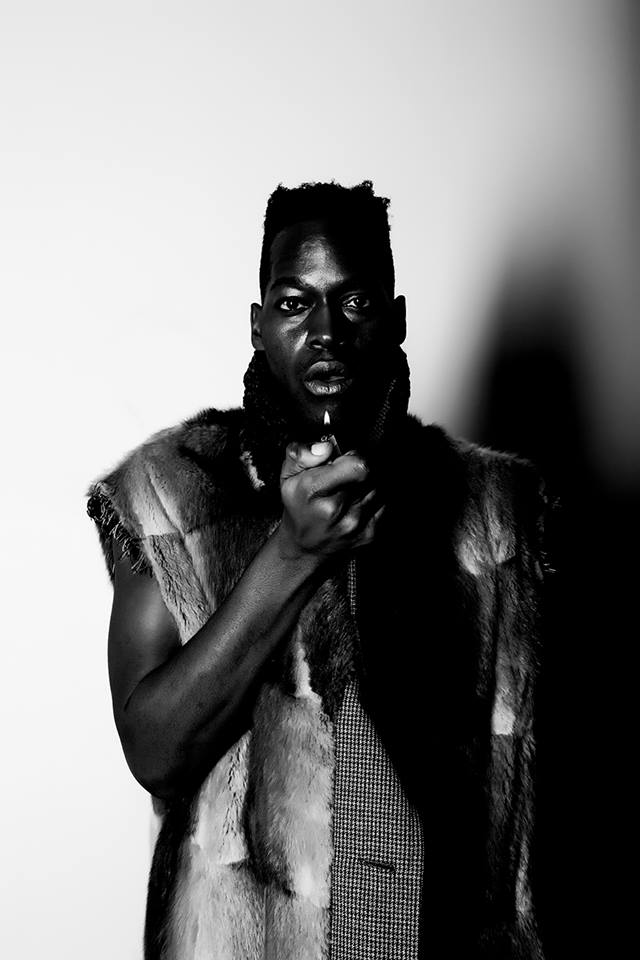 There's a really strong aesthetic to every aspect of Zebra Katz, too, from the music itself the photography around it.
A lot goes into it, yeah, and it's great that people appreciate it. This is all very new to me, something I've been working on for the past five years. I decided to release [DRKLNG] because it felt like more than a mixtape; it felt like its own piece. I'm not trying to sample other producer's beats; I'm trying to make it all original…I'm building a larger arc, know what I mean? But I try and not think about it all too much, because you can get caught up in the industry side of things.
I've gotten to work with all kinds of artists. Like a lot of [DRKLING] was produced by Mike Dextro, Nick Hook helped me mix it, and [DJ] Teen Wolf helped me curate the interludes I wanted to use like, "Molly, you're in danger girl" from Ghost. It's a Whoopi Goldberg reference, but I'm really talking about how the word "Molly" is used flagrantly in hip-hop right now, as a kind of drug-worshipping. I'm talking about a lot of issues really, but I didn't want to say that in the [press] release. I wanted people to draw it out themselves. Once people see more of the visuals, they'll get more of what I'm trying to shine a light on. Yeah, it's "darkling," but there's a lot of light in the character of Zebra Katz. That's what's so intriguing to some people.
It's interesting that you still have the original "Ima Read" video up on Vimeo; it's a completely different vibe than the concept you ended up with for the official single.
So there's two videos out–the one I did with my friend Ruben Sznajderman at Brooklyn College, and the one I did myself with Njena [Redd Foxxx] in my bedroom. I wanted to keep the do-it-yourself aspect of my work very much alive because you have to do a lot of it yourself today…I just didn't think that do-it-yourself video did justice to the track and the darkness that Ruben and I were able to pull out of one day of filming. I've left some of my other old videos up too, but I'm glad people haven't found them. Like Tricky has referenced the "Hipster" video, which I figured no one had seen. I put those videos up to prove how these characters can evolve on the Internet, so having artists I respect reference them is shocking. It's a different part of Zebra Katz–where I'm still trying to figure him out–which is interesting. You don't usually get to see that kind of growth with new artists and today's pop music. I like to take a different approach and reshape how people find music.
That's the thing about "Ima Read"–a lot of people found it on their own, and didn't know what to think about it. That's so much better than having it rammed down your throat. Sitting with your friends and watching YouTube videos is such a big part of our culture now. I'm trying to hone it on that more because it is such a marketing tool, a way of really putting yourself out there.
Do you feel pressured to take some of your old videos down though?
Not at all. That's definitely a part of who I am, and I'm not ashamed of that. I think it's important for people to see growth. If anything, I need to be reminded of that–of how I need to keep growing.
Tell me a little bit about the one-man show you did, Moor Contradictions. Isn't that where the Zebra Katz character came from?
Moor Contradictions was part of my senior thesis. I performed it at the La MaMa Theater in 2007. It was an honor for me to move to New York City and do a solo performance there…I wanted to write my own work because I didn't feel there were any writers writing for me. And I was really fascinated with the Moors from studying Shakesepeare. I wanted to reapply them to today with these solo characters. They all had their own performances, but Zebra Katz got his break, so he's the one surviving character out of them. I'm giving him a chance to breathe and grow, publicly, in front of people.
This is all very new to me–being a recording artist, rapper, whatever title anyone wants to put on it.
How would you describe the original version of Zebra Katz and how the project's evolved over time?
It's interesting; the pictures people have seen were taken in 2010, when I went to Helsinki and did a photo shoot with my friend Federico Cabrera. I came up with these stark black and white images which are very reminiscent of Grace Jones. And so those are the images a lot of people associated with Zebra Katz in the beginning, because they saw this androgynous character with glitter on their lips that was intriguing. I decided to go with that visual aesthetic because it worked for me; I'm a big Grace Jones fan, and I love the femininity in her songs, so it was great to have that there. Within the course of last year, as the face and sound of Zebra Katz hit a wider [audience], it started to grow incredibly quickly. You know, meeting with [Rick] Owens, going to Paris for the first time, having the song projected on the runway and all these different arenas–one being the fashion world, and the second being the hip-hop industry. I'm trying to look back without thinking about it too much, so I don't get too much in my own head.
You're very fortunate though, in how you've been able to straddle all of these different art forms, very much like what you did in school.
Yeah, I think about it now, and I'm very thankful to have the capacity to do all of these things at once without getting too overwhelmed or sidetracked. It kinda cradles me. I'm really excited to see what happens over the next year. It's really great to openly let collaborations happen because I trust in the character of Zebra Katz that much. It's refreshing to let loose and be in the moment.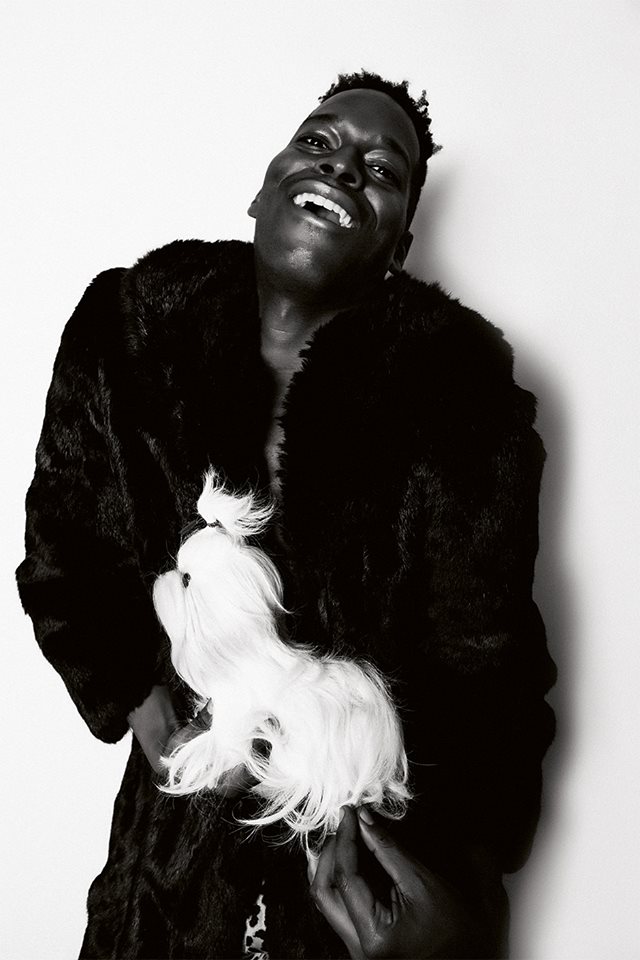 There's a really consistent sound on the new EP, but that almost happened by accident didn't it, as you worked with a really minimal sound in your bedroom?
Well you have to remember that I released my first mixtape, Champagne, two years ago. And it had a lot of the same producers, like Teen Wolf and Mike Dextro. So I took the same raw elements from that mixtape and applied it to this one because I like the feeling of it and the world it creates. Champagne was all about that opulent, dark lifestyle and now it kinda got a little darker with DRKLNG, but it's still a selection of things that I consider my sound. It doesn't go too far into being overproduced or me sounding like I was in the studio for five days. Because I'm not; most of it's recorded in my home studio.
You mentioned Grace Jones before; what are some other artists that have been really important to your growth as a listener and artist?
When I was in middle school, I was obsessed with Lauryn Hill and the Fugees. It was really a problem. [Laughs] When I went to college, I started listening to Nina Simone and she lit a fire under me when I was thinking of dropping out of this liberal arts school where you just sit around and discuss things all the time.
So you thought your school was too open-minded in a way?
Not at all. I just think I was doing too much at that time. And the same thing applies now–I like being multi-faceted, using different mediums to do a track. A lot of the lyrics, as repetitive as they are, help drive the atmosphere out. You feel like you're in a room with Zebra Katz. I read a Tweet that was like 'Zebra Katz is all of these drugs rolled up into one rapper.' It made me laugh because it kinda has that effect on you. I thought about that as I was making the mixtape–everything is so drug-related now, so it was interesting to make that more of a visceral feeling instead of just talking about it constantly.
Let's talk about the role gender plays in your music. I feel like the one thing people haven't gotten about Zebra Katz is how androgynous the character is. It's not a homosexual or heterosexual thing…
What you trying to say? [Laughs]
I don't know. I'm not trying to have a liberal arts discussion right now, but you know what I mean.
I do get what you're saying. I don't have an answer for you, but I believe that gender and race is interesting, because it reflects so differently on people. Like some people see Zebra Katz as a reflection of sexual desire–some people pick up the vernacular–and some people don't. That's really exciting to me. It makes it very ambiguous and accessible. That's a good thing, because I'm not trying to alienate anyone like I've felt alienated before.
When did you meet Busta Rhymes?
I met him last year, via Diplo, when I went to the studio with Njena. That was really surreal to me; he's Busta Rhymes, a hip-hop legend. I'm still in shock that that happened, and that I worked with Tricky. Working with Busta was crazy. It's not like we worked together, though. I went to the studio and we talked about the content of the track, and a few months later, he sent me his verse for it. I didn't know what to do; I sat on it for a while, and then one day, I said, 'Hey, I'm going to release this mixtape', and we put it out.
I did that for a lot of reasons. People may be confused about the current state of hip-hop and how it relates to Zebra Katz so I did that as my way of…if you know, you know, and if you don't, you don't. It's hard to explain in a few words because it's an industry thing and he's Busta Rhymes. It's not like he's my friend [laughs]. I'm still living through how people hear it and how they make their opinions. Hopefully it starts a debate about some things…What's next? Will I work with Busta again? I have no idea. But I want to continue to push and work with people like Fiona Apple and Björk, these artists I look up to. I mean, Grace Jones just turned 65, but I'd still love to work with her.
Well I was surprised about the Busta Rhymes thing, because he's been in the news a lot over the past few years for making homophobic remarks. Were you trying to start a conversation about homophobia in hip-hop in a way?
You're doing exactly what I want you to do, so that's great. I can't comment on it because there's no clear answer. Letting it evolve is the best thing to do because I'm not finished yet. That's what's great about "Ima Read"–there's more to come.