THE MOLDY PEACHES: No, really, who's got the crack?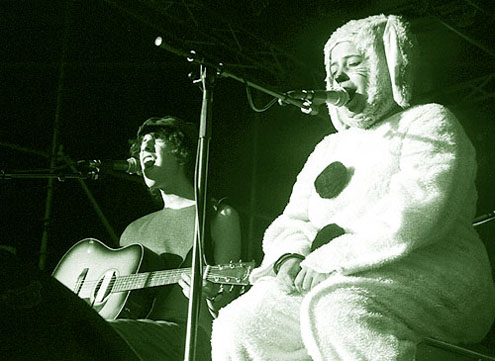 If you're like us and figured "Anyone Else But You" was written as a spit-swapping duet between the Moldy Peaches back when they still liked one another, the following Kimya Dawson clarification might shock you:
"Me and Adam Green wrote this song while sitting on a bench in Tomkins Square Park," Dawson explains in an e-mail to S/T headquarters. "We didn't write it about each other. We both had other imaginary people in mind. Like our dream best friend/dates.
She continues, "We used to call our crushes hippies. We would wander around NYC in the cold all night long 'looking for hippies.' I guess this is kind of what we would have sang to our hippies if we ever found them. We didn't find hippies back then. But the song's still nice. I am 9 years older than Adam so he was still kind of kid back then. It would have been gross if we were singing to each other. It is cute to see Juno and Bleeker sing it to each other though. It feels right. It's a song for awkward kids. We're old hags now. Pass the torch."
Wow. We now blame the media for placing the Peaches on an indefinite hiatus. (You know, all that 'anti-folk' nonsense way back when?) In related news, Green's latest solo LP, Sixes & Sevens, is out on March 18 through Rough Trade, and it's way better than that whole Juno thing with the forced cool kid dialog and low Michael Cera quotient.
MP3s and some awkward videos (including the duo's recent View 'reunion') after the jump …
The Moldy Peaches, "Anyone Else But You" (Live on The View)
[youtube=http://www.youtube.com/watch?v=BFff-FekFWU]
"Lucky Number Nine"
[youtube=http://www.youtube.com/watch?v=Dj_Fuu8TwvY]
MP3: The Moldy Peaches, "Who's Got the Crack?"
MP3: The Moldy Peaches, "NYC's Like a Graveyard"