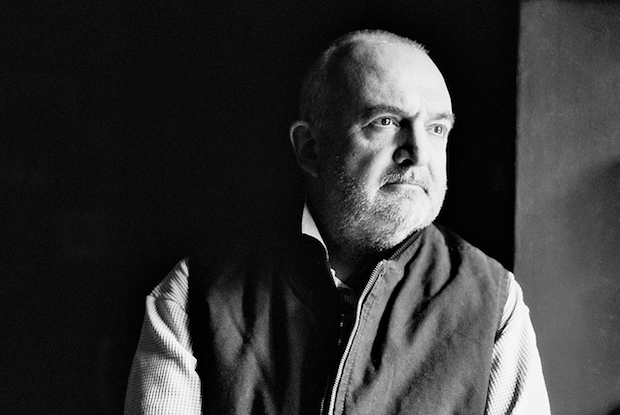 Photo by Shawn Brackbill
As mentioned in our guide to the year's final round of essential records, Throbbing Gristle–or "X-TG," as the Genesis P-Orridge-less duo have come to call themselves–release a pair of new LPs this week, The Final Report and a posthumous rendering of Desertshore, the Nico tribute Peter "Sleazy" Christopherson was working on wrapping at the time of his death in 2010.
The "Memorial Mix" below is described as a "gathering of the voices of 35 of Sleazy's friends and acquaintances. The lyrics are simply 'meet me on the desert shore.'" A fitting tribute considering how decidedly creepy the band's always been, it plays out like a monastic meditation on the loss of a dear friend, as beamed from the other side…
Via Throbbing Gristle's official site:
The 'Desertshores' track is a gathering of the voices of thirty five of Sleazy's friends and acquaintances. The lyrics are simply "Meet me On The Desertshore".

Marc Almond
Skot Armstong
Bee
Vicki Bennett
Bill Breeze
Chris Carter
Peter Christopherson
Chris Connelly
Andria Degens
Cosey Fanni Tutti
Mitch Flacko
Sasha Grey
Danny Hyde
David Tibet
Drew McDowall
Jenks
Kirsten Reynolds
Andrew Lahman
Claus Laufenburg
Les Maull
Terry McGaughey
Daniel Miller
Zoe Miller
Mark Moore
Massimo
Nick Newby-Carter
Gaspar Noé
Charlie Poulet
Pacman
Paul Smith
Susan Stenger
Paul Taylor
Stephen Thrower
Ossian
Pierce

There are four versions of the track – the CD release of 'Desertshore / The Final Report' includes the original full length version while the vinyl release includes a shortened version, to accommodate the reduced playing time on vinyl.

A live remix of 'Desertshores' was recorded in Newcastle at the AV Festival's 'Wishful Thinking: In Remembrance of Peter Christopherson' performance in March 2012.

The 'Memorial Mix' was produced in November 2012 to commemorate the second anniversary of Sleazy's death.