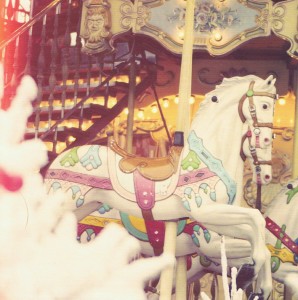 The Artist/Album: Altar Eagle, Mechanical Gardens (Type, 2010)
The Reason(s) We Can't Stop Listening: Considering his last effort was a nihilistic noise record (The North Sea's Bloodlines LP), it's a bit disorienting to find Brad Rose suddenly making moody pop music with his wife, fellow Digitalis founder/singer/multi-instrumentalist Eden Hemming-Rose.
Disorienting but damn good. While its memories-will-fade artwork is hazy enough to pass for a Washed Out cover, Mechanical Gardens is an impeccably-produced descent into a dream world that hints at everything from dark-wave-derived narcotics  ("Monsters," "Pour Your Dark Heart Out") to driftwood-y drone tones ("Breakdown," "You Lost Your Neon Haze"). HIGHLY RECOMMENDED.