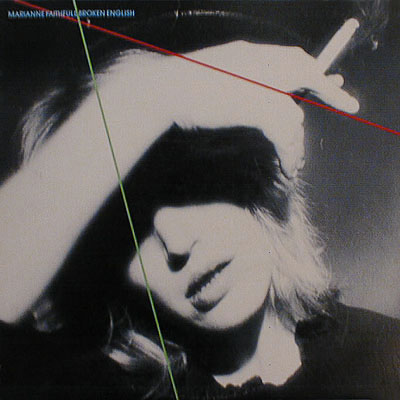 The Artist/Album: Marianne Faithful, Broken English (Island, 1979)
A Short Review: If you're first exposure to Marianne Faithfull was the questionable Metallica song "The Memory Remains," then your mind will be undoubtedly blown by the singer's penultimate LP. To quote her own autobiography, it's a masterpiece, worth the price of admission for the title track alone. Kicking the album's doors down like the opening number of a melancholic new-wave musical, it sets the scene in a couple crucial ways–by embracing the drug-damaged rasp that'd soon become Faithfull's signature and lacing her arrangements with synths, a fact that explains why we first heard "Broken English" jutting into Tiefschwarz's masterful Blackmusik mix.
The other takeaway is how profoundly pissed-off this record is, from a caustic cover of "Working Class Hero" to a closing track that freaked Australia out so much that the country banned it right up until a reissue nearly a decade later. (Let's just say that you wouldn't want to be unfaithful to Marianne Faithfull after hearing her detailed, blow-by-blow account of an ex-lover's cheating ways.)
Eight songs. Thirty-seven minutes. And most importantly, no bullshit. Essential listening.