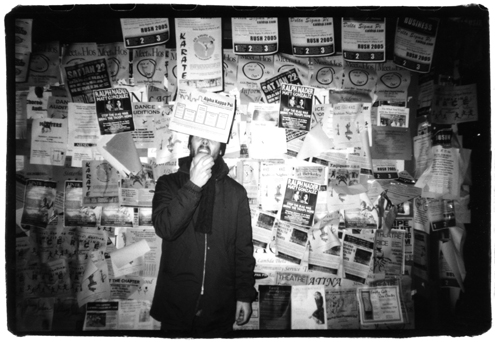 [Photo by Liz Hodson]
Look, we're never going to get over the disbandment of cLOUDDEAD–the murky & melancholic collective that helped launch the love-or-loathe careers of Yoni Wolf, Doseone and Anticon.'s finest beat conductor (outside of Alias, of course), Odd Nosdam. It's telling that two of the three have already went on to widely-acclaimed bands, both of which released their finest records to date this year (Subtle's ExitingARM, Why?'s Alopecia).
What's unfortunate is just how overlooked Nosdam's been over the past few years, as he quietly crafted a hypnotic and hazy compromise between Boards of Canada's chilling, sepia-toned compositions and the in-the-red drone pieces of Boris and Sunn O))). While the latter may seem like a stretch at first, Nosdam did manage to distill his own version of distorted downtempo on last year's Level Live Wires LP.
Pretty Swell Explode is an odd proposition at first: a collection of videos, remixes, rarities, and unreleased cuts spread over two discs and 17 tracks. Odd because of how it's split up. Disc one piles on the R&R, with highlights coming from a Telefon Tel Aviv-esque treatment of Alias & Tarsier ("Ligaya"), a dub-leaning duet with Subtle keyboardist Dax Pierson ("Hollow Me," which could easily pass as a Gorillaz instrumental), and a haunting reminder of Serena Maneesh's existence. Disc two, on the other hand, only features an epic BOC remix (a spare and spine-tingling "Dayvan Cowboy") and an EP worth of original ambient tracks. It's all stellar, however, hinting at an even darker direction for Nosdam's next disc. For now, be sure to pick this one up when it's released on June 10.