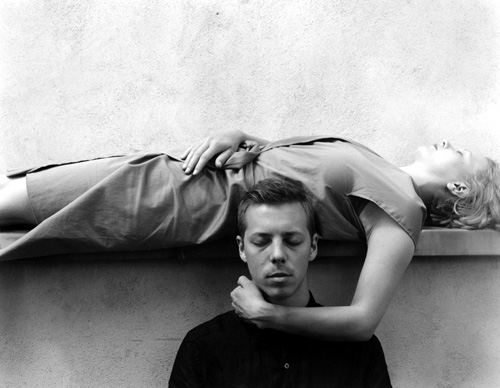 A cross-continental collaboration between a Berlin-based BBC employee (vocalist Nadja Korinth) and one deadly serious New Yorker (multi-instrumentalist/singer Ryan Schaefer), Palms eludes any easy reference points on their impossible-to-pin-down debut. Which is exactly why we fell for its 32 tidy minutes–presented by Nicolas Vernhes' freshly-minted Rare Book Room imprint–in the first place. Quite awkwardly, mind you. Here's the thing: Palms' lyrical obsession with darkness and light is matched up with some rather unsettling music, bewildering but beautiful stuff that toes the line between being compulsively listenable and downright off-putting.
Don't let that latter point steer you clear of giving It's Midnight In Honolulu a chance. Just be prepared for the exorcism that is track four. With beats that sound like a slo-mo shuffleboard game, barely grazing the ground like the feet of ghosts, and a positively possessed Korinth, "Monte Alban" made us reach for the stop button in the beginning. At least until we realized that there was some hope lurking past the two-minute mark–a whispering Schaefer cast against queasy goth-pop.
To be honest, the Palms 'experience' is an exercise in patience, making Midnight an incredibly rewarding purchase if you let your guard down and spend a good afternoon with it. A particularly gloomy, rainy afternoon, mind you. Then, and only then, will you see "New Moon" as the ethereal pièce de résistance that it is. We're talking the type of song that makes you feel something. Instantly. That something may be an intense bout of depression, but that's okay, because "Leather Daddies" is a goofy jam about walking "the way penguins do" with the one you love, just the right amount of light before the darkness starts to seep in again (the industrial instrumental "Boundary Waters," the frightening spiritual "Hang Your Head").
MP3: "Der Koenig"
[audio:http://www.self-titledmag.com/wp-content/uploads/audio3/05%20New%20Moon.mp3]
"New Moon"