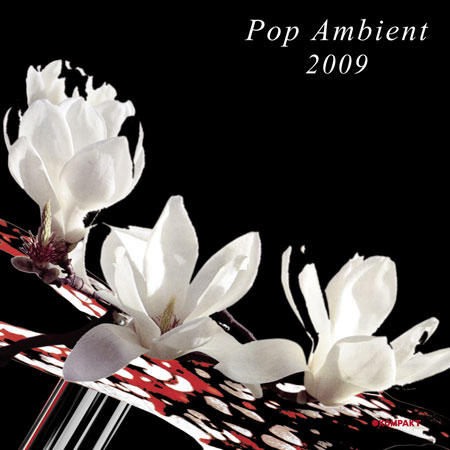 If you're even remotely familiar with Kompakt's second oldest compilation series (Total 1 beat Pop Ambient 2001 by a couple years), you know what to expect here, from flower-powered album art to smokestack-like synth lines.
Keeping that in mind, the 2009 edition stretches its laconic legs a bit, showing Wolfgang Voigt at the top of his curatorial game. The Kompakt co-founder is also determined to retain his own Eno listening rep, expanding on last year's gorgeous–and undoubtedly essential–Gas reissues with three of his own Ambient appearances. That includes Voigt's first Mint composition in eight years (the patient, plodding "Hindemith") and a couple pairings with longtime collaborator Jörg Burger (a Jürgen Paape remix that re-imagines John Carpenter as a PG-13 auteur and an original track–"Frieden"–that trails Icarus on his joy ride to the sun).
On the Voigt-free side of things, Tim Hecker gives us a brief glimpse of continental drift dynamics ("Shosts in Silver"); Popnoname stares at the stars and leaves the techno beats to his wholly recommended White Album; and the Boomkat-approved Fun Years stake their claim at 2009's nü-gaze crown. However, Voigt's ever-evolving tastes truly shine when a Kompakt veteran (Klimek) and an s/t favorite of Type's experimental stable (Sylvain Chauveau) treat four songs like neo-classical pieces. More than just beat-less wallpaper, these selections–especially Klimek's stunning 10-minute closer, "The Godfather (For William Basinki & Snoop Dogg)"–expand Kompakt's reach beyond the chillout room and straight into open-minded concert halls.
Which is not a total surprise. After all, Voigt's one-off Gas performance at Berlin's CTM festival earlier this year wasn't thrilling so much as trippy and theatrical. Kind of like this entire compilation, which is easily one of the most enticing, richly-textured Pop Ambient releases yet.
[audio:http://www.self-titledmag.com/wp-content/uploads/audio4/03%20Hindemith.mp3]
Mint, "Hindemith"