Man oh man is this entry a long time coming. You see, we first fell for these genre-jumping Brits way back in 2006, when their self-titled debut landed in the UK by way of Melodic and the loaded tagline of "techno music played on guitars." While we wouldn't quite draw a direct lineage between the quartet and, say, Richie Hawtin, their hazy approach to beat-backed rock 'n' roll does evoke a time when Manchester was actually MADchester and the Happy Mondays were kings (in their own mind, at least). The key difference being that Working For a Nuclear Free City bring a laser-like precision to their songwriting, whereas the Mondays often acted like nothing but E-tarded buffoons.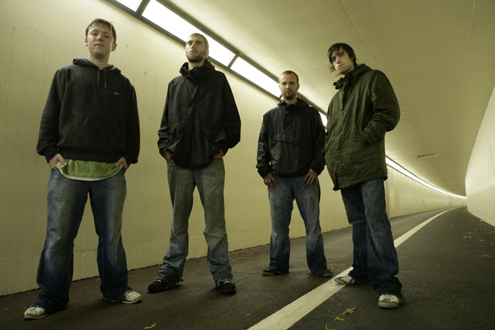 [Photo by Simon Webber]
Of course, it helps that the band owes more to the Stone Roses than Pills 'n' Thrills and Bellyaches. Simply put, Businessmen & Ghosts–a daunting two-disc collection of City's debut, the Rocket EP, and several previously unreleased tracks–is the kind of music Ian Brown should have been writing for the past decade rather than a series of crap solo albums. It's more than that, though. "Eighty Eight"is pure, chord-sawing fire for the dancefloor, "Donkey" is drum & bass with a flesh and blood pulse, and songs like "224th Day," "The Tree" and "Kingdom" are a Sofia Coppola soundtrack waiting to happen.
You'll have to devote an entire evening to digesting it all–and then some–but believe us when we say self-titled rarely, if ever, hears a record this all over the place (in a good way).
MP3: "Quiet Place"
MP3: "Forever"