CAT POWER, in one of her about-to-crack moments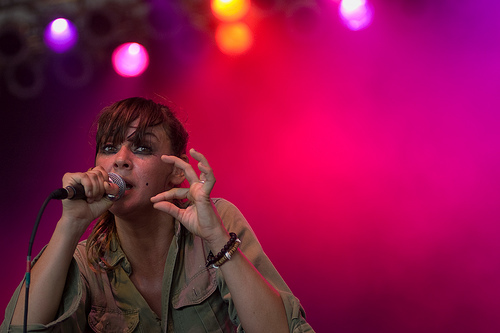 [Photos by hooverflagit]
Jack Johnson, Ben Harper and Trey Anastasio all in one rain-soaked evening–what is this, Bonnaroo? Why no, it's the third and final day of All Points West, a Radiohead-free celebration of what passes for college rock these days. Oh, and Cat Power, who's apparently back to her buzz-killing ways of mumbling and stumbling through an entire set.
self-titled contributor Courtney Balestier shares all of the good, bad and ugly details from her notebook after the jump …
Peek-a-boo, CAT POWER sees you

This ferry situation is shockingly easy. And fast! Auspicious beginnings.
Funny how well the midday drizzle complements Rogue Wave's sound, especially on the melodic "Chicago X 12." Then, an already impressive drum interlude ends with all five band members grabbing sticks and drumming on whatever they can find before transitioning into "Lake Michigan."
Over at the main (or "Blue Comet") stage, Rodrigo y Gabriela played like virtuosos through the worst of the rain. Dueling guitars, "Stairway to Heaven" licks and some astonishingly powerful drumbeats just from Gabriela knocking the body of her instrument. How are her knuckles not bloodied from all that dragging?
Still pouring. The All Points West "General Store" tent is out of ponchos, but a sheepish cashier informs me that I can buy a garbage bag for $2. I do.
But really, $2 for a freaking garbage bag?
Cat Power gave a lackluster performance. Lots of lolling across the stage, almost no speaking between songs, and one odd turn singing with her hand over her eyes. Her voice never quite overpowered the guitar or drums, but she finally started to come alive with a sultry cover of CCR's "Fortunate Son."
Two preteen girls are getting high with … their mom?
It was worth switching stages to catch Earl Greyhound's powerhouse closer, "I'm the One." Kamara Thomas' fierce, soulful voice fills the void left by Cat Power. And, uh, she's definitely straddling her guitar.
Points for Earl Greyhound's Matt Whyte. White shirt and tight white pants in a field during a rainstorm? Bold move, sir.
Free water! Genius! … You have to bring something to put it in? Oh.
Back at the Blue Comet, Ben Harper and the Innocent Criminals take an Oriental-rug-covered stage. With tracks like "In the Colors" and "Diamonds on the Inside," Harper plays a good but straightforward set–he's elevated to greatness as he works his way through some lap-steel guitar in "Ground on Down."
People still wear dreads and tie-dye.
Across the park, Grace Potter and the Nocturnals are playing "Nothing But the Water (I)," and she's belting like a church choir soloist plunked down in a blues bar. And now they're all drumming, too. Is this a new live show trend? I'm into it.
Didn't have to wait in line for the bathrooms once. True story.
A straight-from-the-dorms looking crowd has assembled for headliner Jack Johnson. He begins with "Hope," off his latest, Sleep Through the Static. The setlist mixes old and new songs, including fan-favorites "Sitting, Waiting, Wishing" and "Bubble Toes."
"Wasting Time." That's baby-makin' music, that's what that is.
Johnson dedicates "Upside Down," from Sing-Alongs and Lullabies for the Film Curious George, to a little girl perched atop her father's shoulders. You're pushing your luck, Jack.
Trey Anastasio guest stars on "Mudfootball (for Moe Lerner)." He exits, and Johnson continues through "Constellations" and "Breakdown," thus melting with beachy guitar hooks any residual annoyance from the song-dedication incident. (Also, it's disproportionately impressive how well the man can whistle.)
He launches into the infectiously upbeat "Banana Pancakes." I'm sorry, I can't help it: I'm into Jack Johnson.
Yeah, I said it. What?