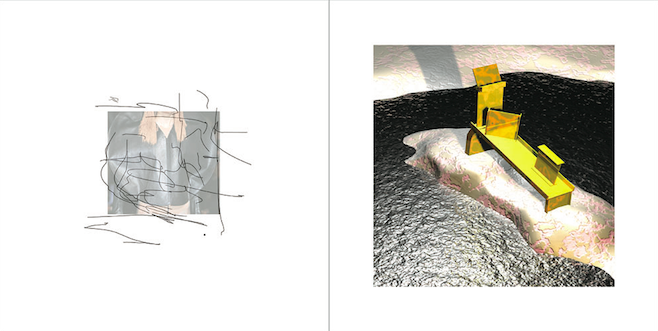 NNA Tapes have revealed their second release with Oneohtrix Point Never, a split LP featuring a five-part Rene Hell piece on the flip. Here's the full breakdown: 
Oneohtrix Point Never brings us "Music For Reliquary House", which consists of sonic reworkings from the "Reliquary House" audio/visual installation, a collaboration between Lopatin and video artist Nate Boyce. In a series of five pieces, Lopatin delivers a sequence of hallucinatory informatic assaults, a satirical re-envisioning of modernist sculpture. Picking up where 2011′s "Replica" left off, OPN uses digital technology to dissect human speech patterns and timbres almost beyond recognition. Via computer, Lopatin converts pieces of text to human speech, only to dismantle it entirely, surgically reassembling the scraps of frequencies and the shrapnel of pure sound into something new altogether: starkly melodic at times, but altogether harsh and inhuman as a whole.

Rene Hell presents "In 1980 I Was A Blue Square", a suite of five pieces for piano, synthesizer, and computer. Juxtaposing mid 20th century classical music with chaotic electronic blasts, Witscher creates his own style of contemporary music that is peaceful and violent on top of itself, creating a rift of confusion that sits nicely between more vast, soundscape-like vignettes. Witscher's previous forays into the worlds of noise and ambient are tastefully apparent here, indicative of an artist who is able to retain a broad array of influences and use them in a way that is both personal and original.
You can pre-order this limited LP here, and grab 0PN's split cassette release from the label now.