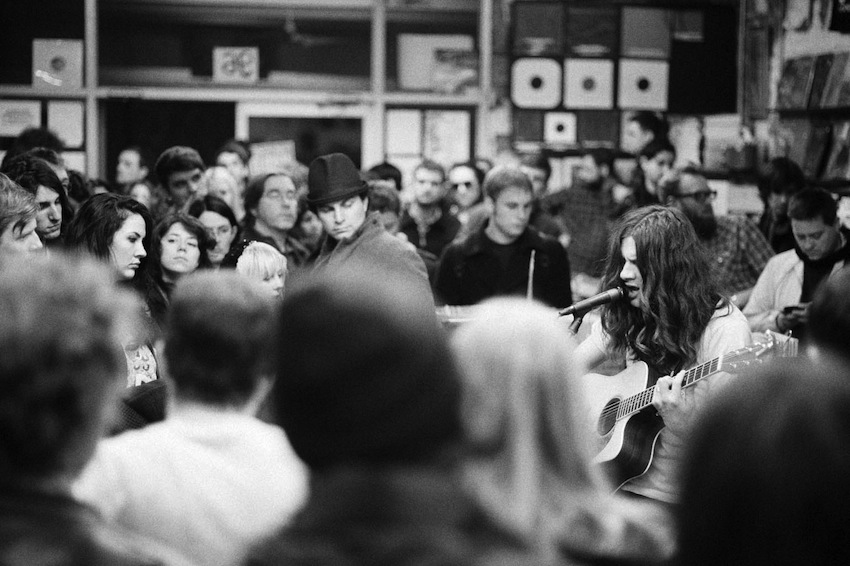 Photos by Shawn Brackbill
As some of you may have seen in our new issue, self-titled contributor Shawn Brackbill spent four days shooting candids of Kurt Vile during his Smoke Ring For My Halo sessions and was nice enough to share some of his best shots with us. As an addendum to that story, we asked Shawn to answer a few questions about his ongoing work with Kurt and managed to score a slew of shots from his recent record release shows at Other Music, Academy Annex, and Generation Records. Make sure you don't miss the Thurston Moore/Ted Leo cameos…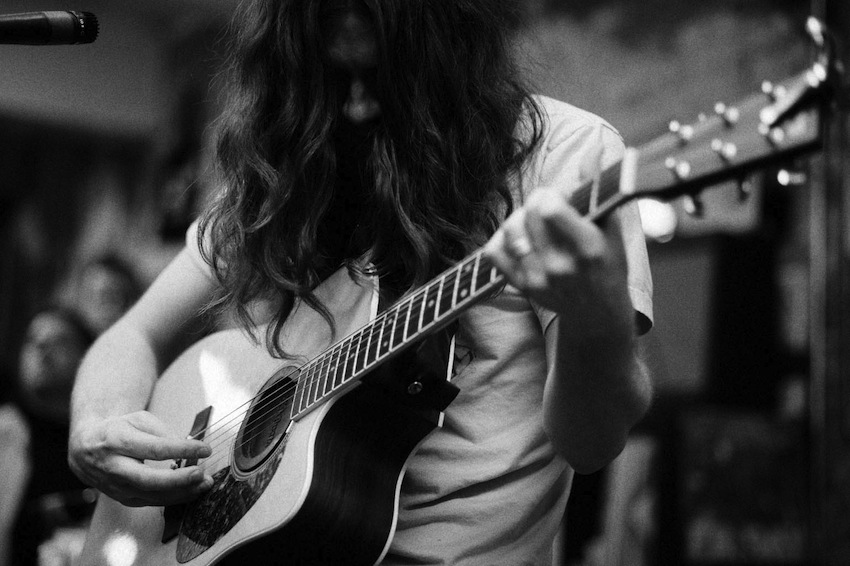 When did you first get involved with Kurt? Were you already familiar with his music?
I think I got involved doing photos with Kurt in 2009. We met when he played a loft show in Manhattan early that year. He was working with a friend of mine who introduced the two of us. I had already heard [his 2008 debut] Constant Hitmaker and, as a fan of the record, was hoping we could work together someday. "Freeway" is the jam from that one. I went down to Philly to do some photos with him for the LP that was released on Mexican Summer that year (2009's God Is Saying This To You). After seeing one of the photos on my site, a family member informed my mom that Kurt's sister was married to a not too distant relative of mine. Which was an interesting twist.
How much time did you spend at his recording sessions? Were you given any directions in terms of what to shoot, or were you around for most of it and able to grab more natural candids that way?
When I heard that Kurt would be doing a lot of the recording for Smoke Ring in New York and New Jersey, I pitched the idea to head over to the studio and do some shooting of the process. At that point, it was essentially self-assigned, so the only direction I had was that I wanted to create images with a classic feel and had decided that I'd like to shoot in black and white. I spent four days with Kurt and the band in the studio, which I hope would give me the time to get more natural candids.
How would you describe the vibe of the sessions in general? Is Kurt a natural around cameras or is he more reserved?
I wouldn't say that Kurt is necessarily a natural around the camera but I think there was a level of comfort since we had worked together in the past and I was able to create some images that he really liked and fit well with his vibe. The sessions were pretty chill in general. I think that when an artist is given the time they need, to create, it really helps.
Got an anecdote you can share from the sessions?
One of the days that I was there, [Sonic Youth drummer] Steve Shelley was going to be coming in to play on one of the tracks. I'm assuming it ended up as a B-side, as I didn't see a credit for him on the album. I ended up having all of my gear packed up and was about to head out when he arrived, so no photos with he and Kurt together.
The photo of Jesse Trbovich that ended up in the record artwork was a funny one. A couple of the guys went to the grocery store across the street from the studio and were asked to get a few bananas. They came back with huge plantains instead, which is how that funny photo came about. I actually know Jesse from when I first went to school in Pittsburgh in 1994. We worked together at WPTS, the University of Pittsburgh's radio station.
What's the story behind the photo that ended up becoming the album cover?
It came from a quiet moment in the studio on the first day I was there, I believe. Kurt was just sitting on the couch, working on some parts. I really loved the graphic quality of the sound dampening material above him. Sort of a modern design with the classic acoustic guitar.
Tell us a little bit about the day you spent shooting photos of Kurt around his record's release.
This was another idea that I had come up with, and just texted Kurt and emailed a couple people to discuss the idea. I liked the idea that it was the day of the record release and that Kurt would be running all over New York to do three in-store performances. I have been doing a lot of behind the scenes photography at New York Fashion Week, but have focused my music work only on portraiture of late. I wanted to do more behind the scenes music work and I thought this might be a nice addition to the studio shots we had done.
If you had to recommend a couple songs from the new record, what would they be and why?
To just pick a few specific songs off the record is tough. When I first got the MP3s a couple of months ago, I liked the songs but nothing really hit me as a fave. I think this is a different type of record for Kurt. Once I got the vinyl in my hands, I spent a few days just flipping the record over and over. It all works so well together. I am a big John Fahey fan, so I really like the acoustic focused tracks. I am also drawn to a lot of the lyrics on the album. "Baby's Arms" and "Peeping Tomboy" are two faves.