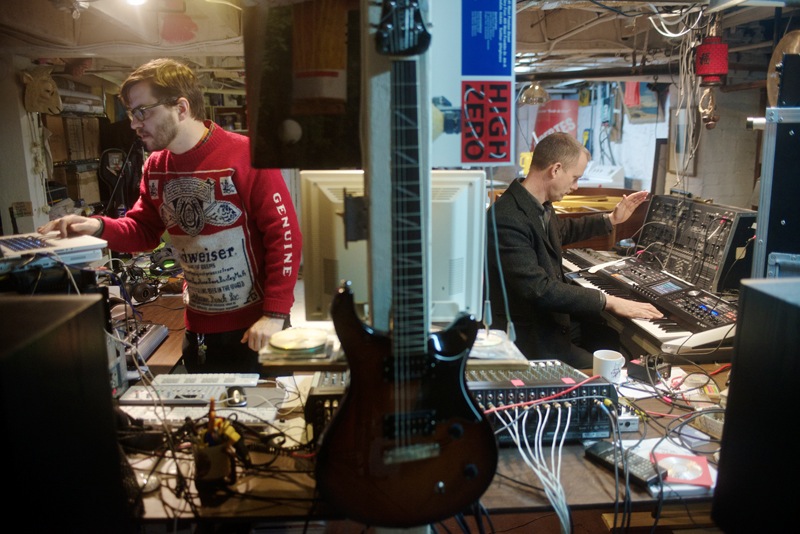 Photo by Jonathan Hanson
Words by Drew Daniel of Matmos
An edited version of the following guide ran in the winter issue of self-titled. It's presented in expanded form here on the eve of Herbert Complete, a deluxe digital box set that includes such classic Matthew Herbert albums as Around the House and Body Functions…
[buy, download, read or subscribe]
We have been longtime fans of Matthew Herbert's music, drawing inspiration from afar when we were playing his records on the radio, then meeting him–Bjork hooked us up–and becoming pals. We were flattered to learn that he liked what we were doing also, and we started sharing sound files, remixing each other, and feeling simpatico from opposite sides of the Atlantic. I created my own solo project,
The Soft Pink Truth
, at his request.
We're very chuffed for the release of the Complete Herbert box set, so we leapt at the chance to big up some of our favorite moments from his deep back catalogue. Because people often over-emphasize the 'weird samples' angle when evaluating his art (and who can blame them?), we decided to just stick with moments that are compelling whether you know the sound source or not. There are many more moments we could have chosen. Here are five…
Doctor Rockit, "Cameras and Rocks"
This is where my fandom started. When I was an undergraduate studying at Oxford, I found a 10" record in a used record store by Doctor Rockit on the Clear label. I took it home and was startled by what I had found: slinky, soulful, funky music whose titles implied that the
clickety-clackety sources of these odd and yet instantaneously catchy songs were in fact everyday objects found around the house. My favorite was the song "Cameras and Rocks," with its kick and snare implying a worryingly violent interaction between the winding snaps of the camera roll advancing and the harsh smack of rocks clicking in time. I made a tape for my boyfriend Martin [Schmidt] back in San Francisco, as we kept on plotting our first album, which would borrow some DNA from the Doctor Rockit approach.
Wishmountain, "Radio"
There's this white noise rush sound that has a kind of subtle "whooooooo" tone inside it which is the star here. It sounds like a radio that is not quite tuned to the proper station; just a blast of fluffy non-signal, though that could be simply a trick of the title acting on your imagination. Yet, in an alchemical twist typical of Matthew's music, this weedy sound becomes, in the context of a massively pumping house track, incredibly catchy, a homely flatline with all the individuality and presence of a monster guitar riff or a wailing lead vocal. It's the kind of sound that most people would compress, mess with, or adjust- but he seems to have just left it as is, and when it comes in, it's absurdly satisfying, just as it is. Easy to describe, but impossible to replicate.
Herbert, "Leave Me Now"
Herbert's Bodily Functions was a 'sister album' with our 2001 record A Chance to Cut Is A Chance to Cure. Matthew's 'bodily sounds' album and our 'medical sounds' album were conjoined twins, and we shared our recording of laser eye surgery with him to use on the song "You Saw It All." I have no idea if something particularly nasty or somatic is being done to generate the bass kick in this song, but it's the deepest, richest stomp of any Herbert tune and that's saying something. I can recall a terrible DJ set where Martin and I were really drunk and confused and kept playing the wrong tracks because of mislabeled CD-Rs–just a really gross, publically shaming experience–and so I put this track on and it just gearshifted everyone's emotions in the room. It's one of those partying-while-heartbroken anthems. It's a very moving song, about the strains and fantasies of escape that haunt every loving relationship; it's so deceptively simple that you don't quite notice the push/pull at its core, and the thickness of the kick does the work of anchoring Dani's fragile, close-mic-ed vocal take. A perfect song.
Radio Boy, "Gap"
In an act of anti-capitalist provocation, the Radio Boy project involved music made from the destruction of commodities from various global multi-national firms and brands, and this one involves some really satisfying ripping and tearing sounds as Gap wear goes under the digital knife (check out that big nasty HONKKKK noise!). When Matthew was playing this set at MUTEK, we were sent off on a last minute errand to buy some underwear from the Gap and to make sure to get a large bag so that he could rip it up onstage in front of the audience. When we bought our underwear and asked for a super large bag for a tiny item, the cashier got suspicious. We said we needed it for a friend's performance. She shot back, "Ok, as long as it doesn't defame the Gap in anyway." We giggled, paid, and left. I guess The Man doesn't care as long you keep buying stuff.
Wishmountain, "Nescafe"
I was so happy when I saw that there was another Wishmountain album. The effect of "Nescafe" is to feel one's self shrink down to Lilliputian size, entering a can of instant coffee that has swollen to the size of a cathedral, and then a heaving, sweaty dance party erupts inside. The grinding and crushing impacts of amplified coffee grains click into place on top of an insistent handclap-like grid of smacking noises, and the results will make you want to both brew up and bang your head as if you're listening to old school thrash. Good to the last plop.
–
Matmos' latest album, 'The Marriage of True Minds', is available now through Thrill Jockey.