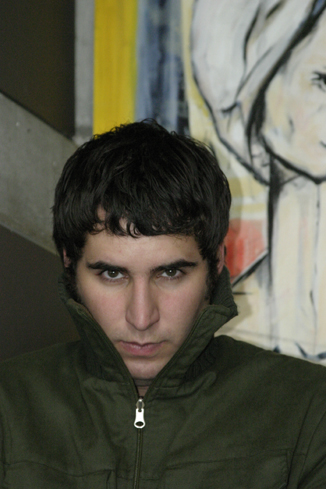 Mathew Jonson is mostly known for his fresh, slightly-mental take on minimal techno (see such slamming singles as "Decompression" and "Return of the Zombie Bikers") and the carefully-curated roster of Wagon Repair, a Vancouver-based label he helped launch in 2004. Jonson didn't get his start hand-crafting beats, however; his music background actually begins with his stint as a jazz drummer. Well, a jazz drummer that picked up an MPC and basic synth/drum machine skills at a really young age, eventually forming impromptu groups with such local Canadian artists as keyboardist Danuel Tate and fellow programmer/DJ Tyger Dhula. Both of which round out Cobblestone Jazz, the jazz/techno trio Jonson's currently touring a few U.S. cities with. (They bless the immaculate sound system of Cielo in New York City tonight, and hit L.A.'s King Kong club tomorrow.)
We were wondering what to expect from such an unprecedented M_nus-meets-Montreux setup, so Jonson answered a slew of questions via E-mail. For starters, he had this to say about Cobblestone Jazz's sound, "It's not really about techno or jazz; it's about the music itself. If it has a groove, then thats what is important. We're not trying to play any specific style."
To understand what he really means be sure to check out the double 23 Seconds disc on !K7 Records right now. Now, onto our interrogation …
[L to R: Tyger Dhula, Mathew Jonson, Danuel Tate]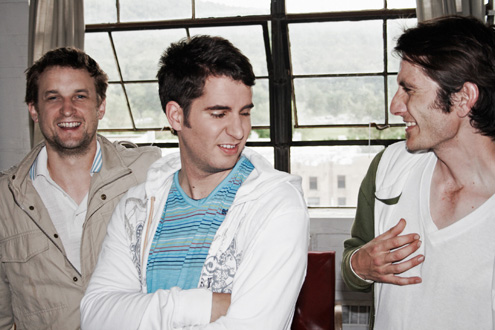 self-titled: You're playing some rare U.S. shows soon. How does your live setup for Cobblestone Jazz differ from your solo performances? Is it similar to what you use in the studio?
The gear we use on stage is almost the same as what we use in the studio. Minus the compressors and more elaborate effects processors, of course. For me, when I'm solo it's actually the same rig live for the parts that I use anyways.
How much improvisation goes into a Cobblestone Jazz performance? What about your studio recordings?
We jam together until we get something good. The catch is is that we're recording the whole thing to multi-track. That way we have seperation and can engineer and mix it afterwards. Even the mix process doesn't have further arrangements, though. It's done live again on the board to two-track and we just feel it out as we go.
Give me specific examples from the new album of how one member may have had a specific idea for a song (a melody, a riff–whatever) and how a dense track grew from there.
Well let's say we start with some drums or something. I might come up with a bass line quick that works and then it goes from there. Or Danuel may have a nice vocoder part and I'll work off him. It just depends. Sometimes we jam for half an hour and it sounds like shit until something finally clicks. I think "Change Your Ape Suit" would be a good example as it took a really long time to get the bass right.
Do you mix some of the studio stuff on the fly as Danuel and Tyger play?
Yes. For instance, "Peace Offering" was mixed as Dan played vocoder live over it all. This can lead to having to do things over and over again as we are mixing to stereo track but at the same time it creates a really live feel.
Do you consider yourself a jazz fan? If so, what are your favorites of yesterday and today? Do you dig more esoteric, jazz heads like Albert Ayler?
I love jazz but I cant really say I know much about the song titles etc. In the past, Herbie Hancock's Head Hunters was huge for me and "Rockit" especially, but also stuff like Bitches Brew from Miles Davis. It's mostly older stuff I remember, but I love the new heads too.
Has working with Danuel, a traditional jazz musician, made you appreciate it more? It must be exciting performing with someone that actually knows how to play a real keyboard onstage as opposed to a MIDI controller or laptop.
He teaches us all a lot about the form of things and the theory behind it. I was a jazz drummer, so I learned a lot when I was young as well.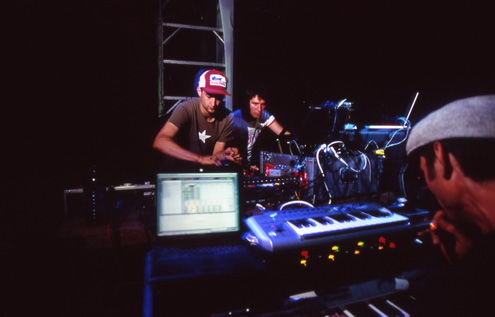 What techniques have you tried to apply to Cobblestone Jazz?
Really, it's the comunication between the artists on stage and in the studio. We face each other when we play so that we can really conect. We are trying to improvise as much as possible and keep that the focus. If we play our tracks, it's really just a transition to get to the next jam.
The key ingredient in any jazz trio is the way each player interacts. Tell me the strengths of each Cobblestone Jazz member and how it all comes together to reach a cohesive vibe.
Really, it's just about listening to what is happening and playing inside the spaces of everyone else. Contrasting emotional content between players can give a song real personality, so it's not necessarily all about a cohesive vibe for us.
Tell me about how you met Danuel and Tyger. What was your first impression of them, both personally and professionally/musically? Why did you decide to work together?
Tyger worked at a local record store called Boomtown and I would hang out with Sherwood (the owner) there quite a bit back then 'cause we were both really into drum & bass. I think I met Danuel through Tyger, but I had seen Dan play at the jazz clubs regularly, and those guys did a project together at the time as well called "Dante and Dhula." I saw that a few times and it was really good. They're both really nice guys. I felt pretty young compared to them, though, at first as I was in my early twenties and just figuring myself out. We all played electronic music and Danuel heard me play a few times and asked me if I wanted to start a band with himself, Tyger and the Mole. I had a lot of respect for them and their work, so I was really happy to be a part of it.
Do you ever wish the Mole was still playing with you three as the Modern Deep Left Quartet?
All the time. But we still continue to do that project as well. It's nice because it's actually a really different animal then Cobblestone. Colin (the Mole) and I work with the same agent (Goli at Geist), so we get to travel a lot together. We actually do a project on our own as well, where he plays samples from his older soul, disco and jazz records and I put bass lines and dirty house beats underneath. It's kind of become a tradition at some of the after-hours clubs in Montreal for festivals like Mutek.
In theory, combining jazz and techno sounds intriguing, but I was wondering how difficult it was working on early CJ tracks. Did you have trouble finding a balance between the jazz and techno elements? Or did you find a groove immediately and feel like you guys were simply on the same page overall?
In the beginning, we just played whatever we wanted. It could be a jazz ballad for 25 minutes or drum & bass. Sometimes not all of us were into it but we still tried to have fun and be free with our ideas. People shouldn't think that what an artist releases is the only thing that they do.
Cobblestone Jazz featuring the Mole @ Mutek 2007
[youtube=http://www.youtube.com/watch?v=ClKlLkjnJQY]
Were you ever afraid of the songs sounding like a techno track with simple keyboard "noodling" over it?
No, not at all. The way Dan plays is actually the opposite, where a lot of the time I wish he would play more. But that's his style, I guess–he keeps you wanting more. Some people say to me that our stuff is too jazzy, but as a jazz musician it sounds normal to have live keys with techno beats.
Was finishing "Dump Truck" one of your breakthrough moments, where
you felt like this could be a full-on project with an eventual album
and numerous performances?
No. we weren't even sure if people would like it. It was a bit of a surprise for us all when it did so well. I've known from the start that we had something that we would never stop.
Tell me a little bit about your performance at the Montreux Jazz Festival. How did it go overall? Were you anxious at all as to how a jazz listener might react to your music? Did you notice any older attendees in the audience getting lost in it, or did the audience seem to be made up of mostly forward-thinking jazz/electronic fans?
Most of the Montreux Jazz festival isn't even jazz. The people that came to our show were mostly electronic fans so it felt like anything else for me. I don't get nervous when I play. For me I'm more comfortable on stage then in most situations.
What do you think was one of the strongest Cobblestone Jazz gigs–a performance where you were all on the same page to an almost creepy degree?
Not sure really–so many shows have different moments that feel good. I think what makes a good show has a lot to do with the environment and the people that come. We are in Japan right now and the Labyrinth Festival outside Japan was amazing. It's hard to judge sometimes if it's the music that makes us feel so good about the show or if it's the interaction between the people there and the surroundings.
Since you're all so busy, how much time do you have to work on Cobblestone Jazz on average? Is the 'spark' there if you don't perform with these guys for a few months and suddenly have to work in a studio or stage setting?
We work as much as we can. For us, it's always fun–every time we play is exciting for us. We started as a group that would jam every set and never practice or write tracks so it's no big deal to be apart. I do miss having more time in the studio, though, and simply hanging out with the guys and the rest of our friends.