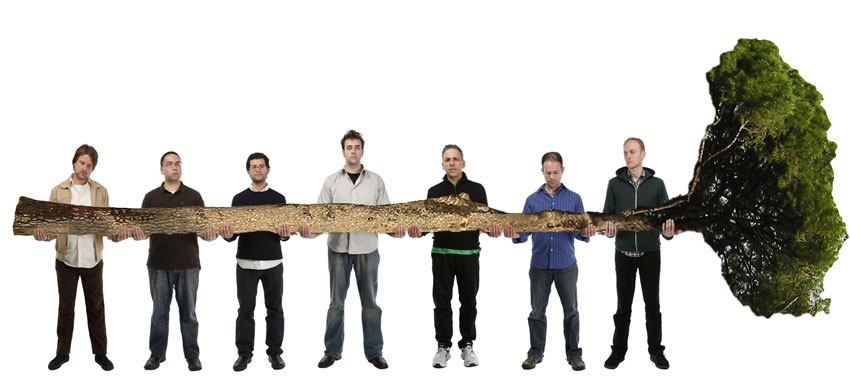 Recording Under the Influence is a recurring self-titled feature where we ask artists to ignore their musical inspirations for a minute and share what really went into the making of a particular record. However, in the case of Michael Gordon's special Timber project–first revealed in a short documentary here–we let the Bang On a Can co-founder discuss everything from the explosive avant-garde pieces of Xenakis to the highly detailed sentences of Herman Melville. We're pretty sure we'd never understand the whole wood-whacking drummers thing otherwise…
Conlon Nancarrow, Studies for Player Piano
Nancarrow checked out of the composing 'scene' in 1940 and moved to Mexico City where he spent the rest of his life punching out his music on piano rolls. The player piano liberated him from reality and the Studies are a predecessor to what we now do on computers. The zany, incoherent asymmetrical lines that chase each other up and down the keyboard imply a world of rhythm that is still explorable.
Vincent Van Gogh's Letters
Van Gogh wrote to his brother Theo just about every day. The letters are brutally honest and extremely painful. Writing music, like making paintings, is a solo act–I spend a lots of time by myself working things out. It's amazing to have access to an artist who, because he had so little human contact, spilled it all out in words.
Iannis Xenakis
The Greek/French composer/architect wrote the most insane, abrasive, mysterious, hugest music I've ever heard. The music takes up so much space it doesn't leave room for anything else. Anytime I think I've reached the boundary of anything I think of Xenakis and push a little harder.
Herman Melville, Moby Dick
I can't get away from rereading this book. Somehow Melville turns a one sentence narrative into 600 pages by focusing a powerful microscope on every detail imaginable. Using limited material and exploring the possibilities contained within has been major part of my esthetic. I'm not going whaling, though.
Sol LeWitt's Wall Drawings
LeWitt connected concept and realization in his Wall Drawings in a way that I don't think anyone else ever has. MASS MoCA in North Adams, MA. just installed a 25 year exhibition of 100 of Sol LeWitt's Wall Drawings based on sets of instructions he created before his death in 2007. I'm interested in process and patterns. These works are mind-blowing.
Chess
Wow, what a beautiful, elegant, intricate game: 64 squares, 32 pieces and what seems like an infinite number of possibilities. I played with my father and now I play with my son. There's some correlation to music but I can't figure out what. It's patterning and strategy; math and art merged together.
Non-Fiction
It's always stranger than fiction and reading about real things stretches my imagination in a way story telling doesn't. I recently read Robert Caro's three-volume biography on Lyndon Johnson. Can't wait for the next volume…
Louis Andriessen, De Staat/De Tijd
This Dutch composer embraced a take-no-prisoners minimalism in the mid-'70s and fused it with Euro-inspired narrative form. De Staat and De Tijd are so monumental and visceral that they seem architectural. You have to enter into the space to hear the music.
Emily Dickinson
I read poetry more for rhythm than meaning, but if I want to set words I go to the dark poems of Dickinson, who was anxious way beyond her 19th century New England surroundings. Don't be fooled by the sweet poems she wrote 'for children'. She was twisted. I love to set these to music because they don't quite rhyme and they don't quite fit the standard pattern.
Steve Reich, Music for Eighteen Musicians
This is my national anthem. The conceptual thinking of his early works, like It's Gonna Rain and Piano Phase had a big impact on me. The focus on patterns and processes that are laid bare for the listener to hear was the jumping off point for my music. I love everything he's done and this one is always in heavy rotation.
JS Bach, The Well Tempered Clavier
Counterpoint is like rocket fuel – it gets you there really fast and you can't comprehend what's going because everything is wizzing past you. Already old fashioned when Bach wrote it, it's still #1 on my playlist.
Further Listening