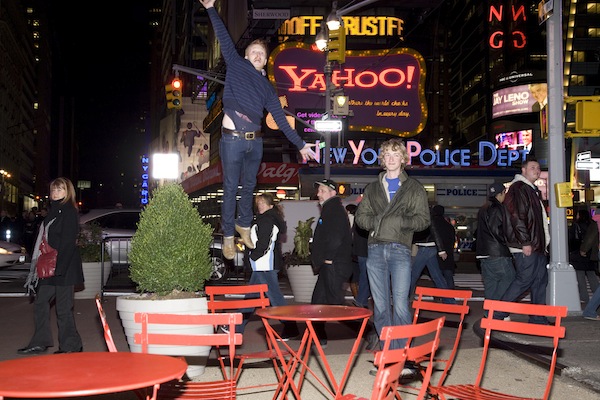 By Arye Dworken
Recording Under the Influence is a recurring self-titled feature where we ask artists to ignore their musical inspirations for a minute and share what really went into the making of a particular record. In this installment, Brooklyn's very own Dinosaur Feathers guide us through the trio's magical self-released debut record Fantasy Memorial.
While the band lists Ruby Suns, Os Mutantes, Animal Collective, M.I.A. and the Beach Boys as their sonic influences on Facebook (and for once, we commend a band for listing its inspirations non-ironically), it would seem that, well, Star Trek and Errol Flynn informed the band's exotic Caribbean-flavored pop equally. But frontman Greg Sullo, ever the overachiever, went one step further and linked each outside influence with a matching sound. And who can argue with the supposition that pepperoni pizza is the food equivalent of Billy Joel's The Stranger? Not us.
Errol Flynn Movies/Swashbuckling in General
When I was little, I was really into pirates and adventures on the high seas. Nothing encapsulated this daring spirit better than the films of Errol Flynn, like The Adventures of Robin Hood, The Seahawk, and Captain Blood. During the Super Bowl, there was an advertisement for the new Robin Hood movie with Russell Crowe. I couldn't help but scoff. There's a scene in the Errol Flynn movie where he struts into the court of Prince John (Claude Rains) carrying one of the king's deer over his shoulder and unloading the thing right in front of the prince. It's incredible. Russell Crowe will never top that.
Dinosaur Feathers musical influence that best captures Errol Flynn movies/swashbuckling in general is Os Mutantes by Os Mutantes.
Sports
No, not the seminal Huey Lewis and the News album–just athletic competition. A lot of my music-playing friends in Brooklyn are shocked to learn that I'm really into sports. I'm on ESPN every day. I have fantasy basketball and football teams that I am very fond of. Growing up in Eastern Mass, I idolized the Boston sports teams and played everything I could get my hands on. The Red Sox's 2004 World Series championship was one of the greatest moments of my life, and I make no apologies about that fact.
Musical influence that best captures sports is…Thunder, Lightning, Strike by the Go! Team
Star Trek: The Next Generation
I've known [guitarist] Ryan [Michael Kelly] for a long time and I've seen him get really into certain TV shows before (The Simpsons, Twin Peaks), but I never knew he was into Star Trek until recently. He purchased the entire series on DVD, which comes in this absolutely heinous packaging. I think he has seen every episode of the series multiple times. I watched a few with him and I don't totally get it. He's definitely not a Trekkie. He enjoys its outlandishness. But his interest is not purely tongue in cheek either. I may never know.
Musical influence that best captures Star Trek: The Next Generation is "Earth People" by Dr. Octagon.
Pepperoni Pizza
Ryan is the pickiest eater I know. He may argue that he's a choosy eater, not a picky eater, but that's just semantics. The guy hates all vegetables, except for spinach. But he loves pepperoni pizza, in just about any form, including bagel bites. I wish he were more ravenous about something else, like quinoa or salads, just because you always want your friends to be healthy. On the bright side, it's pretty easy to find pepperoni pizza–and it's pretty delicious as well.
Musical influence that best captures pepperoni pizza is The Stranger by Billy Joel.
Video Games
[Bassist] Derek [Zimmerman] loves video games. Our old bass player, Tom, was also into video games as well. They would have some pretty animated conversations about things I totally didn't understand. I believe Derek's favorite is Final Fantasy. Word on the street is that it has really great music. Derek actually used a theme from Final Fantasy (IV, I believe) as the springboard for a song he wrote–and it was really pretty. I think we can both agree that Mario Kart is awesome.
Musical influence that best captures video games is…the music of Final Fantasy.
Manhattans
This is Derek's drink of choice. There's an open mic night near Derek's apartment, and before Dinosaur Feathers existed, we would hang out there. I would play songs on my own, but I never really drank there. Derek would just go to drink Manhattans and hang out. After months of this routine, Derek was best buds with everyone there. I had a few friends, but would have to re-introduce myself to the same people every week. I'm hoping that the moral of the story isn't that drinking is a better way to make friends than music, but it might be.
Musical influence that best captures Manhattans is Long Gone Before Daylight by the Cardigans.