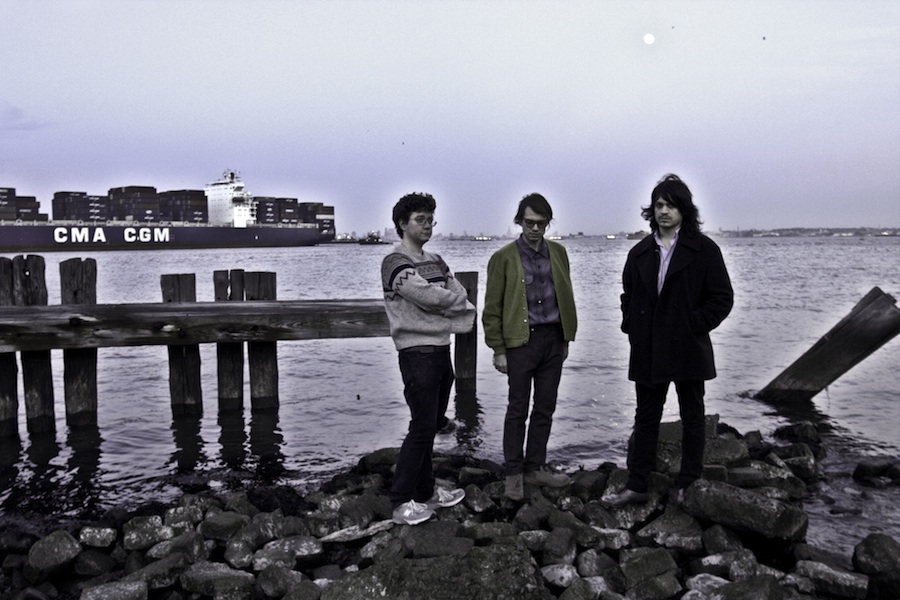 Every time self-titled asks an artist to give a track-by-track breakdown of their latest album, we give them one strict guideline: tell us the stories behind your songs, not the in-studio geek speak that'll only appeal to fellow musicians and producers. Led Er Est went one step further with The Diver (available now through Sacred Bones), pairing each of their steel-plated synth pieces with seemingly random literary quotes. Random until you listen closely, and the LP's many layers–sonically and conceptually–reveal themselves…
[Download 'The Diver' at iTunes]
1. Animal Smear
"Wichtigtuer sind zwar zu gut erzogen, um mit vollem Mund zu sprechen. Aber sie haben keine Bedenken, es mit leerem Kopf zu tun." –Erich von Däniken
2. Housefire at Zumi's
"I wonder why progress looks so much like destruction." –John Steinbeck
3. Kaiyo Maru
"Somewhere there is a dull room
where someone slow is moving,
stumbling from door to chairto sit there patiently
doing nothing but be,
enjoying the quiet and warmth,
pleased with the gradual
slope of day's light
into his corner.  Dull
illiterate saint, never imagining
the atrocious skills his kin
devise and use,
who are vividly, viciously active,
refining quality, increasing quantity–
million by million–
of standardized Agony-Inflicters." –Denise Levertov, "Freeing the Dust"
4. The Diver
"Time is a great teacher, unfortunately it kills all its pupils." –Hector Berlioz
5. Bladiator
19. AMINO TRIGGERS IN SPACE.
20. WE ARE ACTIVITY.
21. BELOW US IS STEADY AND SOLID.
22. SOON ENOUGH.
23. PERHAPS WE RETURN TO A POOL–STEADY AND SOLID.
24. NO MATTER–ANTI-MATTER.
25. WE HAVE THE JOY OF HERETICS.
26. WE DID NOT CHOOSE IT–WE ARE.
27. PERFECT.
28. PERFECT PLATEAU BECOMING ODORS AND TOUCHES.
29. I DID NOT KNOW THIS IS NATURE. –Michael McClure, excerpt from 'Moire'
6. Agua Fuerte
"There is an old story about the origin of the courting flute. A young man was despondent, for the only woman he loved had rebuffed him because he was poor and she was a chief's daughter. Soon after she rejected him, he left the camp in shame, not caring whether he lived or died. For four consecutive days, at dawn he shot an arrow northward and walked after it. Each arrow he shot killed a deer, which he roasted and ate. As he sat alone on the fourth evening he heard voices coming from a grove of trees. As he approached the spot he saw two exceedingly handsome men whose bodies seemed to glow. They had a long flute, which one man began to play with a sweet and piercing sound. They gave the young man the flute and told him to go home. They told him to walk through the camp at midnite playing the flute. Then the two handsome men turned around and changed into elks. The young man did as he was told, and as his music echoed through the camp all the women, including the chief's daughter followed him. He ignored them all and heard only the sound of the flute. The only woman who did not join the crowd was the one he ultimately sought out and married. It is said that this young man was the original elk." –Marla N. Powers, 'Oglala Women: Myth, Ritual, and Reality'
7. Arab Tide
"Queen Victoria was another bone marrow lover, reputedly eating it every day. The queen lived to the age of 81, and no doubt she, like most Victorians, regarded marrow as a health food." –Jennifer McLagan, "Odd Bits"
8. Divided Parallel
"When you're feelling
about as
bad as your
average English translation
of Goethe you must
go see the
Parrot of Penanceand he will
say unto you
'Way around it?
Way around it? There's never been any
way around it'" –Anselm Hollo, "Guests of Space"
9. Iron the Mandala
"Life expects of you duties which appear repugnant to you. You must now know that the most important thing is not duties but what permits you to be someone good and just. There are many who will say to you that this is a piece of asocial advice, but you only have to reply to them: When the forms of society are so hard and hostile to life, it is more important to be asocial than inhuman" –Stig Dagerman, 'The Snake'
10. La Lluvia y Memoria
"With a plethora of new labor-saving devices flooding the market, there will no longer be any question of who will do the dirty work of the world. The machines will do it!" –Henry Miller, "Remember to Remember"
11. Sanetta
THE OCEAN
Foamy waves wash to shore "treasures" as a sacrifice to damp sand.
TODAY
High density housing is going on all around us.
REAL LIFE
I could have screamed the day John proposed winterizing the cottage and living there permanently.
ALASKA
I am a very cold person here.
THE YEAR OF THE WHITE MAN
The year of the white man was a year of many beads.
LOYALTY
Loyalty, I feel is very big word.
SOMETHING TO THINK ABOUT
Perhaps in our mad scramble to keep our heads above water we miss the point. –Joe Brainard, excerpt from '30 One-Liners'