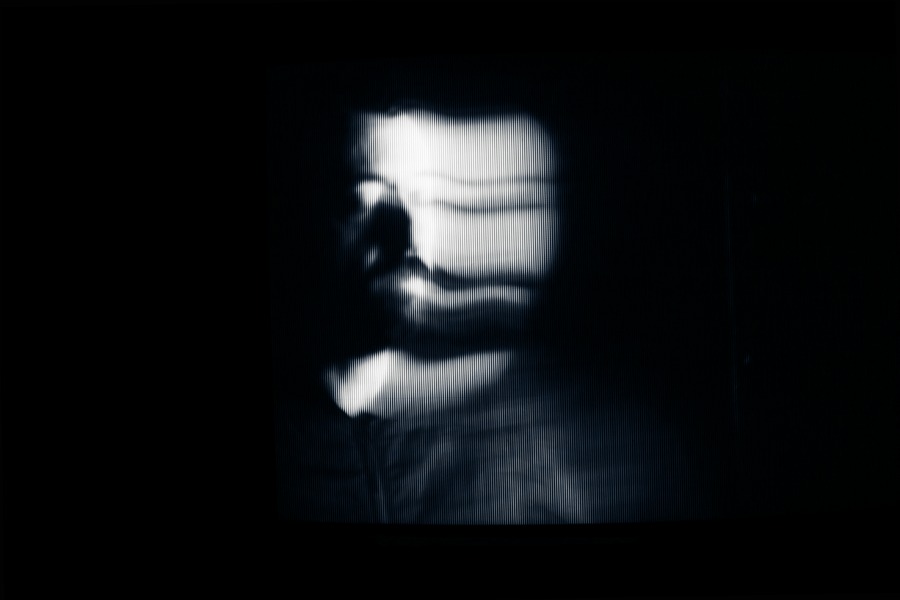 Since the weather's unseasonably warm and inviting in New York today, we thought what better way to ease into the weekend than with the cold, bleak, industrial strength sounds of Trevor Jackson's new two-disc Metal Dance compilation? Featuring such s/t-approved favorites as Cabaret Voltaire, SPK and the dynamic horror score duo of John Carpenter and Alan Howarth, it's now available through Strut Records and is broken down by Jackson in the track-by-track commentary below…
DISC ONE
1. THE BUBBLEMEN – THE BUBBLEMEN ARE COMING
Even though this compilation is not a DJ mix, I wanted it to run like one. Mushroom from Massive Attack put me onto this track–we used to hang out and talk about records and breaks a lot, and I then began playing it within hip-hop sets. It works really well as an album opener. The bassline's amazing.
2. 400 BLOWS – PRESSURE (Club Pressure)
I was a massive fan of the Illuminated label and Simon Boswell's productions–I bought pretty much everything they released. I was as attracted to 400 Blows' artwork as I was to their music too; their early singles had great covers. At the time, I saw a list of their influences somewhere and they were listening to a lot of funk, electro, and all kinds of electronic music. I really liked the way they accepted all genres.
3. CABARET VOLTAIRE – SECONDS TOO LATE
When this came out, I was too young to be into it but discovered it later–the first record I picked up by them was "Yashar" on Factory Records, produced by John Robie, then the Crackdown album on Virgin. I love the marriage of live bass and drum machines or live drums and electronic basslines–I still find that fascinating..
4. NEON – VOICES
I remember this from going to Spectrum–Paul Oakenfold played Fini Tribe and harder records like this. The Metal Dance compilation encompasses different scenes. The early rave scene in the UK was big on this kind of sound.
5. PETE SHELLEY – WITNESS THE CHANGE (DUB VERSION)
Human League was the first band I was nuts about as an adoring fan. I learned about the producer of Dare, Martin Rushent, and then bought every one of his records including this one. The second Pete Shelley solo album, XL1, came out on Island on a cassette–they had 1+1 cassettes at that time, with one side featuring the album and the other side blank so you could record what you wanted. On XL1, they had a computer program on the other side which you plugged into your ZX Spectrum so you play a visualization of the whole record. That was my first introduction to visuals and music.
6. SHOCK – DREAM GAMES
I learnt of Shock through Tik and Tok, two of the dancers in the group. At the time, they would appear at Camden Palace doing their robot dancing and dressing up in amazing theatrical make-up. Rusty Egan and Richard James Burgess produced Shock–I was a big fan of Burgess who came out of the band Landscape. The first Landscape album was one of the first electronic pop records I heard.
7. EXECUTIVE SLACKS – THE BUS
I probably heard this originally when I was going out clubbing but I was later introduced to it either through James Murphy or 2 Many DJs. I loved the cover when I saw it in Juke Box Records in Brussels and was told to buy it. I heard it and remembered it from before. At the time, I was a teenager getting very drunk so my memory for records was often not that vivid.
8. ANALYSIS – SURFACE TENSION
I loved the Survival Records label in the same way as Illuminated and I collected everything they did–Richard Bone, Drink & Electricity and the rest. Dave Rome from Analysis ran the label. I found this 7-inch at a record fair during the early '90s. It was part of a Survival set of singles which came in a display sheet that you could hang up.
9. NITZER EBB – CONTROL I'M HERE (CLOUSTON'S CONTROLLED EDIT)
During the early days of the rave scene in London, I was into hardcore acid house–I hated piano house and never really got into some of the other scenes like Boys Own. There was also the sound that Paul Oakenfold and Steve Osborne played at Spectrum which was all fucked-up electronics. It was whiter and more rocky and played tougher sounding records like Fini Tribe and Nitzer Ebb. The guy who edited this track, Richard Clouston, runs a club called Cosey and, since its early days, he asked me to play there. We share a similar taste in music and it gave me opportunity to pull out a lot of these records that I used to play when I started out DJ-ing. I never wanted the music to become a 'trendy' genre but, with Cosey, I pulled them out and found a new audience for them. Cosey is an interesting club–people who go are genuinely into music and it's a 50/50 split between men and women. The girls there know the music back to front. Without Richard's involvement, I wouldn't have done the Metal Dance compilation. Re-playing the records, I realized how important they are. I played the ICA with Chris and Cosey recently and one of the guys from Factory Floor came up and asked "what is this record?" I thought, I need to get these records out there. There's a whole generation that don't know them.
10. DAF – BROTHERS (MIX GABI)
I discovered the earlier DAF period at a later stage–I was first introduced to the more commercial side of their work. This was an era of DAF that people skipped over a bit, when Robert and Gabi came back together for a brief time during the mid-'80s. I have played this within my DJ sets since the mid-'90s. Perhaps out of all of the records on the compilation, you play this on the dancefloor and it really stands the test of time.
11. PORTION CONTROL – DIVIDED
This was another big record at the time in clubs like the Camden Palace. This, "Rough Justice" and other Portion Control tracks were more accessible than a lot of their other material–they were working with Pandit Dinesh at the time who had worked with Blancmange and West India Company. You have here a very hardcore electronic band with a tabla session player making a great club record.
12. STANTON MIRANDA – WHEELS OVER INDIAN TRAILS (DUB)
I don't remember hearing this out–this would have been on my radar because I collected everything on Factory Records and Factory Benelux and this was a John Robie mix. My weekend routine was to go to Camden Palace, wake up and go to Record Exchange in Camden. I'd always check the NME for Colin Faver and Eddie Richards' Camden Palace chart and would then try and find these records. I would search through thousands of records to find promos in there–it was difficult to find them elsewhere. That was a time when Camden was great.

13. JAH WOBBLE – INVADERS OF THE HEART (EXOTIC DECADENT DISCO MIX)
I didn't hear this when it first came out–Jah Wobble said somewhere that it sold 20 copies at the time. I found this in the early '90s, coming out of a phase of listening to Krautrock and European jazz rock. I was rediscovering music from the '80s and started collecting it at a time when no one had any real interest in that period. I was back into ESG and listening properly to albums like PiL's Metal Box. I liked a lot of Wobble's solo stuff–"Snake Charmer" was my intro to him but then loved his Betrayal album and this track.
14. SPK – METAL DANCE
I remember seeing them on (UK TV show) The Tube–it was an amazing performance. This was a big record at Camden Palace. Their earlier stuff was demented but this was towards the end of their career. A very powerful record.
15. FINI TRIBE – DE TESTIMONY (COLLAPSING EDIT)
This was an anthem at Spectrum–there's a section when some bells come in and people would always lose it at that point. People would be saying, "What's the record with the bells?" I loved it and tried to find out what it was. I eventually found it second hand either from Camden Record Exchange or Sister Ray's stall in Camden market.
–
DISC TWO
1. ALIEN SEX FIEND – UNDER THE THUNDER (IGNORE THE DUB)
I was into Youth, who had been in Killing Joke and had started a band called Brilliant. A lot of '80s New Romantic pop bands like Spandau Ballet and Culture Club were rooted in club culture but, apart from Adrian Sherwood and Martin Rushent, very few had been using Jamaican dub techniques in rock music at the time. With Youth at the controls, here was a rock record with a dub version, a proper dub workout. DJ Hamish played this at the Batcave in Soho.
2. HARD CORPS – JE SUIS PASSEE (DUB)
Again, this is the Martin Rushent link–he produced and mixed this. At the time, there was really good music on UK TV with shows like The Tube and Oxford Roadshow. That was the first time that I saw some of these bands. Hard Corps were invited onto The Tube last minute after a band had pulled out and I loved it immediately. I then saw Rushent's name on the credits and had to get it.
3. NAKED LUNCH – SLIPPING AGAIN
This was a 7-inch purchase from a record fair in London's Victoria. A guy there had a great collection of new wave records. It cost me £20 which, back then, was quite a bit of money. Mickey from Naked Lunch now works with Richard Clouston from Cosey club. It's a gem that I think a lot of people don't know and it's good to be able to include this on the compilation.
4. SECESSION – TOUCH PT. 4
I first heard this at Camden Palace. It's a dub version with a crazy three-minute conga break. The vocal version is more of a pop song but it's still great. John Rocca from Freeez produced this one. His career changed after working with Arthur Baker in around 1983 and he went into an electro direction which influenced this track. It actually sounds like a Hi-NRG record.
5. SEVERED HEADS – DEAD EYES OPENED
I'm embarrassed to say that I didn't know this when it originally came out. It's one of those records that sounds timeless and effortless. Severed Heads were an Australian band and this track has a great purity to it. Bands like this made some amazing records whilst experimenting with the new technology of the day. People make retro music now which sounds old but it can easily be a bit formulaic and too considered while this just sounds more honest and true. They would have had to spend a long time finding their own sound, programming the equipment and putting the tracks together.
6. THE CAGE FEAT. NONA HENDRYX – DO WHAT YOU WANNA DO (DUB)
Camden Palace at the time was run by Steve Strange and Rusty Egan, who ran the famous New Romantic club, Blitz. Egan was a very handsome, enigmatic man and was forward-thinking at the time, joining the dots between hip hop, electro and new wave. He was producing everything from Visage to Burundi Black and also worked on Shock and Timezone's electro classic "Wildstyle." I used to go to his record shop, The Cage in Kings Road. All the young leading British fashion designers had stalls in a market there and Rusty had a record store at the back.
7. YELLO – YOU GOTTA SAY YES TO ANOTHER EXCESS (UK PROMO 12" VERSION)
Yello are a more important band than Kraftwerk for me. Kraftwerk were the kings of electronics, beautiful but humour-less. Yello were the kings of sampling. Their music is so witty and sexy and it's perfect for the dancefloor. They just sounded like no one else at all. Their first four or five albums are simply phenomenal. For me, Boris Blank's use of sampling is equal to Trevor Horn and his other contemporaries.
8. LEDERNACKEN – AMOK!
Another big record at Camden Palace, mixed by Mark Kamins who worked with ESG, Madonna and others. It's a fun club record that I remember well from the original days. Many people don't know about it. It also has a brilliant dub on one of the versions of the 12-inch which was a bit too sparse to include on the compilation. The packaging for the original record was good too–it came in a screen-printed record mailer.
9. NASH THE SLASH – WOMBLE
I first saw Nash the Slash supporting Depeche Mode or New Order. I forget which. His look was incredible, like the Invisible Man with bandages and a top hat, playing electronic violin. The EP which features "Womble" was designed to be played at three different speeds, created to sound good at 45, 33 or 78. Crazy.
10. JOHN CARPENTER & ALAN HOWARTH – THE DUKE ARRIVES: THE BARRICADE / THE PRESIDENT AT THE TRAIN (12" RE-EDIT)
John Carpenter's influence on electronic music is obvious and his Escape From New York score defined the era. I was a massive John Carpenter fan–I loved The Fog, The Thing, Assault On Precinct 13, all massive films of the time. I had a friend who worked in local cinema and I used to sneak in to watch these. I watched Escape… countless times. Kurt Russell was every teenage boy's hero–everyone wanted to be Snake Plisskin. I bought this 12" from Camden Record & Tape Exchange. Mario Boncaldo edited the version and I didn't realize at the time that he was one half of Klein & MBO.
11. DISENO CORBUSIER – GOLPE DE AMISTAD
I knew nothing about this record until a few years ago. It was a YouTube discovery. I immediately thought it was an amazing record but never bought a copy. The album is now quite rare and expensive. It's a magnificent obscurity which I didn't think a lot of people would know. It has a similar feeling to Liaisons Dangereuses, maybe even better.
12. SCHLAFLOSE NACHTE – MOVE
I found this at a London record fair in the early '90s, from the same guy who had sold me the Naked Lunch record. I have three releases by Schlaflose–a live cassette, this 7" and another excellent 12". I know little about them although Alex from 23 Skidoo told me that there was a connection. Gila from the band came over to the UK and was involved with Ronin.
13. 23 SKIDOO – COUP (IN THE PALACE)
I discovered 23 Skidoo because Neville Brody, the leading graphic designer of the '80s, designed all of their record covers. "Coup" was played at Camden Palace (this mix is dedicated to them) and I have followed the band's many incarnations. They ran a club in the Subterrania building in Notting Hill for a while and did some fun fashion party events with Norman Jay during the post-rave era. He then set up Ronin. I have stayed friends with him ever since.