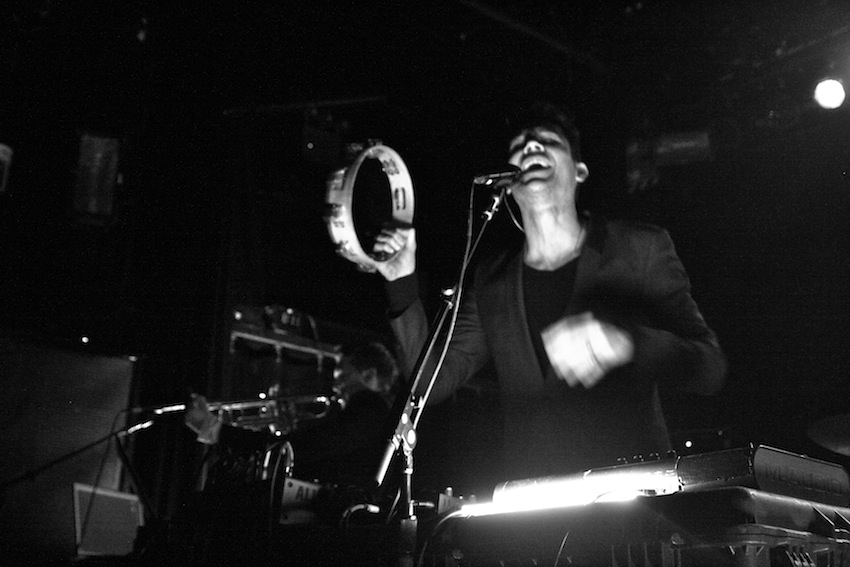 Words and Photos by Andrew Parks
The Artist and Their Latest Release: Matthew Dear, Black City (Ghostly, 2010)
Who He Opened For: Tom Tom Club @ Irving Plaza, 1.12.11
Why He Could Have Been Headlining: Nothing against the Talking Heads side project that isn't David Byrne or anything, but the latest iteration of Matthew Dear's live band is easily his tightest yet. Enough that we left after they wrapped a 45-minute support slot set.
Which isn't to say that they're simply translating the producer/multi-instrumentalist/singer's twisted pop songs for the stage. If anything, the most successful set pieces were the ones that scrapped Dear's original script, from the way the groove-locked quartet stripped the micro-house sheen from "Tide"–changing its direction from a dance song to a desperate plea–to their innate ability to make us actually like "Monkey." (It's one of the only Black City tracks we could do without. "You Put a Smell On Me," meanwhile, is still a consummate crowd pleaser with an awful title.)
Dear's well-oiled dance machine will headline a handful of shows later this month, but what this group really needs is a month or so on the road with an artist who's already pulling the cool kids in. Then, and only then, will these cuts finally get the crossover respect they deserve, proving just how genre-less a couple laptops, lean bass lines, carefully cleaved chords, steady-handed drums, and disembodied horn blasts can be.