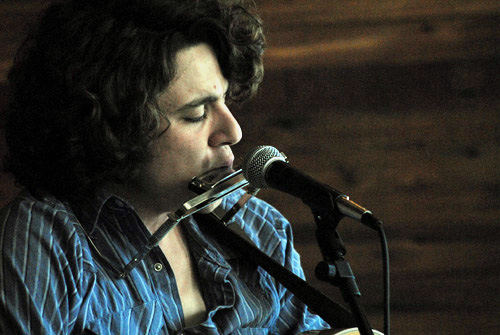 Text/Photos by Lizz Kannenberg
The Artist: Chicago's stunning young balladeer can turn a beer-soaked 6th Street club into a pin drop-ready sanctuary.
His Latest Release: Nation of Heat (self-released, 2008)
The Set in a Few Sentences: Joe Pug may be a singer/songwriter, but this isn't background music for your morning latte. The 24-year-old Pug, a former playwright, is the kind of lyricist who tells an entire life's story in a single line. His gutsy, grainy voice and unabashedly aggressive handling of guitar and harmonica are as unapologetic and striking as those of another certain young American songwriter a generation ago.
And a Letter Grade: A
More photos and a trio of free MP3s after the jump …
[audio:http://www.self-titledmag.com/wp-content/uploads/audio4/JOE_PUG-Call_It_What_You.mp3]
Joe Pug, "Call It What You Will"
[audio:http://www.self-titledmag.com/wp-content/uploads/audio4/JOE_PUG-Hymn_101mp3.mp3]
Joe Pug, "Hymn 101"
[audio:http://www.self-titledmag.com/wp-content/uploads/audio4/CLICK_ON_AN_MP3-Nation_of_He.mp3]
Joe Pug, "Nation of Heat"