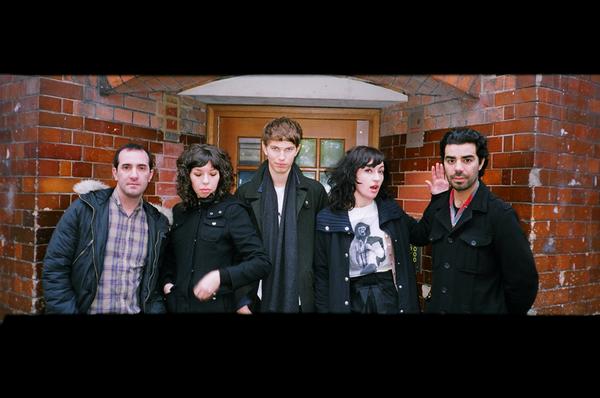 When we first met Apache Beat singer Ilirjana Alushaj–in her native Australia at the tail end of 2008–she said the Brooklyn band's proper debut (Last Chants, featuring members of the Rapture, Yeah Yeah Yeahs, Chairlift and Lightspeed Champion) was set to hit stores this past spring. Then we did a proper interview with her six months later and she promised late summer. Now the thing's really set for early 2010, with two digital singles due out in the coming months.
The reason for all the delays? Lots of remixing. Case in point: "Your Powers Are Magic," which now features a phantasmagoric mix from John Agnello, the producer/engineer of Sonic Youth's last two LPs and records from the Hold Steady, Jawbox, Mark Lanegan and, err, Aerosmith. While the song isn't an arena rock anthem in Agnello's seasoned hands, it does have some key layers lurking beneath the surface now, including a closing multi-tracked chorus Alushaj describes as "our dark-wave Beach Boys moment."
Speaking of embracing the darkness within us all, Apache Beat is filming a video for "Your Powers Are Magic" soon. Set somewhere in upstate New York, it'll feature girls lost in a forest "within some mind frame of mystical, magical possession." Only a little more abstract than that. Can you tell someone's a major David Lynch fan?
Check out "Your Powers Are Magic" here, and if you like what you hear, support Apache Beat by downloading the track on iTunes September 29.