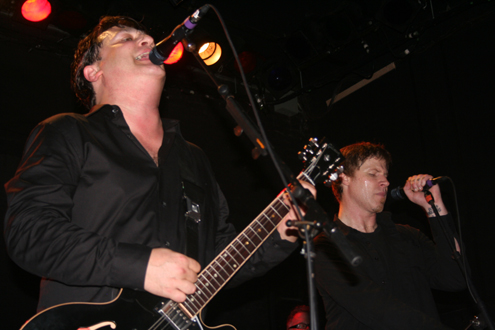 [L to R: Greg Dulli, Mark Lanegan]
Words/Photos by Andrew Parks
I once caught this film critic from Philly closing his eyes and singing along to every word at a Neko Case show. Normally, this wouldn't be a big deal–or even remotely noticeable–but there were only about 50 people in attendance to catch Case and her sisters-in-song, Kelly Hogan and Carolyn Mark.
So, yeah, the site of a guy with his eyes wide shut and his body in rock-a-by-baby mode was a little disturbing. After all, no matter how you look at it, there's absolutely no reason for a person to drift into their very own fluffy dream world while in the presence of others unless you're (A) higher than the sky or (B) a goddamn hippie. Don't get me wrong. I love it when concertgoers participate in a manner other than simply crossing his or her arms and nodding along to every note. But have some dignity please!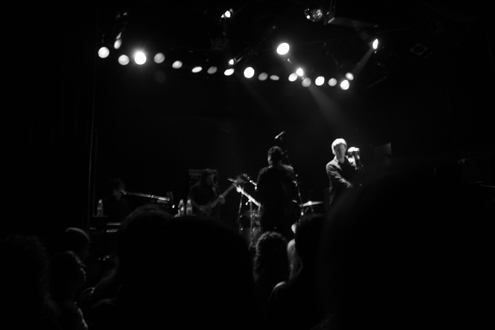 Which brings us to the Gen X explosion at the Gutter Twins' tour kickoff–a straight-outta-the-woodwork display on par with the time I saw a room of aging goths regress a decade or so at their first show since the last Nitzer Ebb tour … in 1995. While anyone standing in the back of Bowery Ballroom probably didn't notice anything out of the ordinary at the intimate venue, a few minutes up front revealed the craziest 30-to-40-year-old fans I've ever seen. And yes, that included a front-line of fools who spent two hours flailing their arms and revisiting the time they lost their virginity to Gentlemen. (Again with the eyes closed and the singing, oh, the signing!) I believe George H.W. Bush was in the White House then and Singles was still considered the coolest movie since Sixteen Candles.
Anyhow, this crowd responded well to the Twins' run-through of their forthcoming Sub Pop debut, Saturnalia, especially the songs on their MySpace page: "All Misery," the string-soaked "Circle the Fringes," and "The Stations," a God-fearing gospel song that perfectly captures the Catholic guilt that seems to run throughout the duo's album and much of Lanegan's output in the past couple years. (See his striking work on last year's Soulsavers project, which is arguably better than the Twins LP.) But what they really came for was the occasional catalog-skimming of Dulli's career in the Whigs and–as of the late '90s–the Twilight Singers (Lanegan and Dulli's searing, soaring rendition of Massive Attack's "Live With Me" was one clear highlight early on in the set).
Me, I was just psyched to demons brushed off Lanegan's shoulder in his industrial-strength solo song, "Methamphetamine Blues," one of the only times he showed signs of life beyond a cold, incredibly intimidating Buffalo stance. Not that Lanegan wasn't into the show–his vocals were as smoky and unparalleled as ever, reminding everyone in attendance why he's much more than a grunge survivor. Dude's still got one of the most powerful, damaged voices of the past two decades. It's just that while Dulli appears to have a helluva time onstage–still smoking, prancing and convulsing like it's 1993–Lanegan doesn't even stop to take a swig of water. Instead, he holds his microphone like the throat of a jilted lover–rarely, if ever, letting go.
In other words, go see these guys if you're one of the lucky cities below:
02-19 Paris, France – Maroquinerie
02-21 London, England – Koko
02-23 Amsterdam, Netherlands – Melkweg
03-01 San Francisco, CA – Bimbo's (Noise Pop) *
03-03 Portland, OR – Wonder Ballroom *
03-04 Seattle, WA – Showbox *
03-07 Chicago, IL – Metro *
03-08 Minneapolis, MN – First Avenue *
03-09 Madison, WI – High Noon Saloon *
03-11 Newport, KY – Southgate House *
03-12 Cleveland, OH – Beachland Ballroom *
03-14 Toronto, Ontario – Mod Club *
03-15 Montreal, Quebec – Cabaret du Musee Juste Pour Rire *
03-18 Boston, MA – Paradise *
03-19 New York, NY – Webster Hall *
03-20 Washington, DC – 9:30 Club *
03-21 Atlanta, GA – Roxy Theater *
03-22 New Orleans, LA – One Eyed Jacks *
03-26 Austin, TX – Antone's *
03-27 Dallas, TX – House of Blues Cambridge Room *
03-29 Boulder, CO – Fox Theatre *
04-02 Los Angeles, CA – Avalon *
04-05 Dublin, Ireland – Ambassador Theater
04-06 Belfast, Northern Ireland – Limelight
04-07 Glasgow, Scotland – Oran Mor
04-08 Manchester, England – Academy
04-09 Birmingham, England – Glee
04-11 Brussels, Belgium – Ancienne Belgique
04-12 Rotterdam, Netherlands – Motel Mozaique
04-14 Copenhagen, Denmark – Vega

* with Great Northern