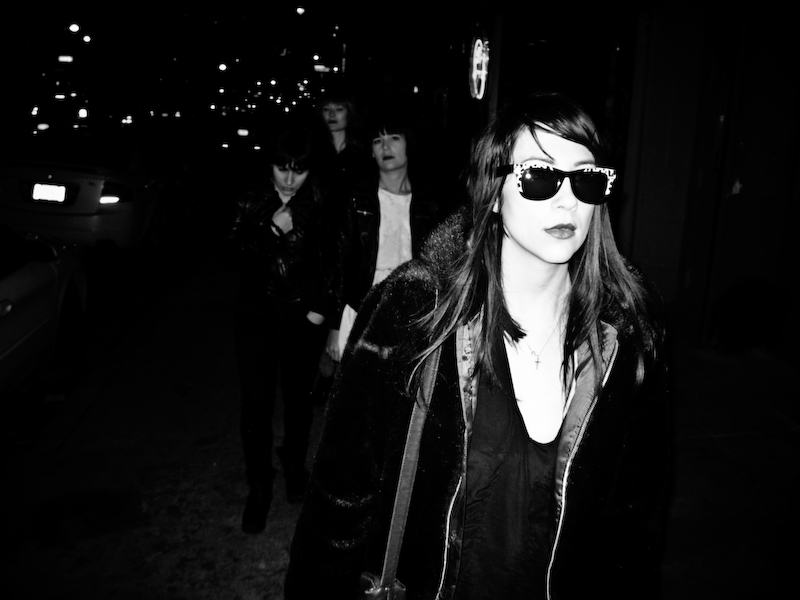 Photos by Aaron Richter
Words by Cassie Marketos
There's a lot the world doesn't know about Dee Dee, the enigmatic frontwoman behind the fuzz-pop band Dum Dum Girls. For example, her real name, or what she looks like wearing anything other than black. We do know one thing after hearing a handful of sold-out singles and one dizzying debut album (last year's I Will Be LP), though–we want more.
And as Dee Dee's sonic strides drag her further and further into the spotlight, there's no doubt that's what we'll get. When self-titled meets her at the Orchard offices in New York's East Village, she's not only on the cusp of releasing a brand new EP (He Gets Me High, out next month on Sub Pop); she's also called a wrap on her second album. Despite the dizzying work pace, Dee Dee found time to chat with us about love songs, her future, and meeting Jude Law. (Yes, really.)
"For the most part, I'm still pretty stage fright-y…in life"
What turned you onto music in the first place?
My family's really musical. Not in a career-oriented way, but my dad has a really great voice. He sounds like Frank Sinatra. He's very private, though. So I had this weird issue; from a very young age, I felt compelled to do something artistic–I wanted to be a dancer, I wanted to be an actress, or a singer, or an ice skater, but I was extremely shy. I didn't really know how to do those things within the realm of my insecurities until I was much, much older. But, I swear, from when I was 4 years old, I was like, "I'm a singer."
Do you feel like it was more your natural shyness or the intimidation of starting your own band that was a barrier for you in the beginning?
Kind of both. I literally had physical issues with performing. I did choir my whole life. I started to do musicals in middle school and high school, but I was always in the background. I had trouble actually singing in front of people. It was a physical issue, like my voice wouldn't work. It was very frustrating, because I knew I could sing, but I had such weird stage fright that it became a physical handicap. I still have that: I'm most confident on stage playing when I can feel very detached about it. But for the most part, I'm still pretty stage fright-y…in life.
Is that why you perform as "Dee Dee" with a full band, rather than solo?
Definitely. Initially, I had started playing guitar and was finally starting to write songs, because those two things are pretty linked. I would write songs and record them, but they would be these weird vocal things with maybe one piano part. They didn't really make any sense. When I first picked up a guitar and started writing songs, I wasn't necessarily doing it to any end. I just thought that was how you did it. But I was working with just an acoustic guitar and I wanted it to sound electric, so I started experimenting with recording at home. I had absolutely no interest in turning it into anything, so that's why I wasn't as upfront with who I was right away.
About a year went by, and I was just writing these songs, and I thought, 'If I can start this on my terms, if I can control all the variables, [and] make sure that this isn't an experience I'm going to end up hating, I can do it.' Once I realized that, I had a lot of power. I could ask a good friend to play on something, or just try playing a show with friends–that kind of learning process:it clicked.
Do you remember the first song you ever wrote?
Yeah. Unfortunately, my oldest computer with all my original recordings on it was stolen out of Heathrow [Airport] when my husband took it on tour two months ago. Depressing! But the first song I ever wrote was when I was in a studio recording for another band and I was borrowing a friend's Silvertone guitar–an old '50s one, which was the first electric guitar I ever played. I wrote this song about how my boyfriend–well, now he's my husband–liked to sleep a lot. That's his favorite thing to do. Sleep. Not in a lazy way, but he just loves to sleep and dream and lay. [Laughs] So I wrote this weird little folk song about that. I can't remember it at all anymore. Probably like five songs down the road, they became the songs that were Dum Dum Girls.
"I think people are ready for things to sound better"
When did your MySpace page come along? How did HoZac [Records] find you?
It's funny, I should have documented it better. But I wasn't expecting it to go in this direction! I must have had maybe four or five songs that I recorded, terribly, and I wanted to show a few very select people these songs. So I uploaded them to MySpace.
How the name came about is kind of a funny story. I think my husband and I were in our living room; it was really tiny, this weird studio, with a Murphy bed coming out of the wall, and all we had were records. They were swallowing the house. And I was trying to think of something to call what I was doing, because why not? It's fun to come up with names and images for art you're working on. So I was looking at a stack of records, and the one on top was Dum-Dum by the Vaselines, and just saying the words sounded kind of cute and fun. My husband said, "What about Dum Dum Boys? Like the Iggy Pop song?" And I said, "What about Dum Dum Girls?" He thought that was a good idea, and wanted to call his band that, but then months later, he was on tour, clearly NOT called Dum Dum Girls [laughs]. And I was like, "Okay then, I'm going to share these songs and I'm going to call it Dum Dum Girls." That was where that came from. (Ed. Note: Dee Dee's husband is Crocodiles frontman Brandon Welchez.)
I think I was really, really obsessed with a 7" Hozac had put out, so when I started my MySpace, I added them as a friend. Todd [Novak, HoZac's co-founder] must have just listened to us, and he wrote to me, asking if I wanted to do something. He ended up picking songs I wouldn't have, but ya know, he was interested, so I told him he could do whatever he wanted. The A-side was "Long Hair" and the B-side was "Mercury Mary" and a fucked-up Everly Brothers cover. I think around that same time Mike [Sniper, of Blank Dogs and Captured Tracks] must have found out about it. Maybe Todd showed him? I don't even really know how it happened. But he must have showed a couple of people. And then Sub Pop found me.
Do you miss the control you had–recording at home and doing everything yourself?
I don't really miss it. There's a very obvious line that I can work up to and I can do nothing beyond that. I still demo the same way. I could have put He Gets Me High out as the demos I recorded, and they would have sounded just like I Will Be–maybe more developed as songs, but the sound quality would have been exactly the same. That's the best sound that I can do on my own. I mean, I think if you find people to work with that you really trust, it's a really freeing experience. When we recorded He Gets Me High, it was the first time I wasn't recording everything myself. I came out here, and we brought out Sune [Rose] from the Raveonettes, and Richard [Gottehrer] has a little studio in Brooklyn, and we recorded together there. To me, that was really, really cool. It was like seeing my songs be able to bloom a little bit. It's clearly a step up from I Will Be–a pretty big step I think, and I'm into it. When you get looped into a particular wave or trend or scene, it's hard for people to think you might not want to be like that forever.
As much as I love noise, I also like having songs come across the best way that they can. So for me, it's cool to record in actual studio and use real mics. Not the mic on my laptop or something! I think people are ready for things to sound better. I would assume? I'm curious if it's going to alienate me from people that enjoyed the first record. Or if it will expose me to people who the first record was more of a middle ground for.
I've noticed a few bands who've made that leap from home recordings to a cleaner sound, like the Smith Westerns–the reaction to their new record [Dye It Blonde] has been overwhelmingly positive. Everybody is like, "Oh, what a great move they made. They've progressed as a band." So, it's cool. People are celebrating bands progressing and learning and refining. That's something I'm interested in. I want to do what I do, in the best way I can do it, in whatever sonic mood I'm in at the time.
"I might as well finally own the fact that, 'Yes, I sing in a band and I write the music. It's my fucking band.'"
It's nice to hear your voice more clearly on the new EP.
Yeah! It's nice to finally be singing. I think it reflects feeling more comfortable in my own skin, and I'm not worrying so much about people scrutinizing things. If it were up to me, I'd bury everything. There would be this huge weight of reverb on everything, but you know…I wanna be a singer. I'm certainly not a guitar player. So I might as well sing!
When did you write the next album?
Well, let's see. The idea for the EP came out of nowhere. I was trying to figure out if I should use these songs that I had reserved for the second record, or if should I write new songs in like a day. What ended up happening…I just had this really weird weekend home. I spent a lot of time at my parents' house this year–my mom was really sick–and I was staying in this weird little guest room that was my dad's office, you know, where my grandparents would have stayed if they were visiting. Nobody would bother me, and I had a lot of stuff on my mind, trying to balance everything, and three songs kind of fell out over one weekend. And I thought, 'You know what? The EP is going to be one thing–this vibe.' I could tell that the year was going to be really bad, and these three songs were not sad songs. They still had that kind of desperation, but like that positive/hopeful thing to them, and I was like, 'I am fairly certain that the record is going to be really sad.' And it is. Almost every single song. So I thought, 'I'm going to make this an EP, and I'm going to call it He Gets Me High, and that's going to be the vibe. This is the last hurrah. This is what I'm desperately holding onto right now.'
As far as the second record…There's really no time to write on tour, and I don't take my guitar into the hotel that often, because we're only in there for a few hours each night, so I would come home from tours and I'd be like clawing at the walls and they'd kind of fall out. Every week or two off between tours, I'd probably write two or three songs. We had booked our last tour in October with the Vaselines, but I had to cancel it and go home after only a few shows. I ended up having half of October and November to basically write 10 songs and then teach them to the girls. So that was exactly what I did. I was really trying to figure out how to balance these songs that had been written right after I Will Be was recorded and these songs I'd written just a couple of months ago, because there was a big discrepancy between them.
I ended up writing like four more songs for the record only a few days before we recorded. That's just how it happens sometimes. But that was definitely a quick burst of songwriting, just like the EP was. That's typically how it happens for me. I don't sit down in a room and think, 'Let's write a song'; it happens very quickly and spontaneously and all at once. I may have to go back and fine tune things, but generally that's how it works.
So the second record is all done recording now?
Yes.
Wow. So much has happened for you in the last year.
Yeah! It's really crazy. When my publicist told me that I was going to do this interview, I thought, 'Holy shit, I better listen to the EP again!' So I went back and I was remembering that weekend and how these songs had happened, and I'm trying to remember what it was like when I came out here to record them. It was just the three of us in Richard's little studio in Greenpoint for three days, and it was really fun. We recorded the album mostly at a studio called Pink Duck in L.A. Josh [Homme], from Queens of the Stone Age, owns it. It's really, really amazing. Very rockabilly. And he has an amazing collection of gear. And it was really fun! But we did 12 songs in six days, and then when I got here I did a couple more solo-y ones.
And that was the second album!
Yeah!
"It's irritating that it's an issue"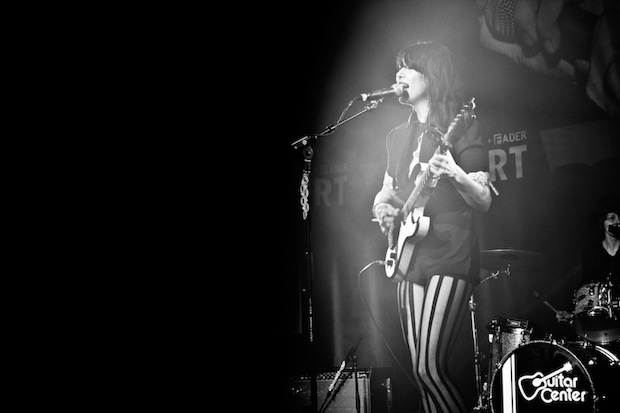 You've made a lot of strides in the sound of each new release. You're also emerging more and more as a visible frontwoman–for example, the cover of the EP is a photo of you. Was this your decision?
On paper, yes. I chose that photo to be the cover of the EP. This is a funny conversation I keep having in my head. I grew up obsessed with bands and idolizing people in music, and attaching myself furiously to people like Grace Slick or Patti Smith or Blondie or Madonna. There was just something about them. In no way do I think I'm anything like them, but I do think that I've done that whole 'I don't want this to be about me, I want the music to speak for itself' thing and, when you're in a touring band, you have to work the system somewhat. You are in the public eye. And I think I'm just finally okay with that. I'm not trying to be a huge star or anything, but I might as well finally own the fact that, 'Yes, I sing in a band and I write the music. It's my fucking band.'
You're holding the guitar in the image. I like that about it. I feel like it asserts the musicianship of what you're doing.
Exactly! It's just there. I think that I came about to that in a very similar way. Where at first I was like, 'I'm self conscious of this' and then I was like, 'You know what? That's just how it is.' This EP marks the last time it's just me. We took a really big step when we used the whole band on the next record, and I am thrilled with it. It was a really interesting ting to let go of the final reigns of something I've held absolute control over, especially vocals. On the EP, I'm obviously playing things, but I sing everything. All harmonies. On the next record, the girls sing on it. And I was terrified. I mean, clearly they can sing. They're all really talented. But that was just the last thing I was holding onto. Now that we've recorded, though, it sounds so much better. It sounds real. [Guitarist] Jules sings most of the harmonies, and her voice sounds amazing. I'm so glad I pushed back on my control, and let it go.
What made you decide to do it?
I think it just came down to the fact that I don't use a drum machine anymore, so I need a drummer. Why would I have somebody I don't know if I have this amazing drummer named Sandy that is going to be playing all these songs anyway? And I'm not a lead guitar player whatsoever, so I would need a guitar player. I was putting the girls' talents to good use. We spent all of 2010 together, and we're really close. It just seemed time to share what it means to be in this band, fully. Because, you know, it can get a little weird when it's 'your' project. It's not like the girls are just hired guns or anything, but it does feel like that sometimes, and I wanted it not to. I think the girls have a really good time on tour, and this was also sort of a morale booster for them. It's our future. It's not my future that they're somehow a part of, it's what we're doing as a band now.
On another subject, the whole 'chicks in music' label gets thrown at you a lot. Is it something you're conscious of? What are your thoughts?
[Laughs] It's irritating that it's an issue. It's irritating that sometimes you get further because you're a girl, and that other times it completely works against you. You're disrespected for being female, or you're disrespected because you're into being female. Or you dress too 'sexy'. It's a little overwhelming. I'm not trying to be political about it all. I just know that the music I wanted to make and the experience that I wanted to have as a band–being all women was vital to that. It might just go back to the fact that when I was a teenager, bands like that hit home with me more. Grace Slick and Patti Smith were obviously working within the context of their all-male bands, but when I've seen bands play, and when they're really feeding off the energy on stage, it was all-girl bands like the Go-Go's and the Bangles, and, when I was older, all the riot grrrl stuff. There was something so undeniable about that. It broke down the barriers. I realized, 'I can be my own band. I don't need to be in my boyfriend's band.' I guess this is a weird way of me trying to carry on the 'you can do this on your own, if you want to' kind of thing.
You wear your influences on your sleeve pretty comfortably, obviously. I'm very curious about how you ended up picking a Smiths song ("There Is a Light That Never Goes Out") to cover on this EP. Lots of people might be like, 'No way,' but you went for it.
I tend to listen to the same music for a long period of time, especially when touring. I listen to so much Morrissey and the Smiths, it just works really well with how I travel. With all my covers, I've typically done songs that I get a lot of raised eyebrows over. We get so much shit for covering GG Allin in the style we do. We get girl crust punks that are like 'GG Allin would KILL you over your version,' and then we get weird guys who are super into it. Covers are fun and it's challenging to see if you can get something out of it that's your own. The original song that we were going to do on this EP was this garage-y Nuggets song, but it just didn't sound right…It seemed so obvious–an obscure '60s garage song.
One thing I do on tour is always learn how to play covers. I was playing around with doing this song by the Shivvers called "Boy Next Door," but it didn't feel right.  So I thought, what about a Smiths song? And everybody was like, "No. But:yeah." So I thought, 'Well? Why not?' I learned it so quickly that I think I say a wrong lyric in it.
Richard coached me a lot with it. He told me how it's really important to have a distinctive voice, like Chrissie Hynde from The Pretenders. You hear it and you know exactly who it is. Richard said, "Keep her in mind, and have that intensity in mind." And we did a version of the song like that. I still wasn't sure, and then Richard said, "Well, pretend you're on quaaludes." [Laughs] Is that drug even around anymore? But, ya know, I understood what he meant: this intensity that was totally controlled. So, I just did my best. Why not?
"Very rarely do I ever let go completely"
Well now that your second album is done, how far into the future are you thinking?
That's the thing. When you start working with people like Richard, Richard is The Producer but he is also The Manager. He's all about planning. I think that if you reach a certain point you have to step over into the arena of thinking of it like a career and not just like, 'I party and I'm in a band.' Because that's the only way that you can continue doing it and not go back and find a job when you're in between tours. You have to be on top of things. This EP will come out and we'll tour it. The second record won't be coming out until September, but when it does we'll start the whole thing over. That's about as far ahead as I've thought. A lot depends on how this record is received.
I was going to ask you if you have any plans to play under your own name in the future, but it seems like you're headed in the opposite direction. You're more about embracing your band.
At this point, going solo is not the trajectory I'm on. I've thought about that in the past. I think that's the classic move, but I'm just really fortunate to have a band that I love and that I don't see any expiration date on. Plus, now they have a vested interest in the songs and touring them, and they're going to be on a record being put out on Sub Pop. To me, that is still one of the more shocking things that has happened to me, and now it's happening to them. It feels really cool! We're all getting older, so I'm sure at some point it won't make sense to do things like we do them now, but maybe we won't need to by then. I have no idea.
I'm one of those weird creative people that is also super organized and practical, so I guess that comes in handy, but it also works against me. I'm a total worrywart on tour, and I definitely don't live it up like I could be. I'm always holding onto something to worry about. It could be this experience where we go out and indulge, because it's the first time we've ever played London or the first time we've been invited to this or that cool party or, like, 'Holy shit, we just met Jude Law'–that really happened, by the way–but I'm always really held back. Very rarely do I ever let go completely.
Now that we finally have tour managers and sound people, I can relax a little bit more. Getting a sound engineer was a huge priority for me, because we just had constant problems. I don't know that much technically about sound. I know what I want it to sound like, but I don't know how to get it in certain rooms.
So wait. What's this about meeting Jude Law?
We were on tour with MGMT and playing multiple nights in major European cities, which was really nice. Three days in Paris, three days in London. You actually get to wake up and go out. A short vacation! That vibe was there. We can enjoy ourselves. And the last show in London was massive, and all sorts of people were there that I didn't know. Florence [& the Machine] was there. But Jude Law had brought his son and his son's friends to the show, and he brought them back to meet MGMT, so it was really, really weird to pass him in the hallway, and he was like, "Hey, that was great!" It was weird. Like, 'You are as good-looking in person as you are on screen.'
Most famous people just look old and sad in real life.
[Laughs] Exactly.
Do you think about people you'd want to collaborate with in the future ?
Yes! For the most part, I'm really interested in duets. But we'll see. A really weird thing happened recently, when SPIN had Ronnie Spector weigh in on all these indie bands, and she didn't like us. At all. That was pretty devastating for me, but I didn't talk about it. I think she just didn't like the sound of it. My dad doesn't like the sound of it, either! He doesn't get it. He doesn't love noise. But I wouldn't expect many people who consider themselves singers to love it. It's a very small world that enjoys listening to stuff like that. But anyway, it was kind of a bummer. I think the guy who did the piece for SPIN followed up with her and had her watch some live footage, and sent her some other songs, and she did end up liking it. So I found out about that, which was a huge relief. Then, the last day we were in LA recording, her husband/manager called Richard and said that Ronnie wanted to do something with us. I mean, it was a very vague statement! But I freaked out, and I wrote a song for her, and we were trying to see if we could sing something with her. It was one of those crazy golden opportunities. I have this weird feeling nothing will happen with it, but just knowing at some point that the thought crossed her mind was like, 'Aww! That's cool, man.' I don't know if it gets any better than that.
Yeah! It's awesome she even was interested. What was the song?
It's called "Look Me Up." It was a really strange thing, because I'd never written a song for anybody else but myself. The sentiments in songs you write for yourself just happen naturally, but for her I was like…I don't know if she sings about boys. I certainly don't want to write a song that talks about the passage of time or being old. So all of a sudden, there were all these off-limits sort of topics. I just ended up writing a song about "If you need somebody, you can always call me. Whenever you're down, look me up." Which is simple! A homage to the classic themes of songs of her hey-day. I don't know! I certainly couldn't sing it, it'd come off stupid. But she could.
"I mean, I wanted to be a writer"
Speaking of songwriting, you're pretty happily married. How do you write so well about heartbreak?
Well, I've always been really, really melodramatic about love. You can definitely draw on those experiences long after they've passed. Even if you're happy, you can still write about the time that you weren't. Brandon and I had a really, really dramatic get together. It was one of those sort of against all odds Romeo and Juliet types of romances. So, I have a deep well of wanting something that you can't have, and that, in a sense, is heartbreaking. And we never see each other ever, and that's heartbreaking. And it's really easy to let your mind run wild and go to really dark places. And you know, it's probably one of the harder things to be–and it's obviously not exclusive to being in bands–but being in any kind of career or lifestyle that keeps you separated from the one you love is really tough. It's shocking trying to manage your home life while you have this completely unreal other experience. The two worlds do not reconcile whatsoever. So that's really tough and it takes a lot of effort to be calm, and feel okay that things won't change even though you're not there. And so, that song on the EP–"Take Good Care of My Baby"–when I played Brandon he was like, "Cool, my parents are going to think I'm a junkie." And clearly it's over-dramatic. I don't write that autobiographically. Every song has a seed that I can relate to, because I don't know how to write from total fantasy:
I mean, I wanted to be a writer. And I would call what I wrote "creative non-fiction," where I would take something I had experienced and embellish it. And that's how I think about song writing. A private element of our relationship is that I take care of him. And he takes care of me as well. But I freak out, asking things like, "Are you drinking too much on tour? Did you eat today?" You know, little things. But they can spiral into bigger things. Just that sentiment of separation. You know, that's the main thing.
What kind of stuff did you write?
A million novellas that I never finished! Never got beyond page fifteen of anything.
Do you still?
I write a lot of poetry. I write short things. I take a lot of diary type stuff on tour with me, and I try to document like that. But I kind of shifted all of the energy toward the music part and constructing songs like that. It's definitely something I love. I love musicians who are writers, too. Patti Smith is one of my favorites. And I love reading Nick Cave. We have a really big poetry collection at my house. At this point in both of our songwriting, we're obviously really inspired by music and listening to tons of it, but we both read a lot of poetry. Not that we have writer's block, but it's just such a good way to get into the flow. I always read things and I'm like, 'Wow. How did you come up with how to say it so perfectly?' That's really inspiring to me.
Any favorites in particular?
Actually, on my computer I have a bookmark that's just some really terribly organized website of every Patti Smith lyric. She's kind of my go-to.
Have you seen her in concert?
Never!
She always plays The Bowery on her birthday. You gotta see her.
I know! I'm trying to make 2011 the year I go see shows. It's a decision I made after I never saw the Cramps. They were such a favorite band of mine, that I listened to heavily four or five years ago. And I can't believe that I just never went and saw them.
I haven't listened to Cat Power in years and years, but there was a time when I was 18, and I was so inspired by her. I learned how to play piano by trying to figure out her songs. I identified with the rudimentary accompaniment she went for in her songs. And her words were really powerful.
Or legends! Even if I would rather have seen them 40 years ago.