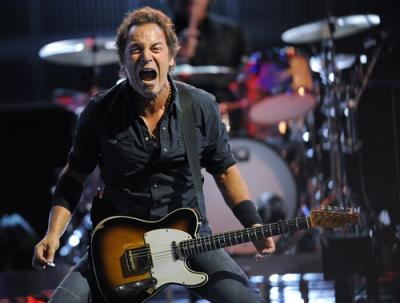 The Top Five Moments From Bruce Springsteen's Super Bowl Halftime Show
By Aaron Richter
1. Steven Van Zandt yelling "It's Boss time!" Pure cheese. And we love it.
2. Bruce sliding on his knees and slamming into the cameraman. Pete Townsend, he is not, but a damn fine effort, nonetheless. 
3. The choir that emerged during "Working on a Dream," thus transforming a sub-mediocre single into palatable entertainment.
4. The Boss dropping to his knees and popping back up at the beginning of "Tenth Avenue Freeze-Out."
5. self-titled sitting on the couch and remembering how awesome Prince was when he performed two years ago at halftime. And subsequently watching that performance online rather than the first 15 minutes of the game's second half. 
Watch Springsteen's performance in its entirety after the jump.
The S/T Five is a new recurring feature at self-titled. We've always loved Top Five lists, and we know you do, too. So leave your own Top Fives in the comments section (whatever you want, but keep them music related), and we'll post our favorites. Get creative!