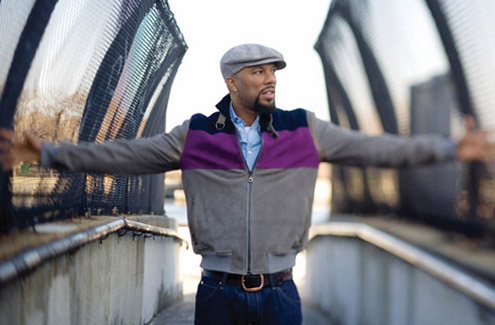 In Studio A of Manhattan's Legacy Studios, Common gave self-titled and a couple other choice publications an eight-song preview of his new album, Invincible Summer, which he says will be released in mid-July. Believe it or not, the record–partially inspired by the months the rapper spent in Prague while acting in the upcoming film Wanted–is tailor-made for clubs.
Here are our scattered, unedited notes from the session …
General:
"I just caught the spirit two months ago and started working."
Justice League movie delayed
The Neptunes and Mr. DJ produced
ten songs in total
inspired by a quote from his friend: "In the depths of winter, you gotta find an invincible summer."
"I mean, who is the No. 1 MC? What is there to prove at this point? I just wanna make music that feels good."
"I want kids to be able to rock to some of my stuff, too."
"Universal Mind Control"
high energy, busy, uptempo
"Clear" synths and distorted bass hits
bongo background
"Planet Rock '08"
Neptunes
probably the lead single
Common's contribution to music in the club.
Says Common on why he's turned to club songs, "My DJ would never play any of my records. And he's my DJ." "It would be nice to see people dancing to my music."
"Make My Day"
Produced by Mr. DJ
Featuring Cee-Lo, multitracked vocals
staggers forward, shuffled beat, sounds Gnarls-y
da-da-da-da-da piano chords
upbeat, cheerful
"This is a good day."
"Punch Love"
slower, sex jam
1-2-3-4-5 rimshots
"Does it keep you up at night / 'cause you can feel it right."
"You can call me daddy cuz I be puttin' you to bed."
ode to his stamina
pinched kazoos
recorded at Electric Lady Studios
"What a World"
Neptunes
tin-can rattle percussion
sharp '80s synths
'80s, Blondie, Sugar Hill Gang flow
high energy
tale of a boy to a star
featuring Chester French
rock and disco bass
talking in third person, autobiographical
best of the bunch
"Changes"
Mr. DJ
cheery, bright, open
shimmering production
"I know a change gon' come."
whistling
vocals by Muhsinah and Jeff B
Says Common, "If Obama was getting inaugurated, you could play this song. It's a hopeful thing."
"Sex For Sugar"
not yet finished
Neptunes
sinister bass synths
says Common, "Silly"
scattered snare percussion
sounds like live drums
"Girl you've been touched by the force of nature / I'm just tryin' to motivate ya."
talking to a stripper
dance floor oriented
fun more than anything
"Dreamin'"
Mr. DJ
building tension w/ stuttered bass hits
electronic blips and blops in the background, cascading, bubbling
stuttered, broken flow
'80s synth mashing, extended synth solo
Jeff B singing
"Runaway"
not yet finished
will eventually feature Santogold
only heard a snippet
hard driving
long, sustained synths
drum&bass, E-out
Mr. DJ
can't wait to hear this finished. The beat is sick.