Coldplay practice their best 'bad motherfucker' pose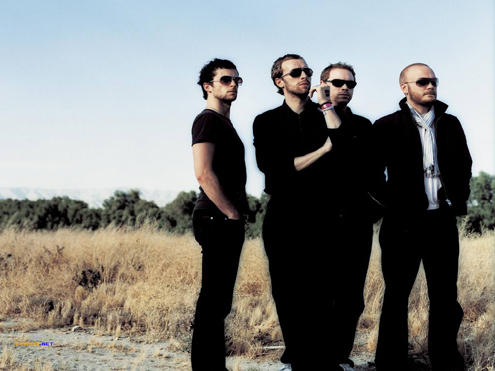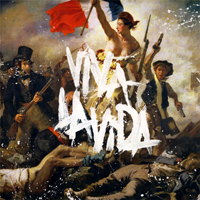 By Arye Dworken
Surprise. The new Coldplay record isn't bad.
Now whether you see this as a comfort or as a disappointment, Viva La Vida Or Death And All His Friends is inarguably way less pretentious than its title suggests.
Despite my non-committal apathy for the band–I love the singles, don't know the albums well enough to qualify as fan, but am open to being converted–I was looking forward to hearing Viva if not for the sole reason that it was produced by Brian Eno. The prospect of teaming up the notoriously over-earnest foursome with an experimental sound innovator responsible for an assortment of many classics could result in some intriguing anthemic rock, albeit sappy intriguing anthemic rock. And after listening to their fourth studio album a number of times since yesterday morning when it leaked, I can say with full confidence that while Viva won't dissuade the naysayers (really, nothing will), it will please fans and maybe even garner new ones.
The party starts with "Life In Technicolor," a brief, bright instrumental track with an arbitrary "woah-ah" choir snippet at the end. The inspiration was presumably Arcade Fire. Almost instantly we know that Coldplay intends on making Vida a record as large as headphones or stereo speakers will allow it to be. The next track, "Cemeteries of London," sounds like Coldplay channeling U2.0 with a significant Unforgettable Fire influence. The guitars chime with reverb throughout the song indicating that Eno took guitarist Jonny Buckland to the Edge and back. It's not a bad role model to have. "42" sounds like Coldplay's attempt at crafting the Arty song–sadly, it's the real misfire here with three sections crammed into 3 minutes and 57 seconds. Martin has mentioned that this particular song is a homage to U2's "40" but I don't hear it. Maybe the transitional references got lost along the way in someone's unrecorded "41."
Eno has the distinctive talent of making music sound three dimensional and downright oceanic, and he does just that on the unfortunately titled "Lovers In Japan-Reign Of Love." The first part of the two-parter is an inspiring rush of enveloping neon. Its shimmering tones reminds me of Eno's collaboration years ago with James on the underrated album Laid, and, in risk of over-referencing their elders from Dublin, "Lovers" is the sort of aspirational hit Bono should be singing. "Yes" follows thereafter and at seven minutes, it's a long song for a band that wouldn't categorize itself as a prog-rock outfit but the band truly surprises listeners by shifting it into a shoegazing rocker subtitled "Chinese Sleep Chant" halfway through. Bet you didn't see that coming.
If you have a passing interest in this record then you're already familiar with "Viva La Vida" and "Violet Hill." Or at least, thirty seconds of the former thanks to Apple. This one-two punch is truly indicative of what's going on in this record: a retro-new wave ambience, a warm glow of layered instrumentation that feels ambitious without becoming overwhelming. It's nothing we would categorize as reinvention but it's not resting on the group's laurels either.
If Coldplay has accomplished one thing with Viva, it's the album's aesthetic cohesion. They've managed to add a consistent depth to what many have labeled before as cloying and shlock. At the very least, we should give Martin and Co. credit for embracing a tempered experimentalism that most mainstream musicians positioned as the next biggest band in the world would be reluctant about. "Strawberry Swing," for example, sounds like a London group less interested with a conventional verse-chorus formula but rather seems intent on leaving us with an aural sensation like that of an OMD or Talk Talk song.
Ultimately, Viva serves a specific purpose and that is to remind people of the sensitivity in music. While we're generally more comfortable hearing it from a female singer, there's something oddly endearing about four males wanting to be unabashidly sincere and delicate. Granted, Coldplay's sole intention is to be inherently likable and inoffensive, but really, is that reason enough to not give this record a chance?
That said, I'm sure Pitchfork will give it a 4.7.